UFC: Georges St-Pierre handed controversial points win against Johny Hendricks
Georges St-Pierre recorded a dubious win over Johny Hendricks to achieve an all-time record for Octagon victories.
By James Dielhenn (@jamesdielhenn)
Last Updated: 17/11/13 7:16pm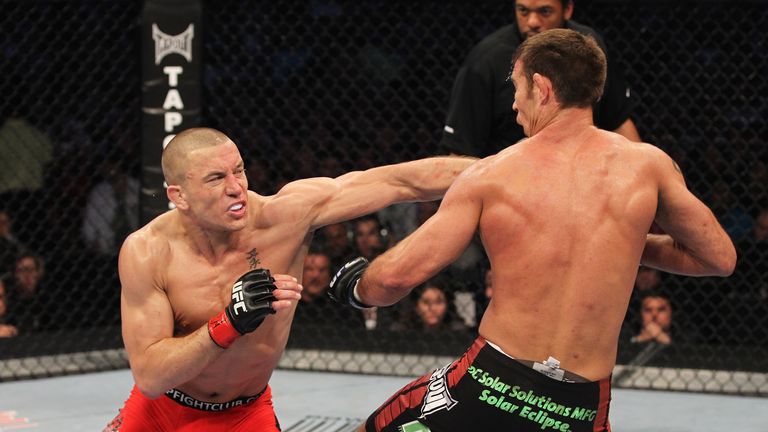 The Canadian won his 19th UFC fight - his ninth title defence - with a split decision over the unfortunate Johny Hendricks, who turned St-Pierre's face into a red and purple mess in pursuit of the welterweight title.
UFC president Dana White expressed his outrage at the judging and insisted they would fight again.
But who would fight the Texan challenger on Saturday night's evidence?
He emerged unscathed - albeit without his previously ever-present bearded grin - while the champion went to hospital with a lacerated and bludgeoned face.
St-Pierre's wrestling advantage has navigated him through seven unbeaten years but Hendricks' acumen matched him.
After the first five minutes, the belt began to slip. Hendricks' left hand, rivalling a sledgehammer for power, found its mark regularly.
It was almost a short night. In the second period, the challenger struck two uppercuts that wobbled St-Pierre. He refused to go down but his face showed evidence of his uphill battle.
Uncharted territory
St-Pierre, accustomed to winning every round, was in uncharted territory - not just Las Vegas where he hasn't competed in four years.
He rallied in the third and it seemed his experience may guide him through the next two championship rounds.
But Hendricks was different to previous opponents. In his first five-round fight he remained fresh - that vibrant grin stark contrast to the bloodied St-Pierre, for whom one eye was closing.
The ground, so often the realm of the Canadian, became like a fire in a field of maple leaves as Hendricks took him down and landed slicing elbows.
St-Pierre was unable to significantly turn the tide in the fifth. His cornermen carried him in faux celebration but they were fooling nobody with their blind optimism.
At the UFC's 20th anniversary event the torch was passing. But the judges favoured St-Pierre - for the first time Hendricks was dealt a blow to knock him off his feet.
"I'm taking a break," insisted the record-breaking victor as boos soundtracked his achievement.
White was vociferous in his condemnation of the decision while insisting that his poster boy champion is not retiring.
The UFC has made great strides in its 20-year existence and while judging remains an issue, champions such as St-Pierre illuminate the sport. It now remains to be seen whether the modern day legend fights on until the next milestone.