South Africa prosecutors to appeal against Oscar Pistorius verdict and sentence
Last Updated: 27/10/14 4:04pm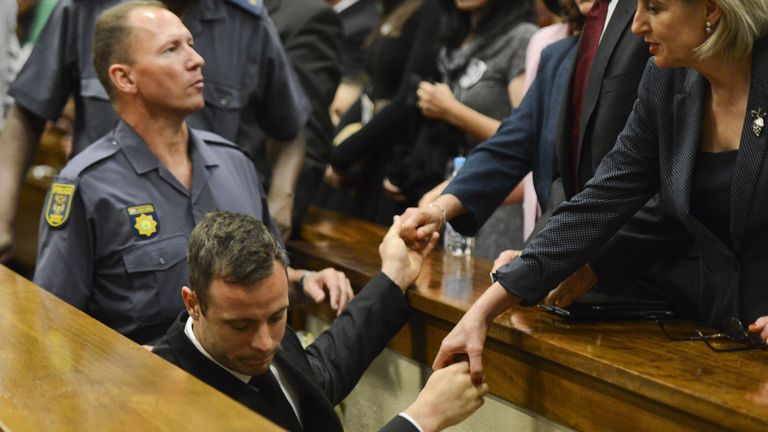 South African prosecutors have confirmed they will appeal against the verdict and sentence given to Oscar Pistorius.
The prosecutors will appeal against the culpable homicide conviction and five-year jail sentence handed down last week on the Olympic and Paralympic track star.
"Oscar Pistorius judgement, NPA will be appealing both the conviction and sentence," NPA spokesman Nathi Mncube said on his Twitter feed.
Pistorius started serving his prison sentence on October 21 after he was acquitted of murder and found guilty of a lesser charge of culpable homicide - known in the UK as manslaughter - for shooting girlfriend Reeva Steenkamp through a toilet door in his home on Valentine's Day last year.
Under the current terms, the Olympic runner is eligible for release after 10 months and would then complete his sentence under house arrest.
The prosecution team will now lodge their appeal with the trial judge, Thokozile Masipa. They will argue that she was wrong to find Pistorius not guilty of murder. But if that is rejected, they will argue that the five-year sentence was too lenient.
South African attorney Martin Hood told Sky Sports News HQ: "They have to set out the grounds which they believe she made a mistake but the appeal is not only against the conviction but also the sentence. It means they effectively have two opportunities to revisit this case.
"They can argue the conviction was wrong and that it should have been a conviction for murder. And if that doesn't succeed they are also appealing against the sentence which means they will argue it was too lenient and that even if it remains culpable homicide, the sentence should be more harsh."
"The application is made to Judge Masipa and the two assessors in much the same way as we saw the proceedings take place last week and she will make a decision whether she will give leave for appeal.
"There are two possibilities - she gives leave for appeal, in which case it will go to what we call a 'Full Bench' in the same court or it will be referred to our Supreme Court of Appeal in Bloemfontein. 
"Or, if she gives refuses leave to appeal it can then be directed with a petition to the Supreme Court of Appeal."
The verdict and sentence caused a great deal of controversy in South Africa, both in legal circles and with the general public.
Hood added: "Many people, and I'm one of them, believe that the Judge misinterpreted both the facts and the law. So even if the appeal is not successful, if it goes to a higher court and they say 'the Judge was right', we have the certainty of knowing the issue has been re-examined by a higher court."