Shauna Coxsey becomes first climber selected for Team GB at Olympic Games
Last Updated: 11/02/20 1:02pm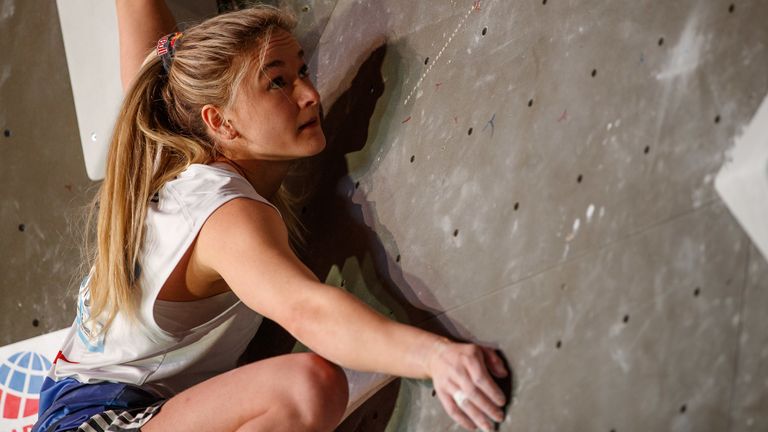 Shauna Coxsey has become the first sport climber selected to represent Team GB at an Olympic Games.
The 27-year-old is a two-time overall World Cup winner and has claimed two bronze medals in the bouldering and combined events at the 2019 Climbing World Championships.
Climbing will make its Olympic debut in Tokyo this summer and will be contested between August 4-7, focusing on three indoor disciplines in a similar format to the triathlon.
Coxsey is the country's most successful athlete in the sport having started climbing at the age of four-years-old and is a strong medal contender this summer.
On today's selection announcement, she said: "I am really excited to be part of Team GB and have the privilege of joining so many incredible athletes in representing our country.
"I would watch the Olympics on TV and be so inspired but at the same time feel disconnected because I thought my sport was never going to be part of it.
"So to now be stood here saying climbing will now be part of that and I am going to be there seems so surreal."
Cumulative totals for the three disciplines will determine the medal placings in men's and women's categories with the three events being:
Bouldering: Climbing at different angles, not far from the ground, without a rope or harness.
Speed: A set climb 15 metres high. You compete against another competitor and the quickest to hit the buzzer at the top wins.
Lead: Similar to bouldering but it is higher up and so you use a harness and a rope.
And Coxsey believes the quick nature of the competition is likely to make it a big hit with spectators.
"Because there are so many different elements to the sport it's going to be fascinating to watch," Coxsey said.
"You will see competitors try to go as fast as they can, as hard as they possibly can and as long as they possibly can."
Team GB chef de mission Mark England added: "Today marks a moment of history for the sport of climbing in the UK with its first selected Olympic athlete in Shauna Coxsey.
"It's not only exciting for Team GB to be welcoming a new Olympic sport on the journey to Tokyo 2020 but to also announce an athlete of the talent and calibre of Shauna.
"Climbing is set to be one of the showpiece events for fans watching the Games this summer and in Shauna we have a world champion and a fantastic ambassador for the sport in the UK."
Coxsey is the 20th athlete officially selected to Team GB for Tokyo 2020 following previous announcements of 14 sailors and five canoeists with the 2020 Olympics set to take place between July 24 and August 9.