Darren Campbell was happy to work twice as hard to get where he wanted in life
Darren Campbell features in episode 16 of Sky Sports' My Icon series
By Dev Trehan
Last Updated: 14/10/17 7:27am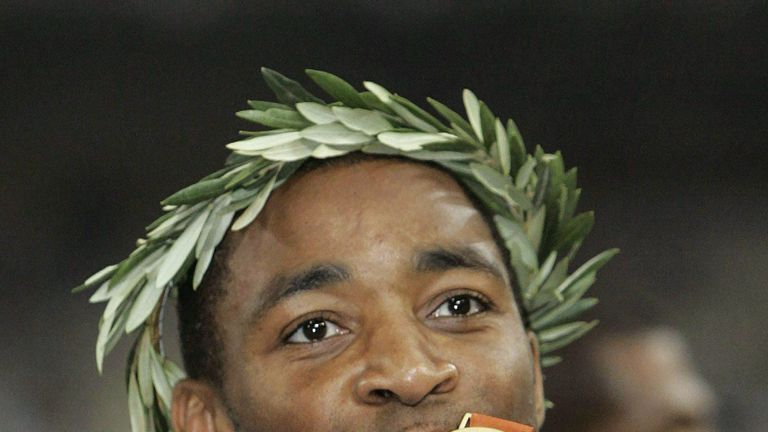 Darren Campbell's journey from being raised by a single parent on a rough council estate to winning Olympic gold is a story that gives hope to millions.
The Mancunian's first introduction to sport was at the age of six and he says at his first school sportsday two years later "my mum decided I was going to become an athlete".
Campbell would go on to win Olympic, Commonwealth and European sprint relay gold - a truly remarkable feat given the hardship his family endured when he was growing up.
"As you get older and especially living on an estate you realise poverty doesn't discriminate," he says in episode 16 of Sky Sports' My Icon series.
"First and foremost I fully acknowledge I am a black man - my mum made sure of that and explained to me I was going to have to work twice as hard.
"Once I knew the rules, it was like, okay, if they are the rules and I have got to work twice as hard then I'm up for that.
"My mum recently told me a story of how poor we really were. She said there was a point when she was on the dole, there was no money and she was washing toilets for £1 an hour."
Campbell talks about his journey in the latest instalment of My Icon, which premieres on Sunday at 7am on Sky Sports Mix and is available On Demand. The episode is repeated on Sunday at 1pm.
Coinciding with Black History Month, Sky Sports' #MyIcon campaign brings you 31 exclusive interviews with top BAME sports personalities across the month of October. For more information click here.