Adam Peaty improves his own 50m world record at World Championships in Budapest
By Dev Trehan
Last Updated: 25/07/17 10:50am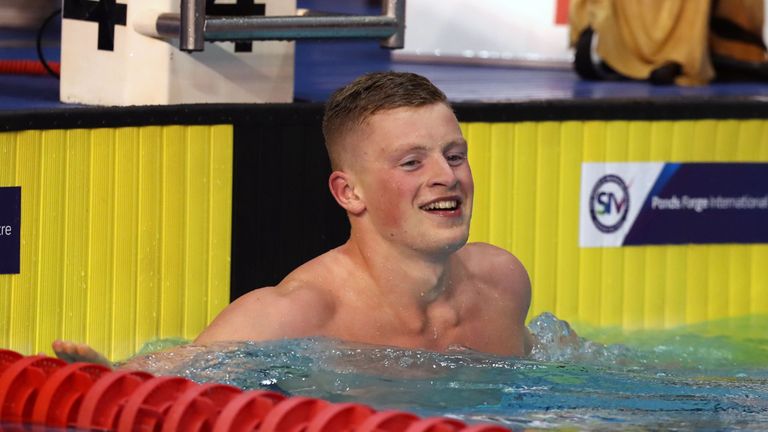 Adam Peaty has set his second world record of the 2017 World Championships during qualifying in the 50m breaststroke.
Peaty swam 26.10, bettering the world record time he clocked en route to winning 50m breaststroke gold in Kazan in 2014 by more than three-tenths of a second.
The 22-year-old finished almost half a second ahead of the time clocked by South Africa's Cameron van der Burgh in his heat.
And Peaty's record-breaking feat on Tuesday morning saw his grandmother Mavis Williams take to social media to celebrate the achievement.
He's done it world record 26.10 sooo proud I'm shaking 👏👏🏊🏻🏊🏻🇬🇧🇬🇧

— Mavis (@Mavise42Mavis) July 25, 2017
Peaty did not expect a world record on Tuesday morning and certainly not by going 0.32 quicker than his previous best.
And the Olympic 100m breaststroke champion is confident he can go even quicker ahead of Tuesday night's final.
He said: "I was quite relaxed. I wasn't going out there this morning for a world record. Honestly. I was going out there just to qualify for the semis.
"It's 10am. It's quite early for a world record. I'm very happy with that swim. That world record is two years old, so it's due another push on.
"That didn't really feel like my best race, so move it on tonight we'll be very happy."
Peaty retained his 100m world breaststroke title on Monday night and broke his own world record during qualifying in that event.
In 2015, the Uttoxeter swimmer became the first man to win both 50m and 100m breaststroke gold at a World Championships.