Swimmer Freya Anderson on training camp in Spain and competing again
By Mark Ashenden
Last Updated: 27/11/18 11:13am
A damp training camp in Torremolinos and competing again in Stockport.
It's been a few weeks of clocking up the miles in and out of the pool for Freya Anderson at the start of a new season.
Find out what the 17-year-old Sky Sports Scholar has been up to since her golden heroics at the European Swimming Championships in the summer.
---
My new swimming campaign got underway at the Manchester international meet at the end of October after two months of full training.
It was good to see how I raced when tired and I got to have a lot of fun! I won four events all with seasons bests and a personal best in the 50m Freestyle.
Then it was off to Spain for me and my Ellesmere College Titans club in Torremolinos for our warm weather camp.
It was 10 days and swimming for 18 sessions, as well as time in the gym. It was always going to be a hard week but we all knew the warm weather would help us get through it...how wrong we were!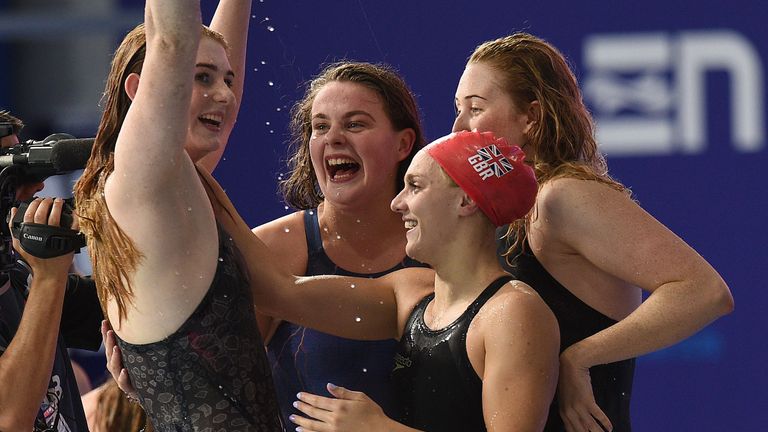 Most of the days were drizzly or cloudy but that didn't stop us from crushing our sets in the pool and on land. The warm days were spent on the beach playing volleyball or going through the town.
As we were there on Halloween, our coach put together a Halloween night with challenges which was really fun and our group got to bond more!
We trained in a 50m pool which is double the length of our normal one. The camp had a great atmosphere and we all became closer, as well as getting in some really good, and hard training sets!
We got home on November 4 and it was straight back into training. After two weeks of solid work we raced at the Stockport Open meet.
On the Friday night, I competed in the 800m which is definitely not my event! However, I still enjoyed it and got a PB.
I didn't compete on the Saturday because I had the British Swimming awards in Manchester which was so much fun!
It was really nice to see some of my best friends and team-mates - plus we all got to scrub up for once!
Then Sunday morning, I was back up early and back over to Stockport for the final day of racing. I had 100m Freestyle in the morning which I swam near to my best with the 100m final an hour later which I won gold.
In the next session, I swam 400m Free which I swam near my season's best, followed by the 50m breaststroke which is a rare sight nowadays. Somehow, I managed to get a PB and win which was an amazing surprise!
It's the Scottish Short Course championships in a few weeks and then I'm off to Canada with the British junior squad for a meet which I can't wait for.