Para Dance Sport duo 'Strictly Wheels' chasing gold at Gay Games
"It's really exciting for Para Dance to be at a mainstream competition at this level," says Gary Lyness of 'Strictly Wheels'; Lyness and dance partner Paula Moulton passionate about both their sport and inclusion
Last Updated: 08/08/18 7:26pm
They've competed for Team GB at the highest level - now the UK's foremost Para Dance Sport couple are going for gold again, at the Gay Games.
Paula Moulton and Gary Lyness, better known as 'Strictly Wheels', are gearing up for the Para category in the inclusive sports event's dancesport competition in Paris, which takes place on Friday.
Paula and Gary will be familiar to many from previous TV appearances - they were semi-finalists in the sixth series of 'Britain's Got Talent' back in 2012, and also featured on Sky 1's 'Got To Dance' show.
Since then, the Manchester-based duo have been flying the flag for Para Dance UK at various international competitions, reaching a highest rank of seventh in Europe in Combi Latin and Freestyle. Para Dance Sport is recognised by the International Paralympic Committee, while the dancing categories at the Gay Games in Paris this week are being run in conjunction with the International Federation of Same-sex Dance Associations (IFSSDA).
"Paula and I have been friends for about 18 years now," Gary tells Sky Sports. "I'm gay, and Paula is straight. We first started dancing back in 2010, and we've been competing for Para Dance UK for about five years now.
"We're really looking forward to taking part in the Gay Games - it's going to be our first time at the event. A friend we know on the circuit, who's a ballroom dancer in London, has encouraged us to go over to Paris. In truth, he bullied us a little bit, but we didn't need much persuading!
"Paula and I both think it's really exciting for Para Dance to be at a mainstream competition at this level, including dancers with disabilities. The focus of the Gay Games is on inclusion, so here you'll have same-sex dancing integrated with mixed-sex dancing. It's a fantastic step, and with the IFSSDA connection, it also means it's a world championship."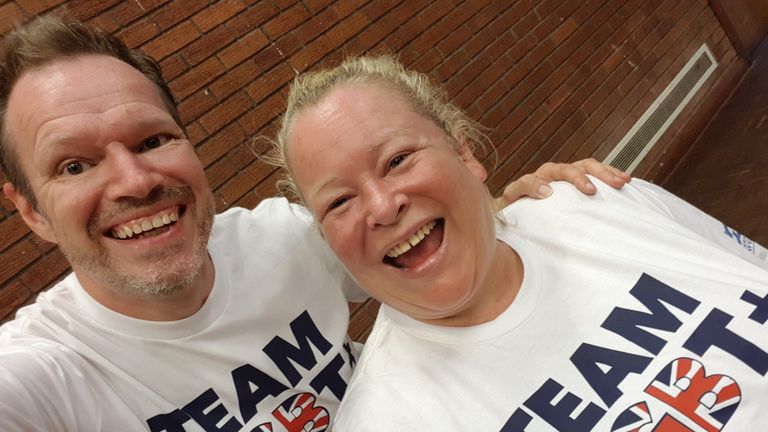 Gary and Paula's partnership proved to be a huge hit with TV viewers six years ago, and since then 'Strictly Wheels' has gone from strength to strength. As well as competing, Gary and Paula deliver classes for people of all ages and abilities and have also set up a charity foundation in Manchester to help raise wider awareness of Para dance. When she was younger, Paula developed pneumonia and while in hospital, contracted the MRSA bug which resulted in damage to her pelvic area. She has used a wheelchair full time since 2004.
"We did 'Britain's Got Talent' really to just put it out there - that you can dance in a wheelchair too," says Gary. "It's since given us a public platform, so we often do events and conferences, giving demonstrations of Para Dance.
"People still remember us, which is really lovely. And also they know that, from the outset, ours wasn't any sort of 'sob story'. Paula's always shown such a positive attitude and our dancing has been a big part of it - it's her saying 'this is me, getting on with life'.
"We might not be the best of the best in dancesport overall, but we always get lots of really empowering comments from our fellow competitors, including the top-ranked couples. They love watching us dance because they can see that we're enjoying it so much."
By bringing Para dance to a wider audience, Gary and Paula have also been able to educate as well as entertain, particularly on points of terminology.
"The French actually still call it 'handi dance' but to us, it's Para dance," explains Gary. "In the UK, we've pretty much abandoned the terms 'handi' and 'handicapped'.
"Furthermore, it used to be known as 'wheelchair dancesport', but now we say Para Dance Sport, to bring it in line with other IPC Para sports.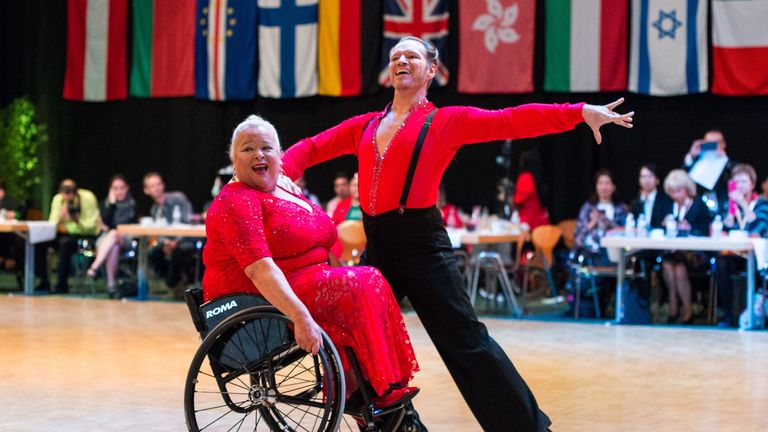 "As with all Para sports, we have different classifications depending on medical definitions. Competitions are split into 'combi dance' - a wheelchair user with a standing partner, which we dance in. There is also 'Duo dance', with two wheelchair users together, and 'Singles' events.
"Things are definitely getting better in terms of understanding. Sometimes the media still uses archaic terms - 'wheelchair-bound' is an example of one that went out in the press a while back. Paula's not bound by her wheelchair; she can get out of it. She uses a wheelchair - that's the distinction."
With their next competition being the Gay Games, Gary sees some timely parallels around language, and how it remains a crucial factor in making society - and sport - as inclusive as possible.
"Terminology changes and evolves, and I think that's really important for different communities," he adds. "For example, you wouldn't say 'homosexual' now. I would never use that word - we just say 'gay'.
"Over time, people are understanding that language is a vital way to make everyone feel more accepted."
In spring of last year, 'Strictly Wheels' won silver for Great Britain at the Dutch Open and Cuijk Para Dance Sport Championship, the largest wheelchair dance competition in the world. They also participated at the World Para Dance Sports Championships in Malle, Belgium, last October.
Their competitive appearances in 2018 so far have been limited due to Paula's recovery from a shoulder operation, but they still only just missed the podium in Freestyle at an event in Poland in June.
"We were back competing in the springtime in Frankfurt, and then in Poland," says Gary. "We're still ranked in the top eight, but mostly it was a case of getting back out on the floor again.
"The European Championships in November is the big goal for us, so we'll be using the Gay Games as an important step towards that. Paula's shoulder is stronger now, so we're definitely getting back to our best and feeling confident again."
Gary and Paula's chemistry shines through in their performances, something that was picked up on by the 'Britain's Got Talent' judges when they starred on the show.
"That's what you get from being really good friends!" he laughs. "Paula and I have such a strong rapport.
"The judges did ask us a few times if we were a couple outside of dancing. Eventually, I had to tell Simon Cowell that my boyfriend was sitting behind him!"
Following the series, Gary and Paula's fellow 'Britain's Got Talent' competitors The Sugar Dandies invited them to demo Para Dance at an LGBT competition in Blackpool - the first time they had encountered a same-sex dance competition.
Now comes the challenge of the Gay Games, an event that Gary appreciates is still hugely important.
"Anything that puts LGBT inclusion in sport on an international platform is brilliant," says Gary. "We compete across Europe, and we meet people of different nationalities, some of whom are made to feel uncomfortable in their homelands just because of who they are.
"Take Russia, for example. We know dancers there who are gay but they could never come out publicly. That level of discrimination infringes hugely on a person's human rights if they can't be who they are in the country where they live."
The 10th Gay Games continues in Paris until Sunday, August 12. Learn more about Gary and Paula at their website, strictlywheels.co.uk.