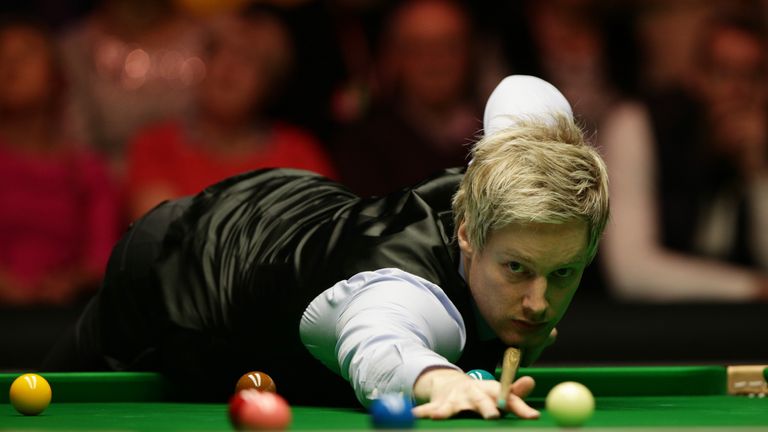 Defending champion Neil Robertson has been knocked out of the UK Championship by a 46-year-old without a tour card.
Peter Lines' 25 years as a professional came to an end in the summer, but he was too good for an out-of-sorts Robertson as he won 6-3 to reach the second round in York.
The victory means Lines and his son Oliver are both in the last 64 in the wake of Lines Jr's defeat of Martin O'Donnell on Tuesday.
Lines Sr is nominally an amateur these days, but that status does not prevent him picking up £5000 for what ranks among the best wins of his career.
In a tense and error-strewn match, Lines forged a 3-1 interval lead and had to fend off a flicker of a fightback from Robertson, who fired breaks of 82 and 72 to close the gap to 4-3.
Two straight frames sealed the win and condemned the 2010 world champion to a first-round exit in a tournament that threw up a major shock last year when David Grace reached the semi-finals.
Robertson said: "I got old-schooled today. His safety was absolutely incredible, probably some of the best safety I've come across for quite some time in terms of him denying you an opening. He didn't make a whole lot of big breaks but he didn't have to."
Lines said: "I've beaten a lot of the top players - John Higgins, Ronnie O'Sullivan - but this is probably the most pleasing result I've ever had.
"It was a daunting task to play the defending champion. A lot of people say you've got nothing to lose. I wanted to go out and relax and at least give a good account of myself.
"In my heart of hearts I wasn't really expecting to win, but I did play quite well. I'm pleased with how I held myself together because Neil's obviously a fantastic player. Hopefully I can win a few more matches."
Upgrade to Sky Sports now and get 12 months half price. Hurry, offer ends December 4!