Team Europe lead Team USA 4-1 after opening day of Mosconi Cup in Las Vegas
By Raz Mirza
Last Updated: 05/12/17 4:55pm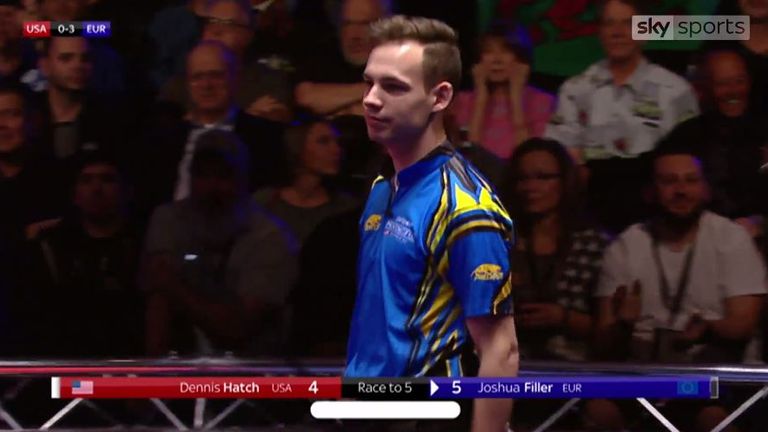 Team Europe took an iron grip of the opening day at the Mosconi Cup with a comfortable 4-1 lead over Team USA in Las Vegas.
It was one-way-traffic from Marcus Chamat's side at the Mandalay Bay Resort, and in the race to 11 they remain on course for an historic eighth consecutive triumph in the 24th annual edition of the tournament.
Jayson Shaw and David Alcaide handed the visiting side a perfect start and they never looked back with only Shane Van Boening's win over Scottish ace Shaw in the final match saving USA from a total white-wash.
Chamat said: "We had some tough games there - we were leading 4-0 in the first match and they came back 4-3 and it could have been 4-4 and then anything can happen.
"If you look at the way the matches went 4-1 is more than I would have expected, but the reason we won a few tight games is that we ran out and didn't make mistakes. We stuck together as a team - we were having group meetings in the middle of matches, if that is even possible."
There was some controversy, however, after 20-year-old Joshua Filler and Dennis Hatch failed to shake hands at the conclusion of their singles match.
Filler edged Hatch 5-4 to put Europe 3-0 up, but the German's antics riled Hatch, who refused to wait to shake the debutant's hand and stormed off with
Speaking after the win, Filler said: "I feel amazing. I never played in front of so many people, it's just amazing.
"I watched the event for over 10 years and it was my dream to play this event. I am so, so happy."
Skipper Chamat was delighted with the young German, saying: "When we played the first team match and Filler ran out, I was in tears because I was happy. He is going to be a superstar, he has talent and his personality is out of this world - he can be the Ronnie O'Sullivan of pool.
"I will take it one step at a time, sit down, have a meeting with the guys and later on I will tell them who is playing when.
"The first day is always tough and I feel we need to settle down a little bit now and then go through who is playing when tomorrow."
Watch the Mosconi Cup live on Sky Sports Action between December 4-7. Can Team Europe make it eight in a row?
Don't forget to follow us skysports.com/more-sports, our app for mobile devices and iPad or our Twitter account @skysnooker for news, reports and expert analysis.