World Snooker Championship: Judd Trump reduces Ronnie O'Sullivan's advantage to set up thrilling Crucible finale
Judd Trump wins Monday's afternoon session 6-2 to reduce Ronnie O'Sullivan's lead to 14-11 in the World Snooker Championship final at the Crucible in Sheffield; the final session gets under way at 7pm, with the first to 18 frames crowned the winner
Last Updated: 02/05/22 7:53pm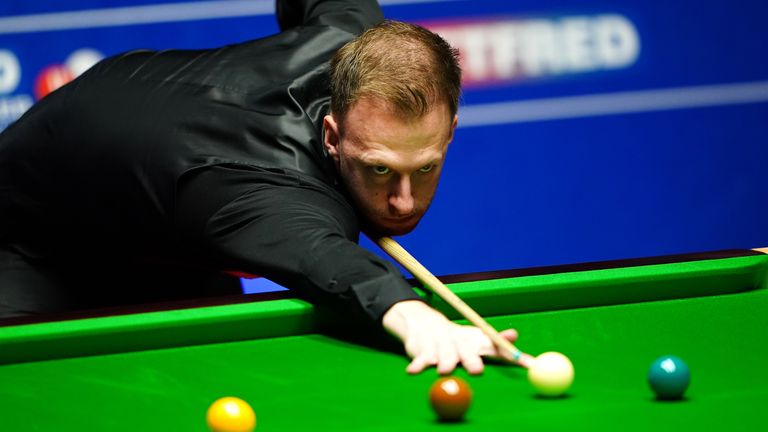 Judd Trump pulled to within three frames of Ronnie O'Sullivan as he won Monday's afternoon session 6-2, setting up a thrilling climax to the 2022 World Snooker Championship final.
Six-time winner O'Sullivan - who is aiming to match Stephen Hendry's record haul of seven titles - still holds a 14-11 advantage going into the evening session at 7pm, but some Trump brilliance in the afternoon, and a few uncharacteristic errors from 'The Rocket', means it's not quite the procession it looked with the score 12-5 overnight.
Trump won the opening three frames on Monday, and really should have won all four before the mid-session interval. Having compiled a break of 45, the 2019 winner missed an ambitious plant to the middle pocket and O'Sullivan duly cleared to the pink to limit the damage.
But O'Sullivan's five-frame advantage swiftly dropped to three as Trump quickly rattled off back-to-back frames upon the resumption, including a potentially pivotal 23rd frame in which O'Sullivan trickled a red into the jaws of the top pocket and Trump nervously cleared to pink to make it 13-10.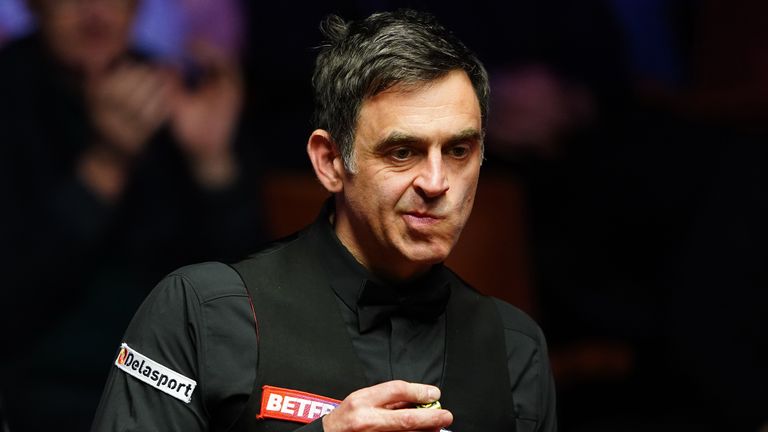 A missed black off its spot cost Trump dear in the next, as he let in O'Sullivan for a break of 51 which proved enough for him to restore a four-frame lead.
But, Trump took the final frame of the session with an expert break of 105 to narrow the deficit to 14-11 ahead of what is sure to be a thrilling conclusion in Monday's evening session.
Frame scores
(Trump first): 98-0 (72), 0-120 (120), 1-78 (68), 66-73 (Trump 52), 13-62, 4-105 (105), 98-0 (97), 79-50, 100-36 (73), 7-117 (66,50), 9-122 (118), 15-107 (97), 0-77, 26-94 (87), 80-4 (80), 0-79 (60), 33-88 (88), 115-22 (107), 90-25 (59), 81-0, 45-71 (64), 66-20, 60-51, 1-68 (55), 126-0 (105)
O'Sullivan had built such a handy 12-5 overnight lead with a dominant display on Sunday, though the day will be remembered for the 46-year-old's furious response to an admonishment for allegedly making an obscene gesture midway through frame eight.
Marteel gave O'Sullivan what World Snooker Tour later confirmed was a "formal warning" for a "gesture" he made after failing to get out of a snooker, prompting a plainly irritated O'Sullivan to challenge the official to check the camera and insist he "saw nothing".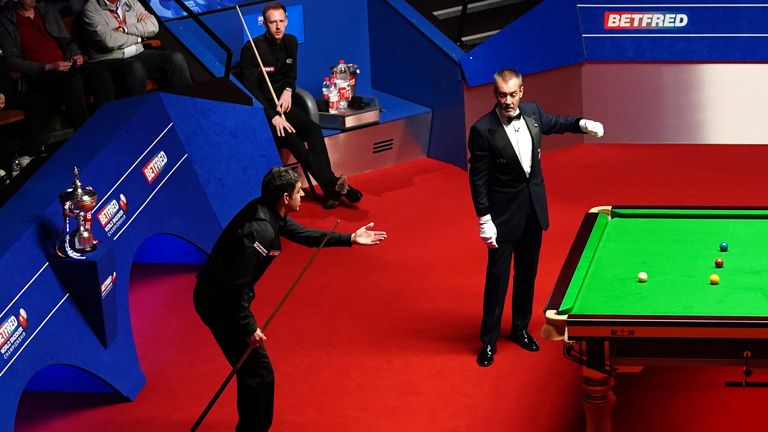 O'Sullivan is already facing an investigation by the WPBSA disciplinary committee for allegedly making a lewd gesture after missing a black in the 13th frame of his 10-5 first-round win over Dave Gilbert.
There has been no such drama during Monday's snooker so far, though O'Sullivan did, in the final frame of the afternoon session, resort to using a cigarette lighter to burn a thread off the tip of his cue.