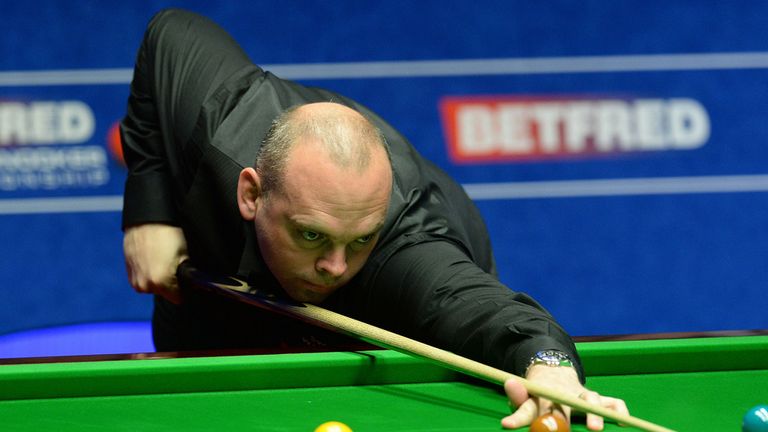 Stuart Bingham held his nerve to beat Judd Trump and complete a fairy tale run to the final of the Betfred World Championship.
The 38-year-old, who had seen off Ronnie O'Sullivan in the quarter-finals, dashed a stunned Trump's title hopes with a 17-16 victory, setting up a shot at Shaun Murphy over Sunday and Monday.
The Basildon man seemed to be in trouble when Trump rifled in breaks of 108 and 129 to come from 16-14 behind to force the deciding frame.
But if Bingham was feeling the tension, it did not show in the audacious plant that set him on a victory march, taking on a shot so risky that had he missed it the match would have surely swayed Trump's way.
Bingham became the oldest first-time finalist at the Crucible since Ray Reardon, at 45, landed the title in 1978. Reardon, however, had won five previous world titles at different venues before the tournament made Sheffield its home.
There were tears, largely of joy, from Bingham in his press conference.
He said: "I want to see my mum and dad and my wife to share it with them. It's unbelievable the way I got over that line. To come out at 16-all, the adrenaline and atmosphere was brilliant.
"The emotions are flowing, I can't believe it. I've had a few tears already, and I'm trying to hold myself together.
"I've been trying to just think about where I am and where I'm going to."
Bingham reflected on "20 years of blood, sweat and tears" and had figured he was destined to miss out on a World Championship final, until this run.
"You think it's going to slip by," he said. "But I knew I was coming here in good form."
Looking ahead to tackling Murphy, he added: "For two weeks I've been taking my chances. If I can do it again it would mean everything."
Trump looked crestfallen, but once Bingham was over the winning line he stepped up to shake his conqueror's hand and offer warm congratulations.
Trump felt he had a ruinous kick on a red he missed in the final frame.
He said: "It's tough to take really. I needed one good chance. If I'd missed the pot normally then fair play but the kick threw it off line.
"I'd worked my way back into the game and to lose it by no fault of your own ... it's so unlucky to have a kick at that time.
"In the end I lost it to a plant so I didn't do anything wrong there either. I felt very confident and was relaxed in that last frame. I feel it's been a little bit taken away from me."
Trump praised Bingham, saying: "He played really well throughout the whole game."
But according to Trump, Bingham will need to go up a level further to challenge Murphy, who was a clinical 17-9 victory against Barry Hawkins.
Asked if Bingham could beat Murphy, Trump said: "Not if he plays like that.
"If the crowd can spur him on, he's obviously got a chance but Shaun is going to be favourite."