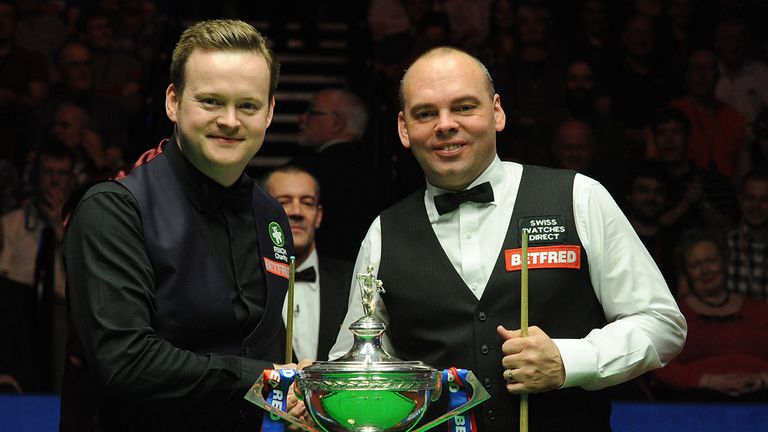 Shaun Murphy edged ahead of Stuart Bingham in the Betfred World Championship final on a dramatic evening at the Crucible.
After a seesaw Sunday session Murphy led Bingham, the man who beat Ronnie O'Sullivan and Judd Trump, by a slender 9-8 margin.
Murphy was magnificent in the early evening, firing breaks of 74, 106, 121 and 51 in sweeping through the four frames before the interval to lead 8-4.
But there was a dramatic twist in store, with Bingham making 76, 123 and 89 in a rapid burst of scoring to take three quick frames.
Murphy ploughed in 76, but back again came the 38-year-old first-time finalist to take the last frame of the night.
The impressive scoring meant a Crucible record fell, as the tournament total of centuries reached 84, one better than the previously highest mark set in 2009.
Murphy had an eye-catching night in more than one way.
He was daring with his outfit, continuing his recent commitment to eye-catching attire. Murphy donned charcoal-blue trousers and a matching waistcoat with shiny red reverse, along with a blue bow-tie, sharp white shirt and black and cream two-tone dinner shoes.
"It sometimes can get a bit monotonous everyone wearing black," Murphy said, going into the match.
"Everyone wearing dinner suits at 10 in the morning is not quite natural. I used to like the old days where it was lounge suits in the morning and a bit of personality in the clothing and then very smart in the evening.
"If we could jump in a time machine and go back 30 years I'd probably feel more at home then."
He took his own tally of centuries in this tournament to 13, two more than he managed when taking the 2005 title.
And Murphy, 32, believes he has at least another decade at the top of the sport.
He landed his first Crucible title as a 150/1 outsider, beating Matthew Stevens, before losing heavily to John Higgins in the 2009 final.
This is his third visit to the final, and Murphy said: "I've had so many good experiences at the Crucible that they vastly outweigh the bad ones.
"With my self-belief renewed in the last couple of seasons I'm looking ahead to good times.
"With the shape my game is in I've got another good 10 years ahead of me in snooker and hopefully at this sort of end of the tournament. In 10 years I'm going to get a few cracks at things."
The finalists are close friends away from the table, and Murphy said coming into the title tussle: "What Stuart has achieved here this fortnight is unbelievable.
"I'm really pleased for him, he's a good mate of mine, and what he's done is great stuff for him and the game."
The match resumes on Monday at 2pm.