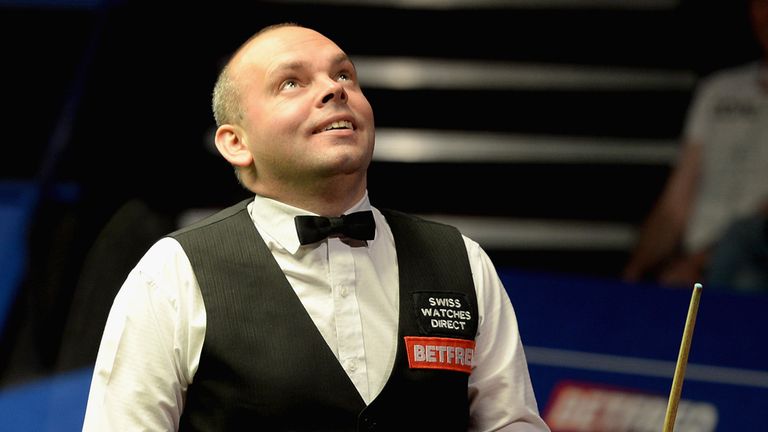 Stuart Bingham held his nerve in a tense final session to beat Shaun Murphy 18-15 and claim his first Betfred World Championship.
Bingham made the most of a couple of bad mistakes from 2005 champion Murphy to claim a three-frame winning margin after winning a key 31st frame which lasted more than an hour.
He fought back from a 9-8 deficit at the start of the afternoon and produced some polished potting that had him looking at a maximum break at one point.
Bingham had already managed runs of 87 and 51 when he started a break by potting 14 reds and 14 blacks, but he left himself in a tough position on the final red and failed to convert a cut into the middle pocket.
But six frames out of eight had gone his way in the session and Bingham had turned things around into a 14-11 advantage.
They shared the first two frames of the evening session but Murphy made sure it would be a late finish for fans at the Crucible in Sheffield as he reeled off three successive frames to level at 15-15.
However his run came to an end in the pivotal 31st frame which saw Murphy give away a total of 38 points in fouls as Bingham constantly had him against the ropes in a dour defensive battle.
The frame eventually passed an hour in duration, and even saw both players need toilet breaks, but Bingham was able to fire in a vital pink to reclaim the advantage.
And his fluent break-building in the final two frames, after being left open shots by an attacking Murphy, meant a career-defining victory for the 38-year-old from Basildon, who had only once before even made it to a World Championship quarter-final.
He becomes the oldest Crucible champion since Ray Reardon won in 1978 at the age of 45 and he was ecstatic afterwards.
"Wow," Bingham said. "At one stage there at 15-all I thought I was going to do Shaun's speech, all commiserations.
"I think it was a 63-minute frame and to go 16-15 up, that changed everything. It calmed me down. Unbelievable. Winner, winner, chicken dinner!"
Asked if he could sum up what it meant after 20 years of trying he added: "Everything.
"Twenty years as a pro. Blood, sweat, and tears, on the road, qualifying in places like Prestatyn and Malvern, places like that. Everything rolled into one, so many family and friends backing me, it's just been unbelievable."
Murphy, while disappointed, was full of praise for Bingham.
"It's been a great fortnight for me," he said. "It's not finished the way I wanted it to.
"I came here well prepared and gave it my best as I always do and to come up against an inspired Stuart Bingham, who's beaten Ronnie O'Sullivan and others to get here, sometimes your name is just on the trophy.
"As a snooker geek like Stuart, there is not a player alive who deserves it more than him."