Conor McGregor's UFC challengers fight for the right to welcome him back into the cage
Potential rivals are queuing around the block and licking their lips… but, rightfully, the opportunity should lie with Ferguson or Lee
By James Dielhenn
Last Updated: 05/10/17 11:18am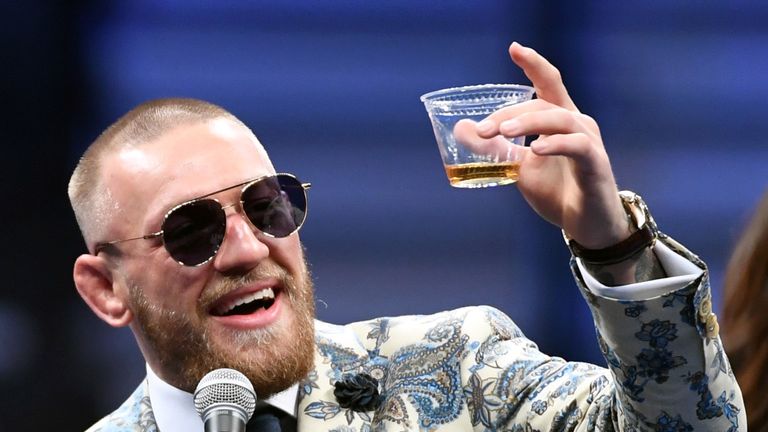 If the fight game were a rational meritocracy, Conor McGregor's next challenger would be determined this weekend. Yet, as ever, the bombastic Irishman sits pretty with options aplenty while the chaos beneath him unfolds.
The list of potential opponents that McGregor has positioned himself opposite nearly runs into double figures, encompassing two sports, and he'd probably scrap with Batman, King Kong or your big brother if they looked at him funny.
This weekend, the gold belt awarded to the winner of Tony Ferguson vs Kevin Lee will make them the interim lightweight champion but, more significantly, is symbolic of their right to face the division's king McGregor. But it's never as simple as that.
Nate Diaz, McGregor's seemingly eternal foe who dramatically choked the Irishman into submission before losing their rematch, waits in the wings for a trilogy fight that would likely create the biggest homecoming for boxing's most high-profile debutant. It would be a thrilling fight, one that we've seen McGregor lose and win, and will surely take place before either man's race is run.
But the time is overdue to see McGregor in a new role, that of the defending champion. He has infamously never defended the featherweight nor the lightweight titles that made him a record-setting simultaneous champion, and the same applies for the two belts he accrued in his pre-UFC days. He has always had bigger fish to fry, but Ferguson and Lee's upcoming fight affords him the chance to answer one of the biggest questions about his career.
Either Ferguson or Lee, the headliners of UFC 216 in Las Vegas, would be a dangerous threat to McGregor in part due to their success with a variety of choke-based submissions - historically, the Kryptonite of the Irishman. McGregor's three career defeats in MMA have been via submission.
You have an interim belt for a reason - so you can unify the thing. [Diaz] is what, a top 10 [lightweight]? Not even top five.
Tony Ferguson
Ferguson in particular, with his additionally unorthodox striking attack, would represent a difficult puzzle to solve for the UFC's poster boy. He most recently beat Rafael dos Anjos (who withdrew from facing McGregor, making way for Diaz) and his eight wins via choke-hold are an obvious red flag for the Irishman. Nine consecutive victories, with his last five earning a performance-related bonus cheque, have rocketed Ferguson to No 2 in the divisional rankings.
"You have rankings for a reason," Ferguson said on a conference call. "You have an interim belt for a reason - so you can unify the thing. [Diaz] is what, a top 10 [lightweight]? Not even top five. Kevin Lee has more heart than Nate, and I have more heart than this whole entire division."
Lee is more of a newcomer to the lightweight elite, owing to three consecutive submission victories. The wrestling-based contender is listed at No 7 but, intriguingly, helped Floyd Mayweather's preparations to box McGregor. The subplot of a rivalry exists already.
"[McGregor] was getting outwrestled by a dude that's 40 years old and a boxer," Lee said this week at a media event. "[Mayweather] was beating him in the clinches and outwrestling him. You've got to show a little bit more than that to me.
"As far as I'm concerned, the man has lost three of his last four fights. I don't even think he beat Nate Diaz the second time."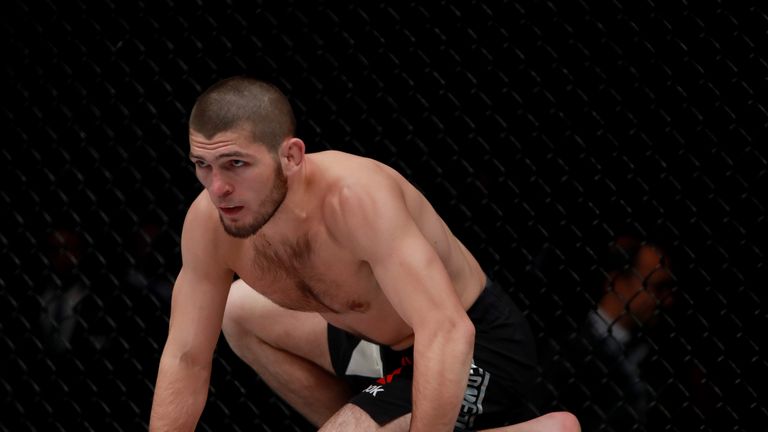 The elephant in the room is still Khabib Nurmagomedov, the No 1-ranked contender with an unbeaten 24-0 record (an eye-opening rarity in high-level MMA). The Russian's grappling-heavy method has been mooted as a nightmarish match-up for McGregor, but Nurmagomedov's biggest adversary has been his own issues with injuries and weight cutting. Three times Nurmagomedov has been scheduled to fight Ferguson, and three times it has fallen through yet the enigma surrounding him means he is a fascinating future foe for McGregor.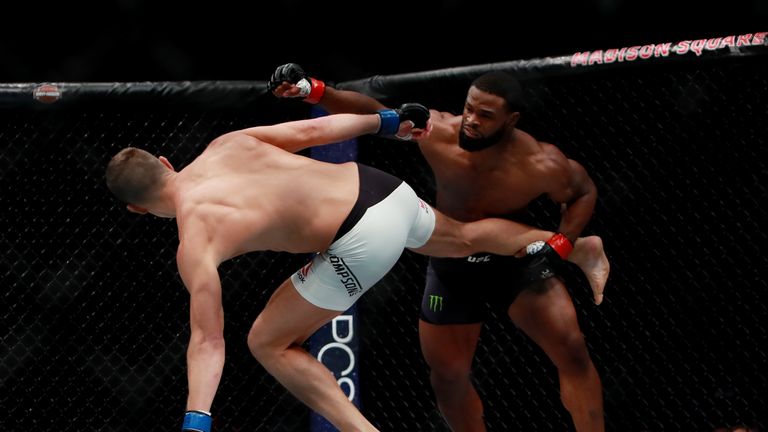 As always, McGregor has welcomed a host of contenders, big and small, into the conversation about who should have the honour of receiving his punches next. The returning legend Georges St-Pierre, former foe and current featherweight champion Max Holloway, and welterweight king Tyron Woodley would all appeal for different reasons.
It seems like all signs point towards the Diaz trilogy fight - both McGregor and his coach, John Kavanagh, has talked up the possibility of a St. Patrick's Day meeting in March. Nobody will complain if they trade blows again, but the rightful benefactor is the winner of Ferguson vs Lee.