WWE superstar AJ Styles insists the UK fans are the "best in the world" and admits he's even thought about making it his permanent home.
The popular competitor is preparing to be part of the WWE's flagship shows, RAW & Smackdown, which will come from London's O2 Arena this week.
"I've always loved it here, I've always enjoyed being here, "Styles told Sky Sports. "I don't know if it's the history with the WWE or the independents, I don't know exactly what it is but I've been coming over here for years and it's always been a pleasant time.
"At one point I thought I would live in the UK but there's something about this place that just has the best fans in the world, I've always said that."
Styles has made a huge impact since making his WWE in January 2016, winning the WWE Championship and enjoying epic feuds with the likes of John Cena and Chris Jericho.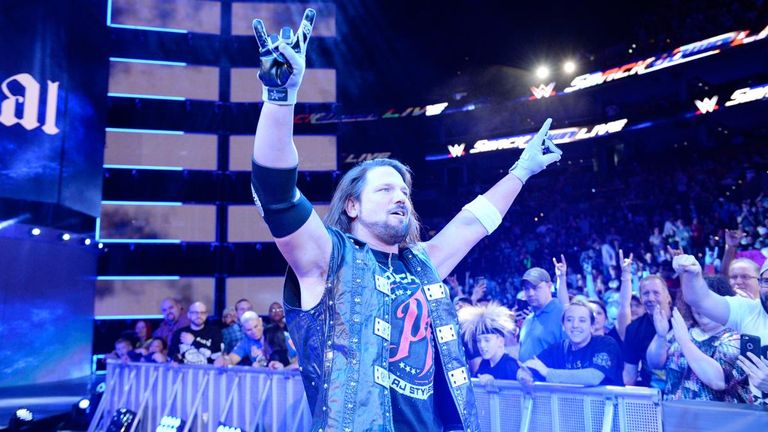 But the man known as 'The Phenomenal One' admits performing in front of the British crowd has been a highlight since joining the company, mainly because of their raucous nature.
"I love the UK. I've been wrestling for 18 years and it's always been one of my favourite countries to visit because they have some of the craziest fans. They love what we do, especially the WWE.
"You'd better watch out because, as we've seen, we get a lot of UK fans that come out for Wrestlemania and the Monday and Tuesday after on live TV they'll take over the show if you don't watch it.
"I feed off them. When there are great fans you can't help but get energised and I like that. Maybe I would be a little intimidated had I not been over here so much but I love these fans."
Styles is the No.1 contender for the U.S. Championship currently held by Kevin Owens. He'll get his title shot at WWE Backlash on May 21, live on Sky Sports Box Office.
"I'm excited about it. I think the United States Championship is as big of a deal to me as the WWE Championship, I'm just not in line for that right now and that's okay. I set goals and being U.S. Champion is one of those and I want to make that Unites States Championship as important as the WWE Championship."
"We've been able to do this before. This isn't the first time we've been in the ring together, not even in the WWE but the matches are always going to be good. You get two guys in the ring that are passionate about what they do and hopefully we'll put on a show to prove that."
Sky Sports News HQ, as well as Sky Sports online and social media accounts, will be live at London's O2 in the build-up to RAW and Smackdown.
RAW will be broadcast for the first time at 1am on Tuesday morning on Sky Sports 5HD, Smackdown will be at the same time on Wednesday morning, also on Sky Sports 5HD.