WWE NXT results: Finn Balor beaten by Kevin Owens in NXT Title match
Sasha Banks retains Women's Championship by conquering Alexa Bliss
Last Updated: 28/03/15 2:35pm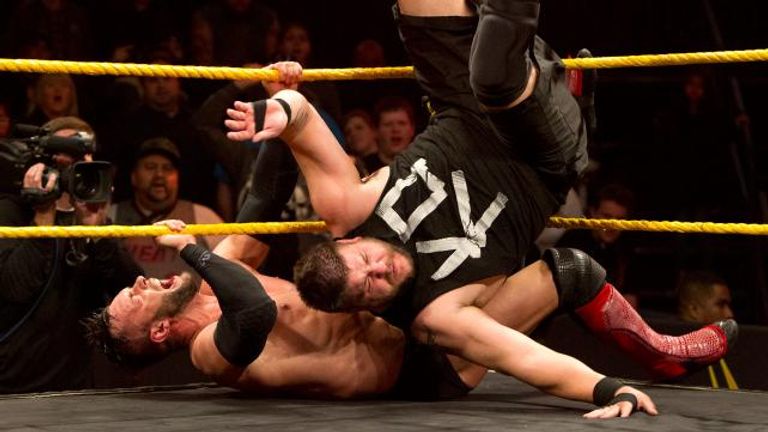 Finn Balor's hopes of winning the NXT Championship were dashed in Orlando as he went down to reigning titlist Kevin Owens.
Irishman Balor hit his larger opponent with a multitude of his most-damaging moves, including a Sling Blade larit, a monstrous DDT and his double stomp Coup de Grace off the turnbuckle.
However, Owens pounced on the fan favourite's leg injury to whack him with a pop-up powerbomb and retain the championship he pinched from Sami Zayn in February.
Women's Champion Sasha Banks kept her gold at Full Sail University, too, edging out a game Alexa Bliss with Banks Statement after being on the back foot for most of the match-up.
Former gymnast Bliss clobbered Banks with a Glitz Flip and a sunset flip powerbomb but failed to connect with a Sparkle Splash and was swiftly submitted by NXT's resident "Boss".
Hideo Itami, meanwhile, was absent from Wednesday's show but did shine later in the week at WrestleMania Axxess to rubberstamp a spot in Sunday night's Andre the Giant Memorial Battle Royal.
The Japanese bested Adrian Neville in the semi-finals of the tournament and Balor in the final, meaning he will now line-up alongside the likes of Kane, Ryback and Damien Mizdow in WrestleMania 31's multi-man melee.
Watch WrestleMania 31, live from midnight on Sunday (Monday morning) on Sky Sports Box Office, or follow our live blog.
WrestleMania 31 Booking details
WrestleMania 31 will be shown on Sky Sports Box Office (channel 743) and Sky Sports HD Box Office (channel 752) at midnight on Sunday, March 29 (Monday morning).
WrestleMania 31 will be repeated on Sky Sports Box Office (channel 743) BUT NOT Sky Sports HD Box Office (channel 752) between 10am, Monday, March 30 and 10pm, Saturday, April 4. Repeat showings will last for four hours.
The event is priced at £19.95 for UK customers, €24.95 for viewers in the Republic of Ireland.
Viewers can call 08442 410 888 from Tuesday, March 17 to book WrestleMania 31. (There may be an additional charge for telephone bookings).
You can also book WrestleMania 31 online from Tuesday, March 17 by visiting this link: https://my.sky.com/orderboxoffice/
Cable customers should contact their local cable operator.