Dolph Ziggler: I never wanted to leave WWE
Ziggler talks 'new lease of life' ahead of WWE's UK tour
By David Ruse
Last Updated: 31/10/16 6:42am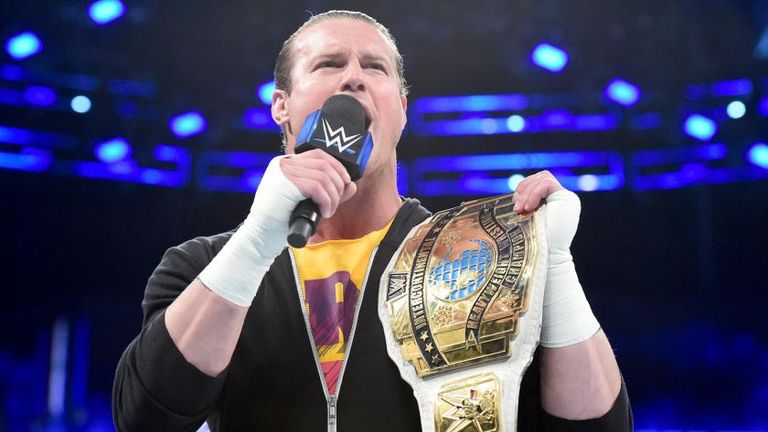 Dolph Ziggler is set to be in WWE for a good while yet after saving his career and winning the Intercontinental Title at Smackdown's No Mercy pay-per-view earlier this month.
The Show Off went into his match against then champion The Miz in California knowing that defeat would force him to retire from the company he signed for way back in 2004.
Ziggler triumphed in a spectacular bout, dealing with interference from Miz's wife Maryse and former Spirit Squad pals Kenny and Mikey to prevail with a Superkick.
However, the Cleveland-born star admits he did fear his WWE tenure could be coming to an end before his big victory - and had begun plans for a life outside the ring.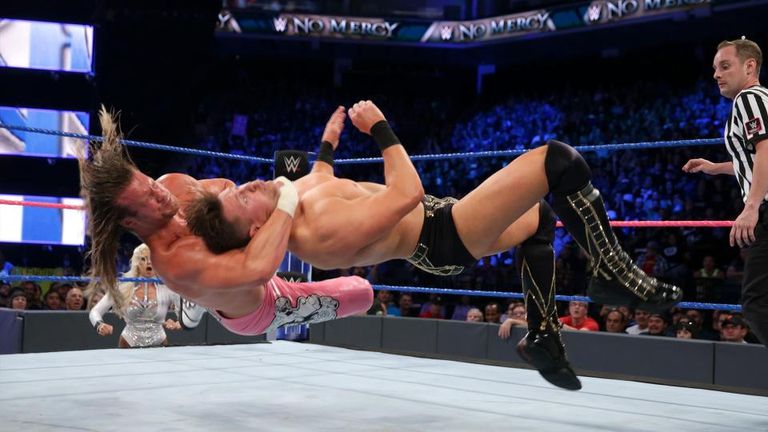 "I'd been in talks with an agent for about a year and told him to have a couple of things ready after the date after the No Mercy pay-per-view just so I had my bases covered," Ziggler told journalists during a conference call ahead of WWE's UK tour in November.
"But while I was prepared to go, I sure as hell never wanted to go.
"WWE is a business but [WWE chairman] Vince McMahon is a human being and if I went to him and said I need to leave because I can't go higher on the card, I believe he would understand and let me go.
"I could go and do other things, too - I am fortunate that I have a stand-up career, while I have also gone on Fox News to talk politics, something I study, write about and have lots of ideas about.
"But I am still prepared to be the best WWE Superstar I can be and I want to keep doing this."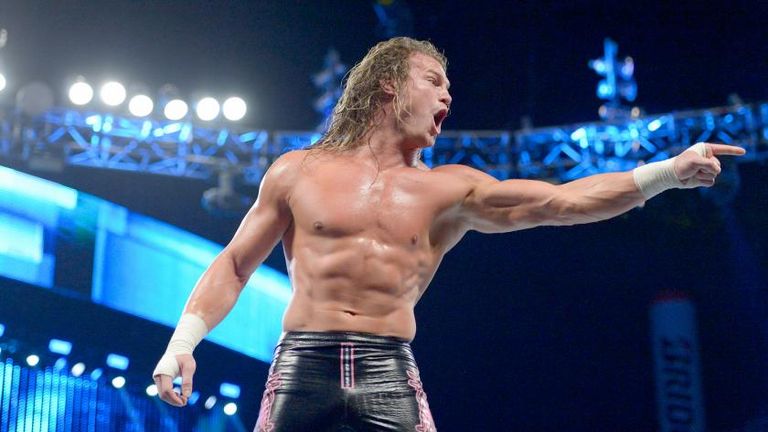 Ziggler says his WWE career was "at a crossroads" ahead of No Mercy, having failed to win the WWE World Title at SummerSlam in a match against Dean Ambrose and then been unable to prise the Intercontinental strap from The Miz at Backlash and on Smackdown.
The 36-year-old subsequently agreed to put his career on the line for one last shot at The Miz's title, and reckons the emotion and backstory of the bout made it his best ever.
"Any world championship or WrestleMania match I've had didn't have the build that this match did," said Ziggler, who is now a five-time Intercontinental Champion.
"All 11 years of my career - mainly how I lose all the time - played into it, with Miz showing a highlights package featuring every terrible thing that has happened to me in this company.
"I had to put something on the line to force myself to step up or go away. I knew I needed to be more special than someone who is just good at wrestling and overcoming that challenge and becoming champion has hopefully given my career a whole new lease of life."
Ziggler also reckons July's WWE brand extension, during which Superstars were drafted exclusively to either Raw or Smackdown and not eligible to appear on both shows, has given him a boost.
He added: "I said the brand split would be a chance for a lot of up-and-coming guys to get a chance to be on television, get a few minutes of microphone time or introduce themselves.
"I didn't see it happening for me but it has actually given me a chance to be myself and not memorise something or say a catchphrase. It has been real and reinvented me."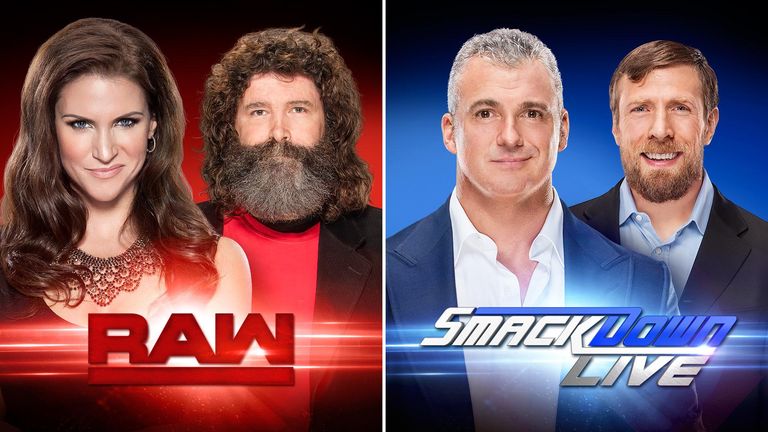 Ziggler is a proud holder of the Intercontinental Title, a belt first won by Pat Patterson in 1979 and held over the years by luminaries such as Razor Ramon, Shawn Michaels and The Ultimate Warrior.
The Show-Off is now looking to restore the championship to its former glory, something he confesses - albeit begrudgingly - that his rival, The Miz, had already begun to do.
"About 20 or 30 years ago that was a stepping stone title or showed you who could be the next guy to take the ball and run with it," said Ziggler.
"Everyone has been talking about getting it back to that and I think Miz did a great job.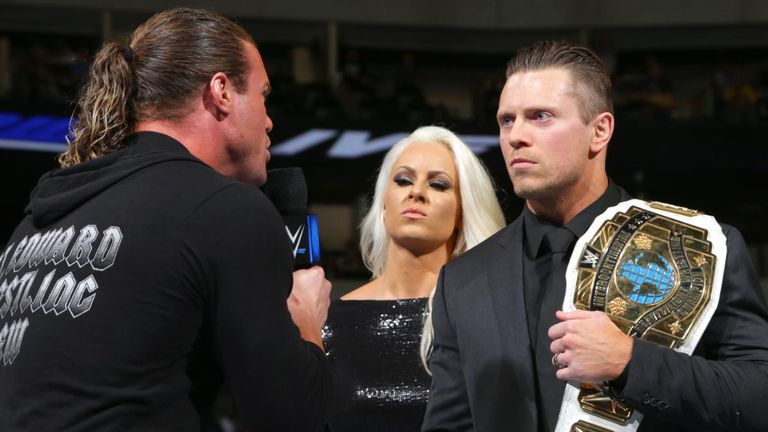 "He is a jerk but he took that title everywhere he went, found a way to get everyone talking about it, and made it more than he was.
"Hopefully I can add my two cents to it, make it more special and ensure a match for the title main events a Smackdown Live or becomes the focal point of the show."
Ziggler has certainly become a focal point of the blue brand but the kingpin in WWE remains McMahon, the company's majority owner and key decision maker.
"I have always been told it's important to have a relationship with Vince but at the same time it is difficult," said Ziggler.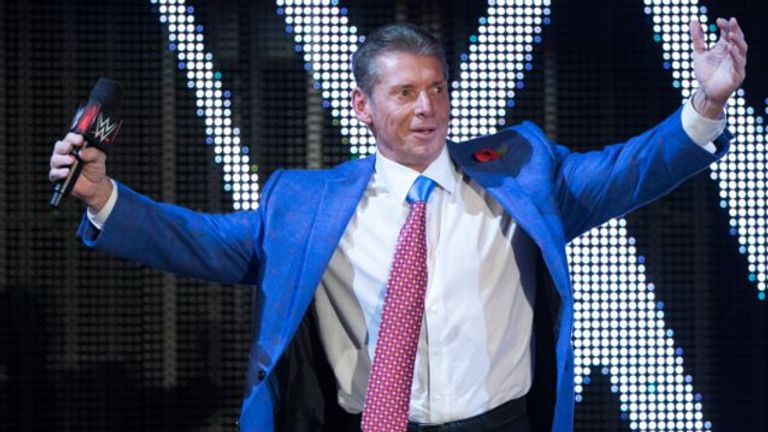 "The one or two days a week you would see him he is extremely busy getting the shows ready for the live audience, so if you find two or three minutes you'd better have something good to say as he is a workaholic and you are eating into his time.
"He is a little scary at first but the more you talk to him, the more you deliver in the ring and the more he can count on you [the more time he has for you].
"For years I have taken the time to say hello and bring up an idea and he is usually very receptive. He has started to trust me a lot more."
Ziggler and his WWE peers are about to embark on a 10-show tour of the UK which will include flagship programmes Raw and Smackdown taking place in Glasgow for the first time.
And Ziggler believes it may not be too long before a pay-per-view returns to these shores.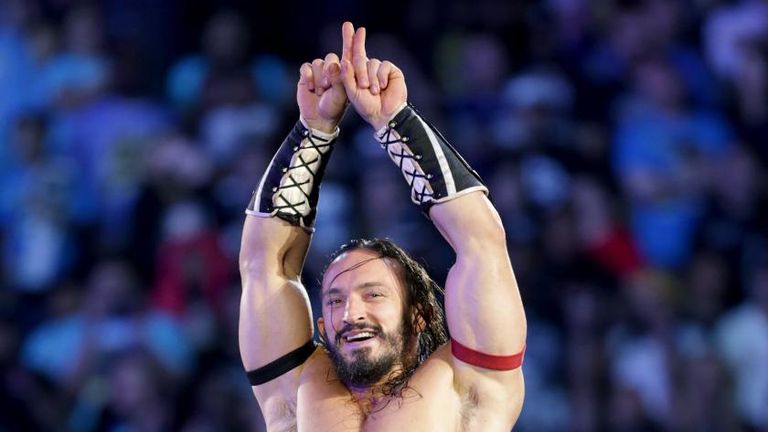 "I think we are getting closer," he added. "The audience is so huge, great and loyal and we as performers think they have gone above and beyond to deserve it.
"I'm sure at some point it will be in the works and it will be one of the greatest crowd responses we have ever had."
You can catch Dolph Ziggler when WWE LIVE returns to the UK between November 4-10. For tickets, visit http://www.ticketmaster.co.uk/
Friday, 4 Nov, 7:30 pm: The SSE Wembley Arena, London, England
Saturday, 5 Nov, 7:30 pm: Butlins, Minehead, England
Saturday, 5 Nov, 7:30 pm: Manchester Arena, Manchester, England
Sunday, 6 Nov, 5 pm: Newcastle Metro Radio Arena, Newcastle, England
Sunday, 6 Nov, 7:30 pm: First Direct Arena, Leeds, England
Monday, 7 Nov, 7:30 pm: Monday Night Raw at The SSE Hydro, Glasgow, Scotland
Monday, 7 Nov, 7:30 pm: GE Oil & Gas Arena, Aberdeen, England
Tuesday, 8 Nov, 7:30 pm: SmackDown Live at The SSE Hydro, Glasgow, Scotland
Wednesday, 9 Nov, 7:30 pm: Genting Arena, Birmingham, England
Thursday, 10 Nov, 7:30 pm: Motorpoint Arena, Cardiff, Wales
You can watch Premier League and EFL Cup football, plus England's tour of Bangladesh and the Mexican Grand Prix on Sky Sports. Upgrade now and enjoy six months at half price!