WWE TLC: How Edge, CM Punk and Hornswoggle have starred
WWE's first TLC Match was contested at SummerSlam in 2000...
Last Updated: 30/11/16 1:16pm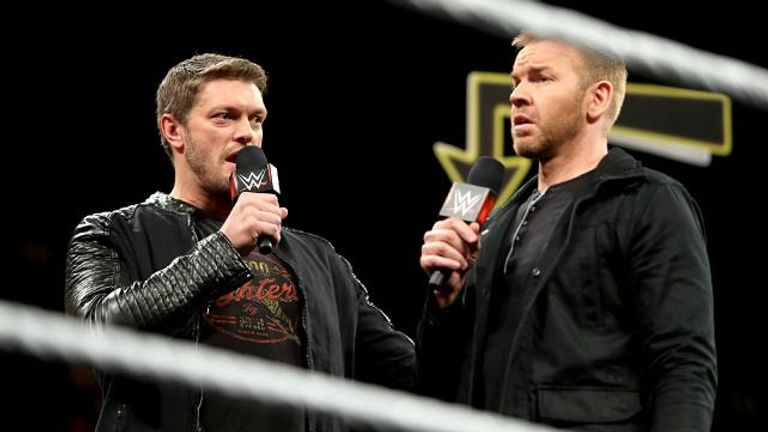 AJ Styles will defend the WWE World Title against Dean Ambrose on Sunday night in the 19th Tables, Ladders and Chairs Match.
The high-octane bout first came into being at SummerSlam in 2000, a contest in which three legendary duos fought for the WWE Tag Team Titles.
Last year's tussle, meanwhile, saw Sheamus successfully defend the WWE World Championship against Roman Reigns in Boston.
Read on to recall some of TLC's most memorable moments, including how the match was was a happy hunting ground for Edge and CM Punk and how two little fellows wowed the crowd in 2014…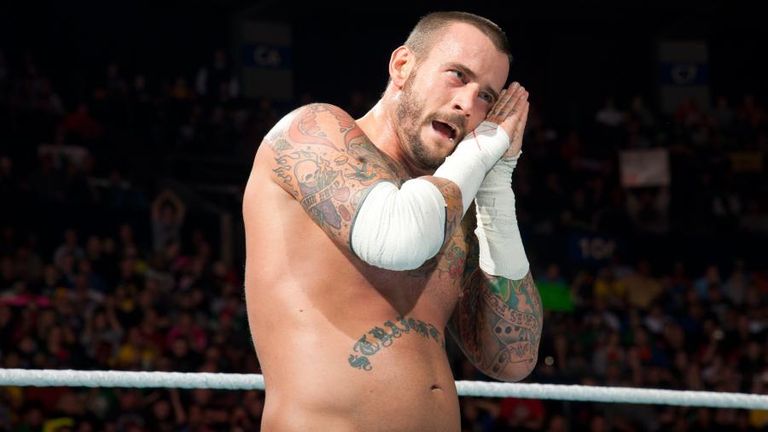 Grab your weapons!
The TLC match began as a way to get The Dudley Boyz, The Hardy Boyz and Edge and Christian's trademark weapons into one bout, with the duos famous for using tables, ladders and chairs respectively. Bubba Ray Dudley's call for his brother D-Von to "get the tables" is one of the most iconic phrases in WWE history, after all!
Anyway, the maiden TLC duel took place at Summerslam, as Edge and Christian successfully defended the Tag Team Titles against the Dudley and Hardy siblings - Jeff hanging off a belt one of the match highlights.
A similar scenario played out at WrestleMania 17 the following April with Edge and Christian defeating the same opponents to regain the twin straps following an assist from Rhyno, who thundered Matt Hardy and Bubba Ray Dudley through a whopping FOUR tables. Ouch!
The most recent time the WWE Tag Team Titles were fought for in a TLC Match came in 2009 - D-Generation X's Triple H and Shawn Michaels prising the straps from Chris Jericho and Big Show.
A cutting Edge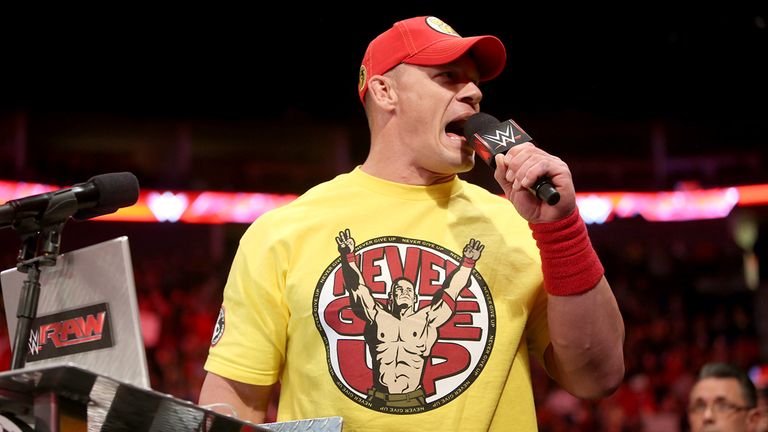 Throughout the 2000s, Edge moved from the tag-team scene to the singles ranks with great success but he never forgot his TLC roots.
The Rated-R Superstar won three of the four TLC clashes he fought solo, defeating Ric Flair to retain the WWE Championship in 2006 and The Undertaker for the vacant World Heavyweight Championship in 2008, before outfoxing Kane, Alberto Del Rio and Rey Mysterio to pocket another world crown at the TLC pay-per-view in 2010.
The only grappler to best Edge in a TLC encounter was John Cena, who claimed the WWE Title in the Canadian's home city of Toronto in 2006.
Still, five victories in seven TLC matches for The Ultimate Opportunist is a statistic to be proud of. Oh what Matt and Jeff Hardy would give for that record, having failed to garner a victory in a combined eight TLC matches between them.
Perfect Punk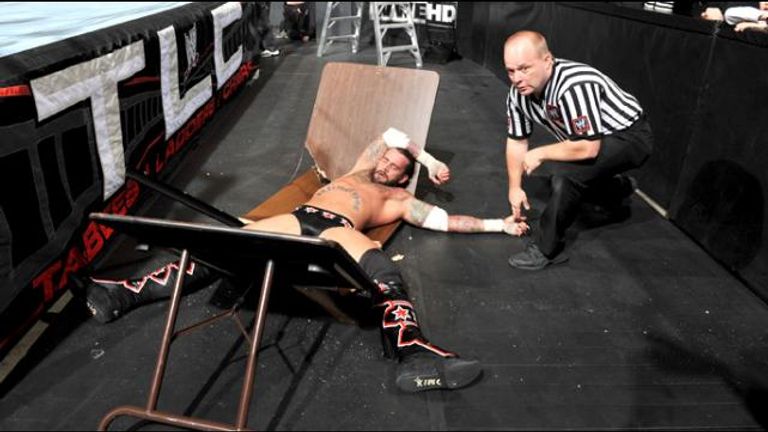 However, the only man with a 100 per cent record in TLC bouts having wrestled in more than one match is CM Punk, who triumphed in each of his three encounters.
That stellar run began at SummerSlam in 2009 when he conquered Jeff Hardy to secure the World Heavyweight Championship and continued when he retained the WWE Title against Del Rio and The Miz at TLC in 2011, a contest memorable for Del Rio's personal ring announcer, Ricardo Rodriguez, tumbling off a ladder and through a table at ringside.
Punk's third victory was acquired via nefarious means when The Shield (more on them shortly) helped him overcome the powerful Ryback on Raw but, hey, a win is a win.
It seems unlikely the Chicagoan will compete in another TLC match, having retired from wrestling in 2014, but a slew of fans will be hoping he does.
A dream debut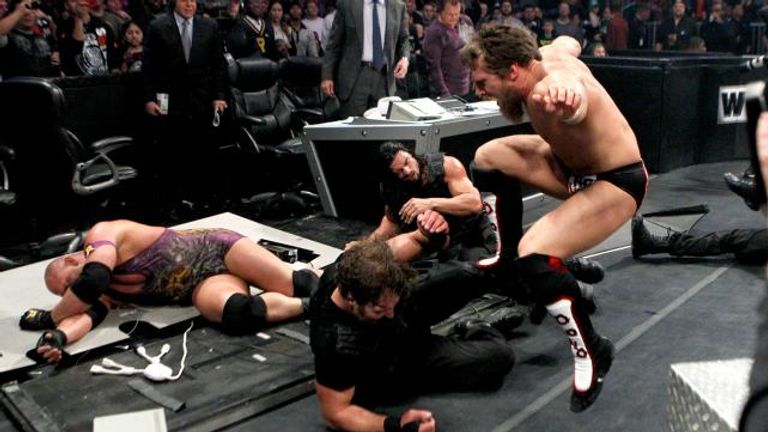 The Shield (Ambrose, Reigns and Seth Rollins) burst on the scene at Survivor Series 2012, hitting Ryback with what would become their trademark triple powerbomb onto the announce desk and allowing Punk to pin Cena to retain the world title.
Yet, Rollins, Ambrose and Reigns proved they could be just as dynamic in the ring by defeating Ryback, Daniel Bryan and Kane at TLC a month later. With no championships on the line, the match was to be decided by pinfall or submission and The Hounds of Justice won via the former after hurling Bryan through a table.
Rollins is the only member of the Shield not to have wrestled in a singles TLC match - Ambrose losing to Bray Wyatt in 2014 and Reigns coming up short against Sheamus 12 months ago.
Champion versus Champion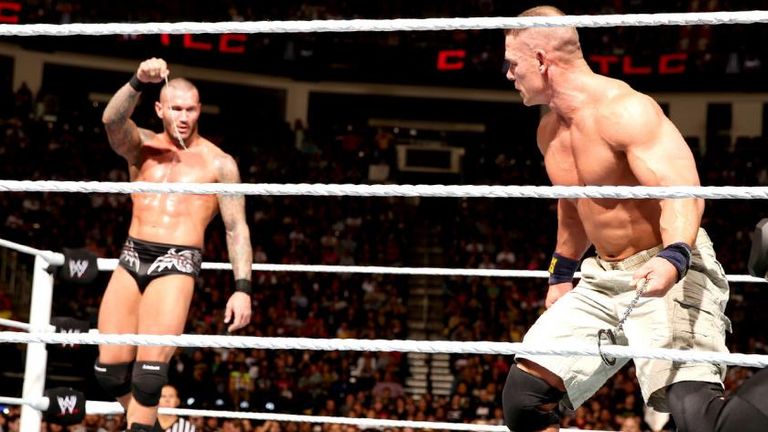 World Heavyweight Champion Cena and WWE Champion Randy Orton met in a title unification TLC Match in Texas in December 2013, with Orton emerging victorious.
The Viper took some punishment, mind you - falling through a table after being cracked with a ladder and then given an Attitude Adjustment through the announce desk. Yet, his cunning plan to handcuff Cena to the ropes paid dividends - just!
Somehow Cena unscrewed the turnbuckle and slackened the rope before climbing the ladder towards the titles, but a cerebral Orton then yanked the rope, sent Cena face first into a table and pinched the belts for himself to become the inaugural WWE World Heavyweight Champion.
A small brawl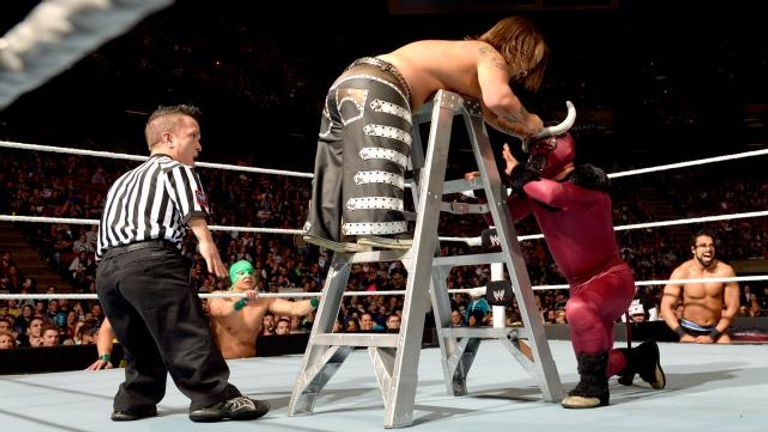 Hornswoggle and El Torito showed that TLC is not just for big boys when the diminutive Superstars met in the inaugural WeeLC clash at the Extreme Rules pay-per-view in May 2014.
In a bout replete with tiny tables, ladders and chairs - and commentated on by Micro Cole, JB-Elf and Jerry "The King" Smaller - Hornswoggle performed an elbow drop through a miniature announce booth and overcame his fear of heights to leap off a ladder. It just wasn't enough.
When El Torito saw his rival within inches of table, the bull jumped from the turnbuckle and cannoned Hornswoggle into the timber before pinning him.
The wrestlers involved may have been small - as were the referee and ring announcer - but they received a huge round of applause from the fans inside a packed-out Izod Center in New Jersey, with shouts of "WeeLC" heard before, during and a long time after the match.
WWE TLC booking details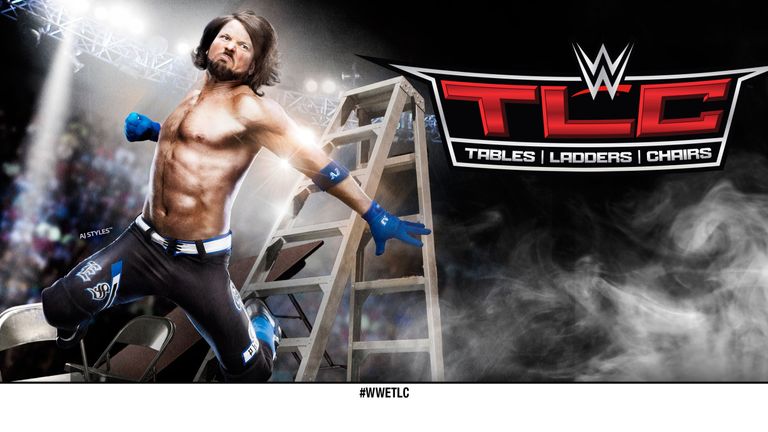 WWE TLC: Tables, Ladders and Chairs will be shown live on Sky Sports Box Office (channel 491) and Sky Sports HD Box Office (channel 492) from 1am on Sunday, December 4 (Monday morning).
The pay-per-view will cost £14.95 for viewers in the United Kingdom and €21.95 for customers in the Republic of Ireland.
WWE TLC will repeated on Sky Sports Box Office (channel 491) BUT NOT Sky Sports HD Box Office (channel 492) between 10am on Monday, December 5 and 10pm on Tuesday, December 6.
You can order the show online by visiting this link: https://my.sky.com/orderboxoffice/?DCMP=WWETLC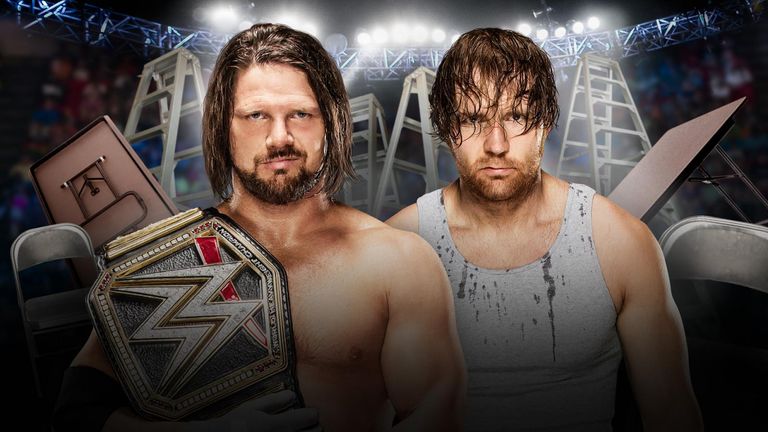 You can also book the event over the phone: UK viewers should call 03442 410 888, while customers in the Republic of Ireland should call 0818 220 225. (There may be an additional charge for telephone bookings).
You are also able to order the show via your Sky remote:
Sky+: Press the box office button on your remote, then click the sports tab followed by WWE TLC: Tables, Ladders and Chairs
Sky Q: Press Home on your Sky Q remote, select TV guide, then Box Office and then WWE TLC: Tables, Ladders and Chairs. Enter your TV Pin if prompted. (Only bookings via Sky TV remote are recordable using Sky Plus).
Sky TV residential customers only. Commercial customers contact Sky for price and to order. Sky Box Office terms apply. Cable customers should contact their local cable operator