Demolition: A profile of WWE's former longest-reigning tag champs
Ax and Smash held tag gold for 478 days straight in late 1980s
Last Updated: 14/12/16 8:41am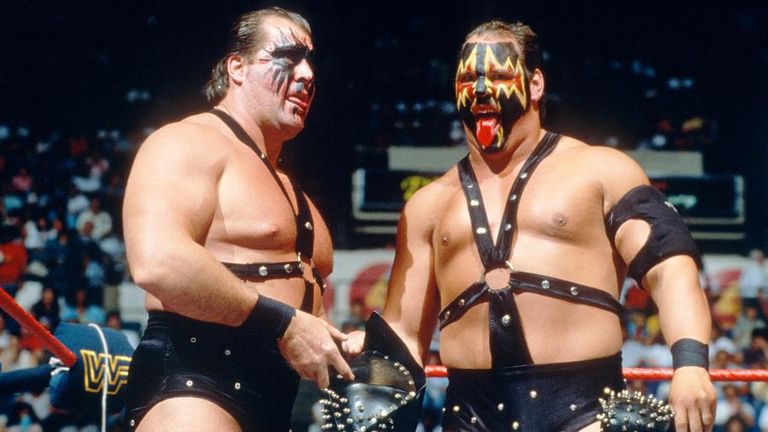 Demolition's run as the longest-reigning WWE Tag Team Champions of all time is over, with The New Day now taking that accolade.
Kofi Kingston, Big E and Xavier Woods ensured they would trump Demolition's 478-day stint with the straps after coming through TWO Triple Threat title defences on Monday Night Raw.
We know a fair bit about The New Day, who like unicorn horns, love Booty-O's cereal and have been Tag Team Champions since SummerSlam 2015.
But what about the men whose record they shattered, Demolition's Ax and Smash? Here's the lowdown…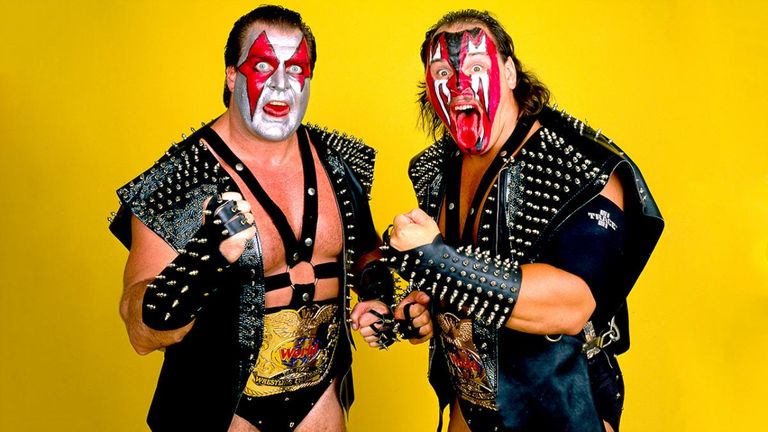 Who was in the tag team?
Ax (Bill Eadie) and Smash (Barry Darsow) - the former a 6ft 3in, 291lb powerhouse from Brownsville, Pennsylvania and the latter, er, a 6ft 2in, 293lb powerhouse from Minneapolis, Minnesota.
Ax and Smash joined forces in early 1987, with Darsow replacing the initial Smash, a Superstar by the name of Randy Colley who had previously performed as Moondog Rex and won the WWE Tag Team Titles.
Why were their memorable?
Not only were Ax and Smash huge fellas but they also had an intimidating look, wearing black masks to the ring before peeling them off to reveal daunting face paint, with black, red and white just three of their chosen colours. They hit hard, too, as referee Dave Hebner found out on their pay-per-view debut at Survivor Series in 1987, Hebner disqualifying Ax and Smash after they shoved him to the ground!
Did they have any pals?
They sure did. Demolition were initially managed by WWE Hall of Famer Johnny Valiant, then known as Luscious Johnny V, who had formerly guided the likes of Brutus Beefcake, Greg Valentine and Hulk Hogan. Later on, though, the monsters were overseen by Mr Fuji, whose trademark, dirty move was to chuck salt in opponents' eyes. Fuji passed away earlier this year at the age of 82.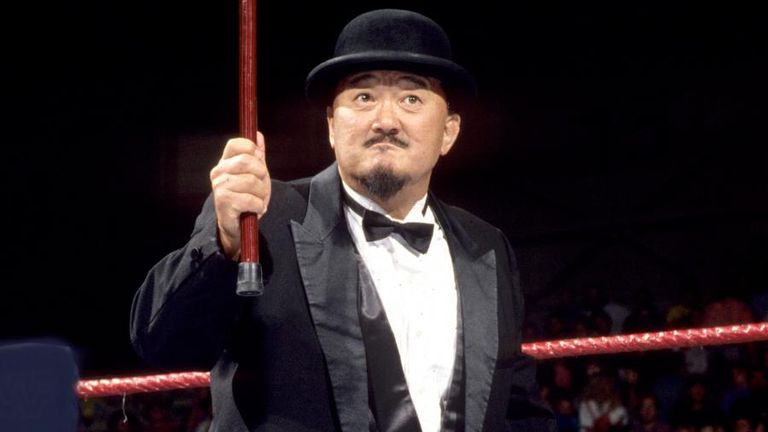 How many times were Demolition Tag Team Champions?
Ax and Smash scaled the mountain three times in WWE. Their kicked off their 72-day second reign by beating The Brain Busters (Arn Anderson and Tully Blanchard) on an episode of Superstars in October 1989 and their third, which lasted 148 days, with a triumph over the men that ended their second, Andre the Giant and Haku, at WrestleMania VI in Toronto in April 1990.
It was their first reign that made them, right?
Yep. Ax and Smash holding the belts for 478 days after conquering Rick Martel and Tito Santana at WrestleMania IV in March 1988. Mr Fuji played a key role for Demolition that night - as he was being grabbed by Santana, Ax was able to blast Martel with Fuji's cane, allowing Smash to the pin the Canadian and set the powerful tag team en route to what is now the second best stint ever.
Who did they beat along the way?
Tag-team wrestling boomed in the late 1980s, so Ax and Smash had to go through the likes of The British Bulldogs (Davey Boy Smith and The Dynamite Kid), The Powers of Pain (The Barbarian and The Warlord) and The Rockers (Shaen Michaels and Mary Jannetty) before shipping the belts to The Brain Busters in a two-out-of-three falls match on Saturday Night's Main Event in July 1989.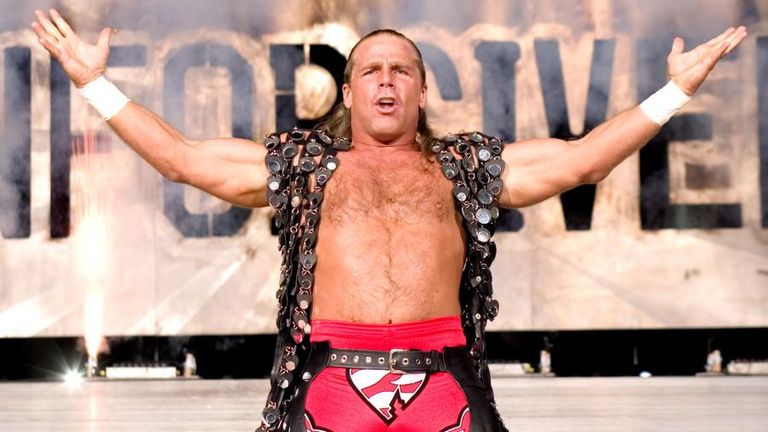 They enjoyed WrestleMania, didn't they?
Not only did Ax and Smash win their first set of tag titles there in 1988 and regain them at The Show of Shows two years later, they also defended them in between at WrestleMania V in 1989. The giants saw off The Powers and Pain and Mr Fuji - the manager had deserted Demolition by then due to apparent insubordination - in a handicap match. Ax and Smash never lost as a duo at WrestleMania.
Demolition had help during their third reign, right?
Yep, the beasts going from a gruesome twosome to a titanic trio when the late Crush (Brian Adams) joined the stable. The Freebird Rule, which stipulates any members of a group can defend the tag titles, was implemented, although often it was Crush and Smash who competed with Ax slipping into the role of manager. Crush and Smash lost the belts to The Hart Foundation (Bret Hart and Jim Neidhart) at SummerSlam 1990.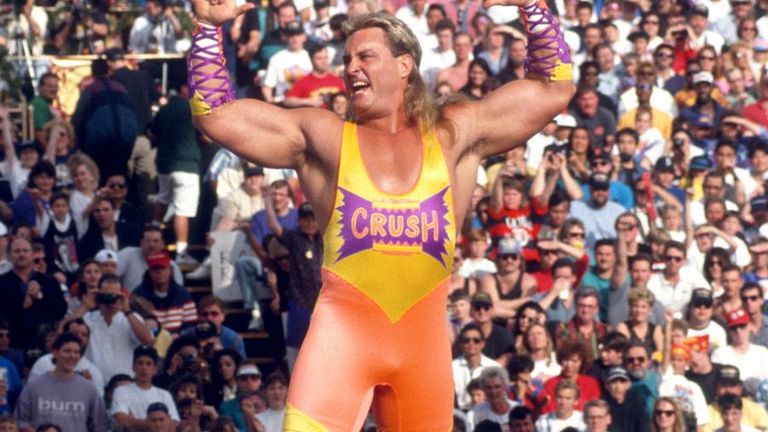 When did they last wrestle?
In October. Ax is now 68 and Smash is 57 but they still like to lace up their boots. Already in 2016, they have grappled at events in Indiana, Pennsylvania, Texas, Kansas and Canada and won a fair few of their matches to boot. They even locked horns with former WWE rivals The Powers of Pain at a Night of Legends show, at which Honky Tonk Man, Koko B. Ware and Jim Neidhart performed.
And finally, what do they make of The New Day?
Ax and Smash are not too well acquainted with Messrs Kingston, Big E and Woods, but Ax did have this to say recently: "I understand they are very, very competent young men. They're well accepted by the fans." Any chance of a match between the teams? "It would take them almost as many days to beat us as it did to beat our record!" added Ax. Watch this space…