'Battered' Samoa Joe on WWE road to recovery
By Anton Toloui, WWE Editor
Last Updated: 28/09/17 8:02am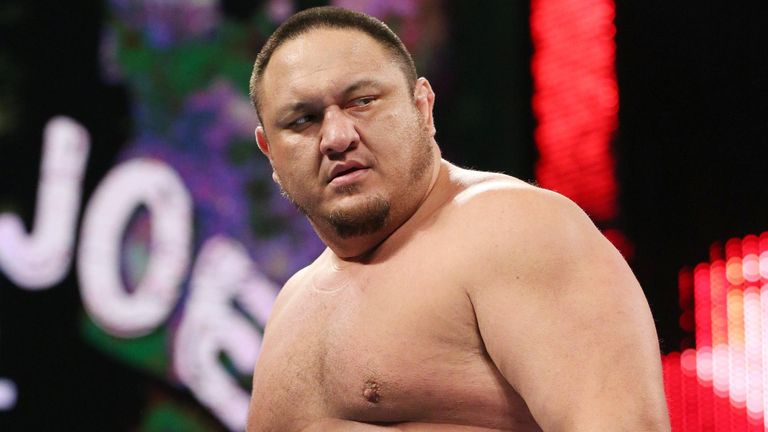 Samoa Joe has told Sky Sports he hopes to return to WWE over the next few weeks after needing two operations over the past month.
The bruising superstar tore the meniscus in his knee at a live show a week after starring in the main event of SummerSlam but admits his body needed the medical help.
"The recovery's going really well but I've only been able to perform at about 80 per cent capacity since joining NXT," Joe told us.
"Back then I had no chance to take time off because of the WWE opportunity, before I was just treating the knee problem with ice and elevation at home.
"Now it's the best I've ever felt, it really is. I also needed nasal surgery as I've broken my nose about eight times in my career so I was only breathing at around 60 per cent. You have no idea how invigorating it is now."
Joe insists he will be back soon as he's waiting for final clearance from WWE doctors, which means he's expected to be part of the tour party when WWE comes to the U.K. and Ireland in November.
The 38-year old was enjoying the biggest push of his career before the injury, with fans loving his fearless rivalry with Brock Lesnar that culminated in a Universal Championship match at Great Balls of Fire.
"I've proved I'm a formidable opponent. I got in his face, smashed him in the mouth and took it to him," he said. "I'm coming for him again. It's going to hurt, it always does, but there are no nuances here, you'll see two bad dudes just go at it."
As well as a rematch against Lesnar, Joe is lining up other opponents, with Roman Reigns his other major target after his success over John Cena at No Mercy last weekend.
"Roman Reigns is very good, he's at the peak of his career," Joe said. "The fans have a bone to pick with him but that doesn't concern me.
"He's WWE's guy, he's beaten Cena but he's never beaten me. Next time I'll beat his ass."