Luke Menzies on 'whirlwind' move from rugby league to WWE
New Super League CEO Robert Elstone is a guest on Thursday's The Golden Point. Watch the show on Sky Sports Action from 7pm
Last Updated: 13/06/18 8:03am
Luke Menzies says his life has been a "whirlwind" since he traded rugby league for wrestling and signed for WWE.
The 30-year-old Yorkshireman, whose former clubs include Hull Kingston Rovers and Salford Red Devils, will soon be heading to the company's Performance Center in Florida with his wife and daughter as he takes the first steps on the road to a career with WWE.
Menzies has been competing on the independent circuit for two years and admits the past few weeks have been something of a blur.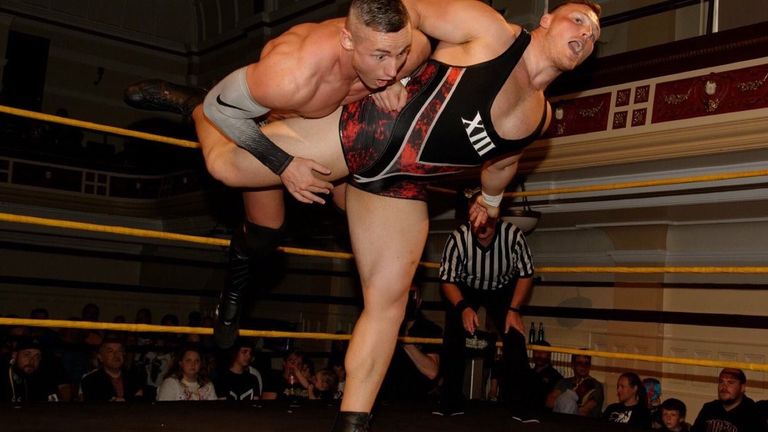 "It's happened so quick I haven't really had time to smell the roses..."
Luke Menzies, WWE wrestler
"It's been kind of a whirlwind," Menzies told Sky Sports. "It's happened so quick I haven't really had time to smell the roses but I consider myself very lucky, I've had a lot of good people that have helped me and seen something in me.
"I can turn it on when needs be. There's another side to me, I can be nasty. I've spent years playing professional rugby, I can be like that if I need to be."
Menzies has been trained in England by legendary former professional Marty Jones, who enjoyed great fame and success during the World of Sport era in the 1970s and 80s, as well as in Japan, and Jones feels he is ready to go all the way to the top in the United States.
"I've not told him this or discussed it with anybody but I think they can see the potential in him that I can see," said Jones. "And I can see him going straight to the top very quickly.
"He's got the attributes, the sporting background and he's fearless. I think he's three-quarters of the way there."
Click on the video above to watch Menzies in training for his new career with WWE.