Lando Norris' F2 diary: Spanish GP 2018
Two podiums in F2, two days testing for McLaren - it was a busy week in Barcelona!
By Lando Norris, Carlin F2 driver: @LandoNorris
Last Updated: 17/05/18 12:49pm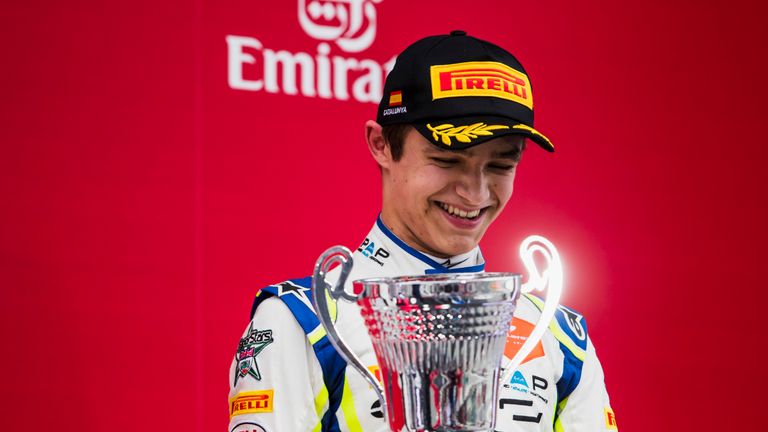 It's been a busy week . . . ! I flew out to Barcelona last Wednesday evening for the latest rounds of the F2 Championship. I checked into the hotel and watched Barcelona thrash Villarreal 5-1 on TV while having dinner before watching The 15:17 to Paris film in my room.
Thursday comprised of some PR work, TV and photoshoots at the track plus team meetings and a track walk. It's quite technical and one of the harder tracks to put the whole lap together.
I'd been there many times testing, in Formula Renault and F3, but never actually raced there. I quite enjoy the track with its good combination of high and low speed corners.
In the past it was quite a high degradation track for tyres and despite it being resurfaced earlier in the year, it turned out to be the same. The start-finish straight also still featured the bumps as it did before the new surface was laid.
Practice on Friday morning was pretty tricky with wind gusts causing drivers to make many mistakes - including me - but overall, I didn't put a full lap together.
Carlin tweaked the set-up for qualifying later that day but I made too many mistakes. I had to abort my first run when I came up to Sergio Sette Camara, who had a problem and was going slowly. I did a cool down lap and pushed again.
It wasn't really bad but was only good for P6 or 7 after everyone's first runs. I thought I could improve on the second run, which I did, but nowhere near enough. I then made a mistake on my second lap going into Turn One, pushing too hard, locked the fronts and had to abort. I felt I wasn't driving well while at the same struggling with the car. Just plain messy.
The start of the Feature race was difficult. Luckily, at the last second as I came on to the grid after the installation lap, I decided to angle my car slightly to the left after the numerous stalls in previous races, so I was just able to avoid Nicholas Latifi, who stalled at the green light directly in front of me.
Despite that, my start wasn't too bad, dived down the inside of Turn One with Jack Aitken on my right and had actually gained three places at the end of the first lap.
My pace was good in the opening laps before my soft tyres dropped off in terms of grip so it was a case of managing them until the stop. Aitken undercut me but I pushed hard and got ahead of him.
George Russell and Nyck De Vries went longer on their mediums and came out of the pits just ahead of me. I tried to maximise the grip I had with my warmer tyres but I couldn't get quite close enough. I didn't get DRS on the start-finish straight which was annoying but their pace was good on their softs. Perhaps with another lap I may have had a chance at going for P2 but it was a good, fun race, and I was pleased with P3 from where I started and to collect more points.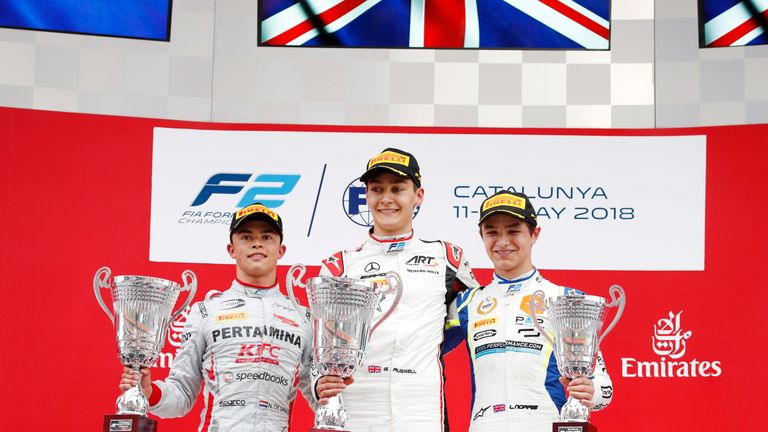 It was almost 2.5hrs after the chequered flag when I finally got back to the Carlin transporter. After the TV interviews, we had the podium, then off to Media Centre for the top-three Press Conference.
But I'd been told when I climbed out of the car that I'd been called in for an anti-doping test so a steward escorted me to all of these things before taking me to the Medical Centre where I had to give two samples of urine which are then sent off for tests. So it was gone 7pm when I went into a team debrief, had a quick bite for dinner and was back into more meetings about Sunday's race, eventually getting back to our hotel at almost 11pm.
It had been a long day as we'd left at 9.45am that morning for the five-mile journey to the track which took almost an hour due to traffic. I must add my apologies to McLaren Racing's CEO Zak Brown and importantly guests at the Hilton hotel in Barcelona who had been expecting me that evening for an appearance but with the anti-doping stuff it was impossible for me to make it which I felt really bad about.
I had breakfast at our hotel on Sunday morning and noticed actor Rupert Grint on another table. I'm not into Harry Potter films so I didn't disturb him!
The Sprint Race start was tough as well as it was still wet on my side of the grid which caused a lot of wheelspin.
The opening laps were tricky but my pace was good. I lost loads of time through no fault of my own after one of the Virtual Safety Car periods for some reason, undoing the hard work of pushing the tyres which was very annoying.
Overtaking was still difficult as off line the track was still slippery and I didn't want to risk anything.
In summary, a good but not an ideal weekend overall. Two podiums and more points is good especially from where we started both races. But from here on in we need to start the weekends in a stronger position rather than playing catch-up.
I went to the track for five hours on Monday afternoon to go through details with the McLaren engineers what was planned for my first F1 test of 2018.
I did half a day on Tuesday, just driving in the morning, my first actual test in the McLaren MCL33 having done one lap at McLaren's 2018 car launch.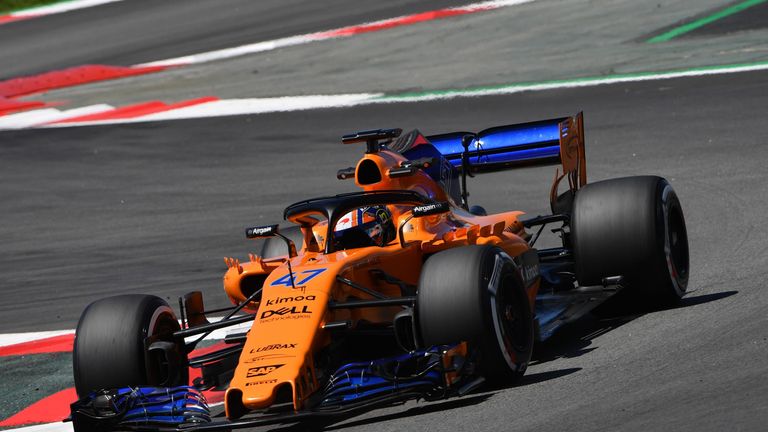 Also, it was my first test with Renault power and on a pretty cool track to test a F1 car - very high downforce, very fast.
It was a Pirelli test and it all went smoothly. We can't touch the car in any way, we have to leave it exactly how we start the test. So there's a lot of time for me to try different things for myself but at the same time trying to feel the differences in the different tyres Pirelli give us. I only got out the car once and so to get 76 laps in was good.
I stayed around the McLaren box for the rest of the day, it's always good to take in what's going on. I found positive differences when compared to last year's McLaren, it's definitely a step forward.
Wednesday was a McLaren test specifically, as opposed to Pirelli test, in the MCL33 featuring the new front nose that Fernando [Alonso] and Stoff [Vandoorne] raced with for the first time in last weekend's Spanish GP.
Jumping from an F2 car to drive an F1 McLaren is a big step which takes time to get used to but the new car was good to drive and gave me confidence to push in the high-speed corners here.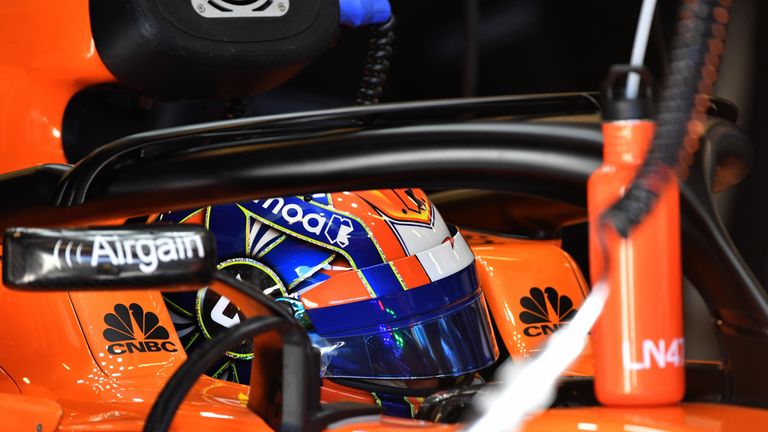 I didn't reach the limit myself, there's still more I need to squeeze out of it but that will come with more miles but another 80-laps today is a step in the right direction.
I'm flying home today (Thursday), will land at Gatwick and then go straight to Carlin in Farnham for a full Barcelona debrief but also looking ahead to Monaco. I'm at McLaren in the sim tomorrow (Friday) then leave for my next F2 races in Monaco on Tuesday.
LN