Racing driver Charlie Martin inspires Pride support at Silverstone
Last Updated: 10/06/18 12:19pm
Rainbow stickers are adorning cars at Silverstone this weekend thanks to an initiative from racing driver Charlie Martin to mark Pride month.
Martin, who competes in the Protyre Motorsport Ginetta GT5 Challenge series, has inspired drivers competing in all British GT Championship categories at the famous circuit to carry the stickers to show support for equality and diversity.
The Leicester driver - a proud ambassador for LGBT inclusion in sport - is pushing to record her first win in the championship as the second half of the season gets underway in June.
Following an unavoidable crash on her last outing at Thruxton, when a car span directly in front of her, Martin is taking to the track this weekend with a new chassis, which bears the Pride rainbow flag.
Martin has also made vinyl Pride flag stickers, and competitors at the circuit are sporting them on their cars throughout the weekend.
Competing with Richardson Racing - and coached by Abbie Eaton, multiple British champion and test driver on The Grand Tour - Martin has notched up three podium finishes in three successive race weekends since she joined the championship.
"Without a doubt, Silverstone is one of those circuits that feels so special to race at," said Martin. "It's the home of British motorsport and a track that I love.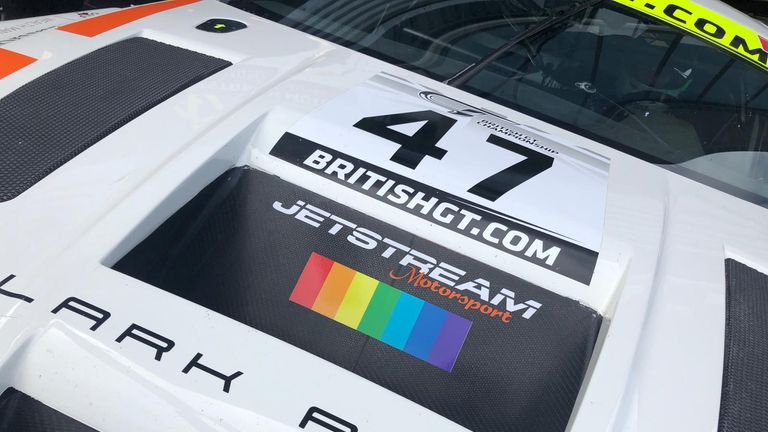 "Carrying speed into Copse and Abbey is just breathtaking. I've been preparing as best I can for this long and fast circuit as any mistake can really lose you time. After scoring a podium at every race event this season, I feel that the class win is possible with a clean race. That's what I'll be aiming for.
"This weekend is even more significant because it takes place during Pride Month. This is a great opportunity to celebrate love, equality and self-pride. I'm carrying the Pride flag on my car this weekend and I've made stickers for all drivers competing this weekend who want to do the same.
"The championship has been extremely supportive in getting the message to my fellow competitors and we're seeing the real spirit of Pride on display this weekend."
Martin made her switch to British circuit racing this season, having previously made a name for herself competing in European hill climb events with a Formula Renault single-seater and a Norma M20FC prototype machine.
She also stood on the podium at Le Mans last year, finishing third in her debut endurance outing at the Trophee Tourisme Endurance. She is aiming to be the first transgender racing driver to compete at the 24 hours of Le Mans.