The Toronto Raptors' past playoff jitters - engendered by LeBron James' Cleveland Cavaliers teams - have been revived by the problems posed to them by Giannis Antetokounmpo and the Milwaukee Bucks, writes Sky Sports NBA analyst Mark Deeks.
Milwaukee Bucks 2-0 Toronto Raptors
Game 3: Bucks @ Raptors, May 20, 12am
Game 4: Bucks @ Raptors, May 22, 1:30am
Game 5 if necessary: Raptors @ Bucks, May 24, 1:30am
Game 6 if necessary: Bucks @ Raptors, May 26, 1:30am
Game 7 if necessary: Raptors @ Bucks, May 28, 1:30am
All games broadcast live on Sky Sports Arena
During his second stint with his hometown team, LeBron James's Cleveland Cavaliers teams had two things in common seemingly every year. They would flank the Hall of Famer's transcendent passing ability with a ream of shooters at multiple positions and they would also beat the Toronto Raptors in the playoffs every season.
The latter of these is an exaggeration, but only a slight one. The Cavaliers have knocked the Raptors out of the last three postseasons, including two consecutive semi-final sweeps. And while this obviously cannot happen again now, it certainly reached the point where it felt as though the Raptors would lose to Cleveland and LeBron every season, always in much the same way.
Now, with LeBron out west and out of the playoffs, there exists great opportunity for someone else to take hold of the Eastern Conference for the next few years. And the only thing standing between an inaugural NBA Finals berth and Toronto are the Milwaukee Bucks, led by Giannis Antetokounmpo.
What Toronto found in opening two games of this Eastern Conference Finals series, however, was that trying to stop a Bucks team built around Giannis is much like trying to stop a Cavaliers team built around LeBron.
To oversimplify the problem, Cleveland would take advantage of Toronto's limited defensive range by surrounding James with shooters at every position, which when combined with LeBron's own shooting and playmaking abilities made for what are called 'five-out' line-ups, meaning every player on the court at that time is both willing and able to play on the perimeter.
Having decent-to-good catch-and-shooters such as JR Smith, Channing Frye, Kevin Love, Kyle Korver and Jeff Green out there meant always having to chase around on defense - helping down into the paint initially to try and check LeBron's drives to the rim, while also having to be ready to recover quickly to the perimeter should James choose to throw a kick-out pass to one of his many shooters.
When going up against a Raptors rotation that at the time featured Jonas Valanciunas, DeMar DeRozan, Jakob Poeltl and CJ Miles, that was a lot of directions to be pulled in at once, and the Raptors could never keep pace.
In last year's sweep, the Cavaliers shot 41.1 per cent from three-point range; Toronto could neither run them off the shot, nor cover enough ground to force the all-important turnovers.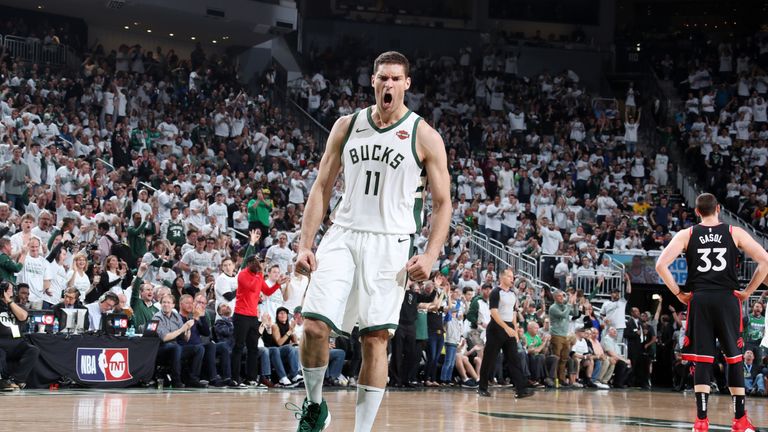 Milwaukee's strategy is somewhat similar to this. Highlighted perhaps by the template of a modern stretch-five in Brook Lopez, they also feature plenty of multi-positional shooting and five-out units. And analogous to Cleveland with LeBron, they also rely on the transition, semi-transition and Eurostepping excellence of Antetokounmpo to barrel down the lane wherever possible, putting shooters and smart off-ball cutters and movers alongside him, creating spacing and passing angles on every area of the court.
Giannis himself is not a good shooter, yet sagging off him merely serves to give him a running start, and he is too wily to simply take every jump shot look given to him, especially when a running start to the rim is on offer. He thus must be defended out on the perimeter as a shooter would be, thereby opening up the dribble-drive game to go with his post touches, both of which benefit greatly from having floor spacing all around.
And in this respect, as opposed to the more physical interior play of their previous opponents the Philadelphia 76ers, the Raptors face much the same challenges they so emphatically failed to overcome previously over the past three seasons.
To be sure, the personnel for the Raptors are different this time around. After all, the Toronto teams to have lost the last three years did not have Kawhi Leonard on them, who when he chooses to be is as good of a defensive forward as the NBA has seen since Scottie Pippen.
In theory, Kawhi provides the ability to stay with Antetokounmpo in transition, disrupt his handle from a standing start, and force the Bucks to reset possessions. So too may starting power forward Pascal Siakam, and, if healthy enough to play after an emergency appendectomy, British reserve forward OG Anunoby.
However, the personnel are also different between Milwaukee and those Cavaliers teams. One thing Milwaukee does have which the two Kyrie Irving-less teams of LeBron's second Cavaliers incarnation did not was a quick, penetrating point guard.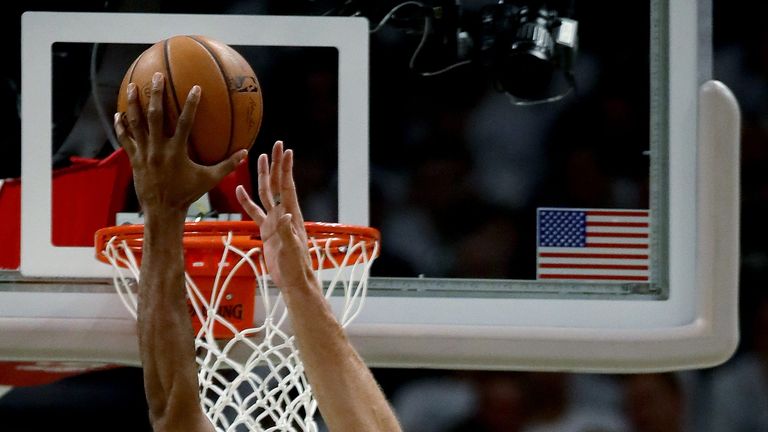 Players such as George Hill and Deron Williams filled the role without doing anything of note; they let James handle the bulk of the half court playmaking responsibility. The Bucks, though, have Eric Bledsoe, who is always willing and able to get his own. With Kyle Lowry slowing down, reserve point guard Fred VanVleet not nearly the athletic specimen Bledsoe is, and Delon Wright gone, the Raptors have a new defensive challenge to contend with.
The Raptors teams of recent years were defined by a strength in depth that, in the regular season at least, made up for the lack of superstar power. That depth, however, is no longer there. In the trades for both Leonard and Marc Gasol, much of that depth was shipped out; in Game 1 of the Bucks series, Toronto played only eight players, four of whom received at least 40 minutes and the three bench players they did use combined for a -33 net rating on only 40 total minutes.
This lack of depth showed in the dearth of second-half scoring - Lowry was the only Raptor to score in the fourth quarter, and he and Kawhi were the only scorers in the final 16 minutes - but also in the wearying defensive efforts late on.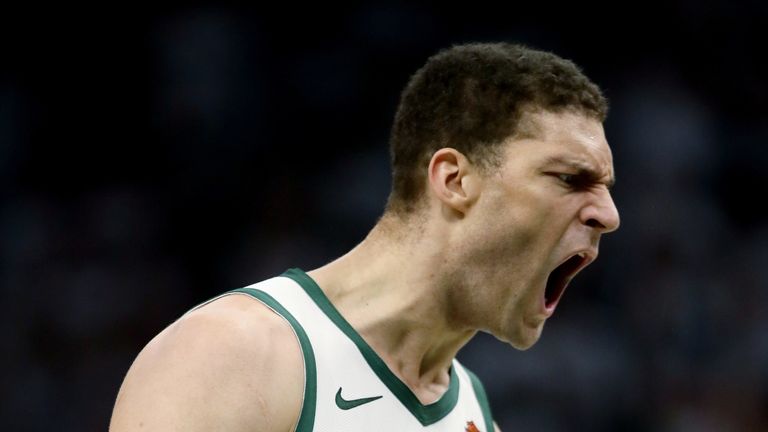 A lot of this depth was surrendered in the trade for Gasol, with a view to his excellent high-post passing and shooting being able to unlock further dimensions to the Raptors' offense. Aside from apparently losing his ability to score in the post any longer, he has for the most part done this.
Yet Gasol's slow feet make him unable to defend the perimeter just as Valanciunas struggled before him. When faced against a pick-and-pop merchant like Lopez, this is a big disadvantage to give up.
And yet in Game 1 of this series, Gasol was one of the four starters who played 40 minutes (he gets a mulligan for coming up a mere five seconds short). For all his effort to get around and double-team everybody in sight, this is not a formula for success. Not against a team that can run, board and pester like these Bucks.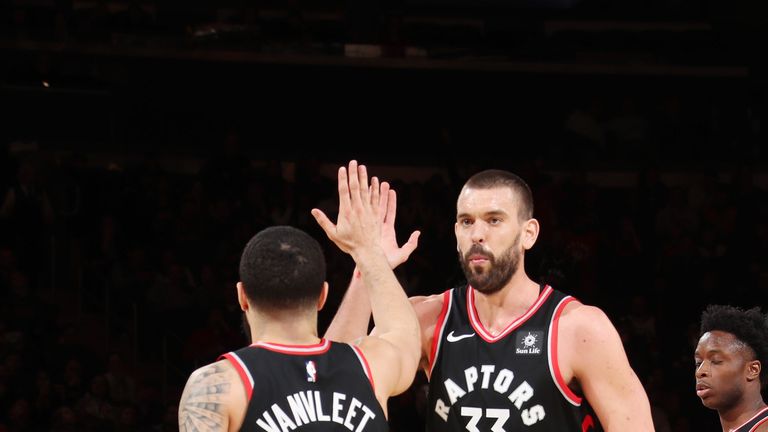 Game 1 saw a foreboding sense of deja vu for the Raptors fanbase. With their best chance at winning a title since… well, ever, they blew an eight-point fourth quarter lead in what would have been a crucial road win.
On the one night that Kyle Lowry was able to shake off the reputation for postseason struggles that have plagued the second half of his All Star-calibre career, the rest of his team left him floundering.
The foreshadowing of another playoff anti-climax came not only from the result, but the process - while the Gasol addition allowed them to match up well defensively against the 76ers, these Bucks are looking an awful lot like LeBron's Cavaliers, even when shooting only 11-44 from three-point range.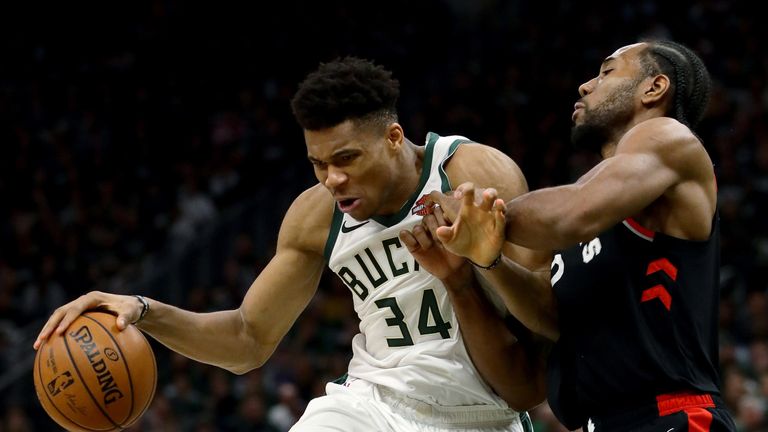 Despite the Bucks struggling from three-point range once more (13-41), Game 2 brought an even more demoralising defeat for the Raptors, as Antetokounmpo got loose for 30 points in a blowout victory.
Short of trusted options on the bench, the Raptors are overly reliant on the few they deem reliable, and those individuals are running out of legs.
Leonard's load management may mean he is relatively fresh, but those around him are not, and given the high pace and great spacing of their opponent night in and night out, the lessons of the past three years need to be learned right now.
With the series moving to Toronto for Game 3 on Sunday night, the pressure on the Raptors to prevent Giannis assuming LeBron's Eastern Conference throne as their destroyer will only intensify.
If the jitters are familiar, there is a reason for that.
Watch Bucks @ Raptors Game 3 live on Sky Sports Arena in the early hours of Monday morning (12am).
Want to watch the NBA but don't have Sky Sports? Get the Sky Sports Action and Arena pack, click here.