Philadelphia 76ers center Joel Embiid is producing a superb season. Are his performances strong enough to place him shoulder-to-shoulder with James Harden and Giannis Antetokounmpo at the forefront of the MVP race?
The Philadelphia 76ers (31-17) are three games into a 12-game run against teams with plus .500 records, the outcome of which will speak to the realism of their Eastern Conference title hopes and bring clarity to Embiid's place in the race for the regular season MVP award.
Live NBA: San Antonio @ Philadelphia
Two resounding wins over the Indiana Pacers and Houston Rockets sandwiched a narrow 117-115 loss to the Oklahoma City Thunder. Equally challenging tests - in the form of the San Antonio Spurs, Denver Nuggets, Golden State Warriors and the Toronto Raptors - await before the All-Star break.
A narrative around the MVP award develops throughout the season. Over the opening 20 games, Giannis Antetokounmpo and Kawhi Leonard established themselves at the forefront of that conversation as the Milwaukee Bucks and Toronto Raptors raced out of the blocks.
Over the past month, the outstanding other-worldly scoring of James Harden has vaulted the Houston Rockets star to the head of the MVP line. 'The Beard' is currently averaging more than 35 points per game, something not done since Kobe Bryant's 2005/06 season with the Los Angeles Lakers.
Winning also plays a big part in the MVP discussion - probably the thing that casts doubt on fellow big Anthony Davis' place in the discussion, with the Pelicans 22-25 - as do statistics.
The Golden State Warriors have won eight straight games and assumed their now-familiar position at the top of the Western Conference. Their biggest star, Stephen Curry, is threatening the NBA's first 50/50/90 season (shooting 50 per cent or better on field goals and three-pointers and 90 per cent or better from the free throw line), although his three-point percentage dropping to a still-elite 44.8 per cent - a career-best - threatens that particular statistical first.
Being the best player on the team that finishes the season with the league's best record is always a compelling argument when MVP votes are cast. Especially if that player breaks new statistical ground in the process.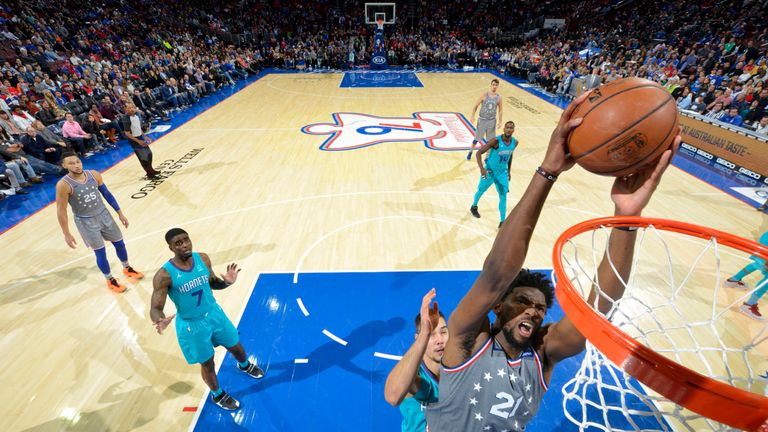 And then there's Embiid. The Cameroonian center is perceived to be on the fringes of the MVP race, stuck in the slipstream of Antetokounmpo and Harden. But his dominant performances and impressive numbers suggest he should be shoulder to shoulder with them.
Embiid is the league's seventh most potent scorer (27.1 points per game) this season. His 13.2 rebounds per game rank fourth in the league. And only Harden attempts and makes more free throws than Embiid (8.0 FTM, 9.9 FTA per game). 'The Process' also leads the league in double-doubles (39) and has recorded 20 games of 30+ points and 10+ rebounds, another league-leading mark.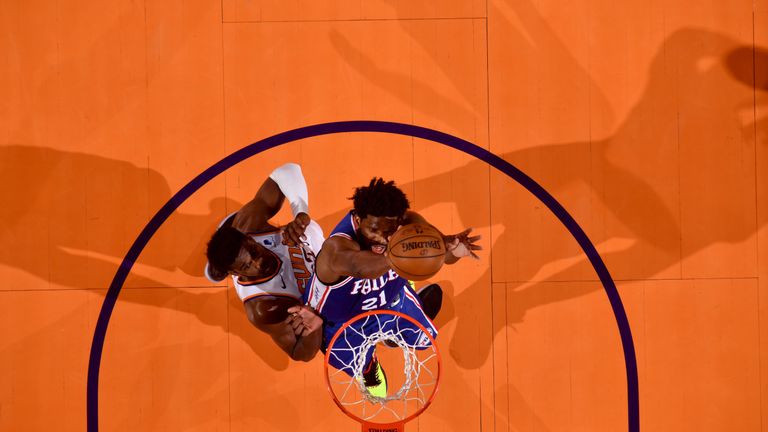 While Harden's MVP candidacy is based on his superlative scoring feats, Embiid's value to the Sixers is apparent at both ends of the court. He is one of the most feared rim protectors in the league, ranking seventh overall in blocks (2.0 per game).
The Sixers' most used line-up featuring Embiid boasts a defensive rating of 101.9 (points allowed per 100 possessions) compared to the team's overall figure of 107.6.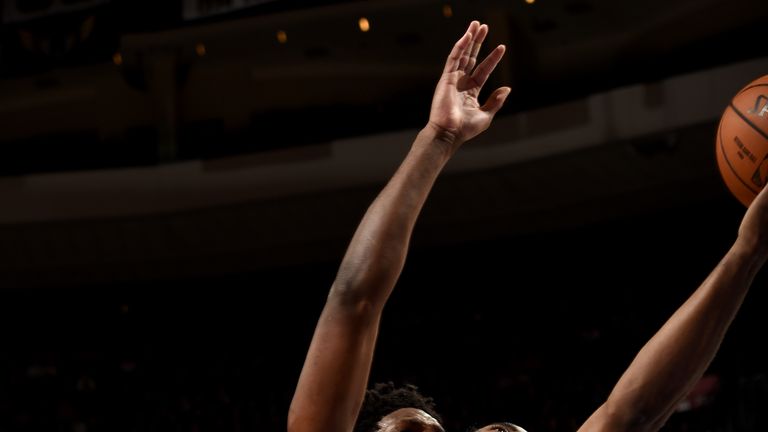 For a player whose first seasons in the league were characterised by injury problems, Embiid's consistency this term has also been impressive. He has missed just three of the Sixers' 48 games, fewer than MVP contenders Curry and Leonard have missed for their respective teams.
Embiid has also shown the tenacity to play through injuries and lead the Sixers to victory in important games on several occasions this season. Troubled by back complaints leading into the Sixers' current challenging 12-game run, the center remained at his dominant best to lead Philly to big wins over Indiana Pacers and Houston Rockets over the last seven days.
Wednesday night's games
Toronto Raptors @ Indiana Pacers, 12am
Houston Rockets @ New York Knicks, 12:30am
Cleveland Cavaliers @ Boston Celtics, 12:30am
Orlando Magic @ Brooklyn Nets, 12:30am
Los Angeles Clippers @ Miami Heat, 12:30am
San Antonio Spurs @ Philadelphia 76ers, 1am, live on Sky Sports USA
Atlanta Hawks @ Chicago Bulls, 1am
Charlotte Hornets @ Memphis Grizzlies, 1am
Detroit Pistons @ New Orleans Pelicans, 1am
Denver Nuggets @ Utah Jazz, 3:30am
After Embiid's 32 points, 14 rebounds, two assists, two steals and three blocks against Houston, 76ers coach Brett Brown spoke to reporters about his star's place in the MVP conversation and was asked if Embiid was getting appropriate recognition.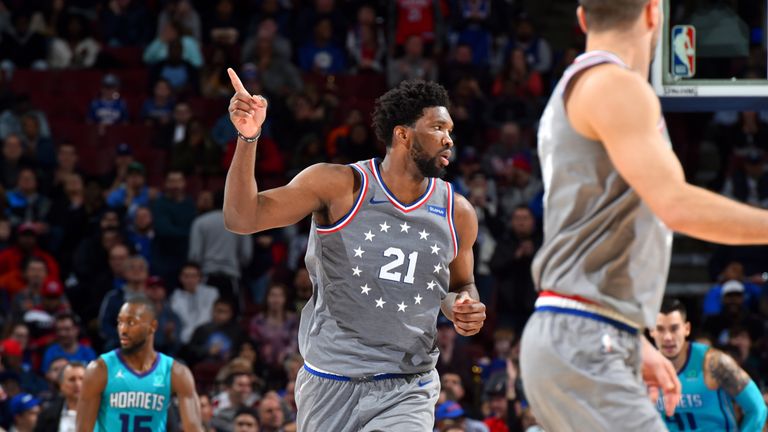 "Nope," he said. "All you really have to do is look what happens when we don't have him. In my eyes, it's not even close, he should be in these types of conversations.
"His leadership and his sort of growth recognising the responsibility he has with this city, with this program, and [his] professional disposition, professional approach to practice and shootaround and film sessions, has been the best it has ever been for me in 2019.
"You take all of that, and then you say 'and he's doing this on the court'? The MVP thing expands in my eyes to many different areas [in which Embiid] is getting better."
If Embiid maintains his dominant form through the Sixers' tough 12-game run, there will be more than coach Brown supporting his MVP candidacy.
Want to watch the NFL or NBA on the Sky Sports USA channel but don't have Sky Sports? Get the Sky Sports Action and Arena pack, click here.