The Milwaukee Bucks have made a leap from first-round playoff losers to contenders to win the Eastern Conference - what have they done to make this dramatic improvement?
Live NBA: Milwaukee @ Boston
Milwaukee Bucks coach Mike Budenholzer has been the subject of league-wide praise thanks to his team's strong start to the season, a run that has established them as one of the Eastern Conference's strongest sides.
The Bucks posted a record of 44-38 in the 2017/18 season and bowed out in the first round of the playoffs. They currently sit second in the Eastern Conference with a record of 21-9 and a 60-win season appears eminently achievable.
How has the hiring of 'Coach Bud' triggered this dramatic improvement? Lee Harvey, with help from stats site basketball-reference.com, details the key differences between Budenholzer's Bucks and the 2017/18 Milwaukee team and explains why teams league-wide have good reason to 'fear the deer'.
Increased commitment to the three-ball
The 2017/18 Bucks, coached by Jason Kidd and - following Kidd's firing - interim coach Joe Prunty, ended the season ranked 20th in overall offensive rating. In a league becoming ever-more dependent on outside shooting, they ranked a lowly 27th in three-pointers made (8.8 per game) and 25th (25.6 per game) in three-pointers attempted. They made a pedestrian 35.5 per cent of the three-balls they attempted.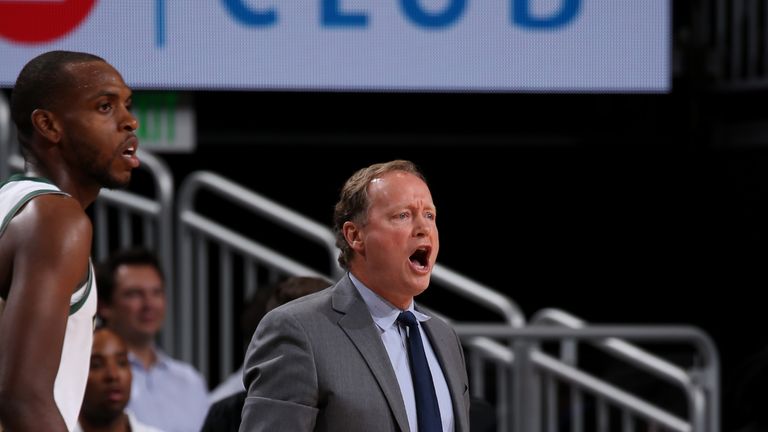 This resulted in a lack of spacing on the floor. Bucks' star man Giannis Antetokounmpo, who relies on drives to the basket and post-ups to get his points, found his key scoring areas clogged by his own team-mates.
The 2018/19 Bucks now look, almost exclusively, for high percentage shots close to the basket and bombs from three-point land. The big men they added in the summer, Brook Lopez and Ersan Ilyasova, both shoot three-pointers and space the floor. With a clearer path to the basket, Antetokounmpo is thriving, almost matching his 2017/18 points per game average despite spending five fewer minutes on the court.
The difference in the Bucks' three-point shooting is startling, a total about-face to the Kidd-Prunty ethos of last season. Under Budenholzer, the Bucks take 39.6 three-pointers per game (the second-most in the league) and make 13.9 of them (also second-most in the league). This has allowed them to improve their points per game average from 106.5 (15th best in 2017/18) to 117.8 (10th best in this campaign).
Shunning shots from mid-range
In 2017/18, only five teams took more two-point shots than the Bucks. Their key players - Antetekounmpo, Khris Middleton and Eric Bledsoe - respectively took 19 per cent, 16 per cent and 12 per cent of their total shots from mid-range (defined by as two-points from 16ft or more), the least efficient shot in the game.
Under Budenholzer, those mid-range numbers have dropped dramatically. Mid-range jumpers form just 6.3 per cent of Antetokounmpo's total shot attempts, 8.5 per cent of Middleton's shots and 5.1 per cent of Bledsoe's.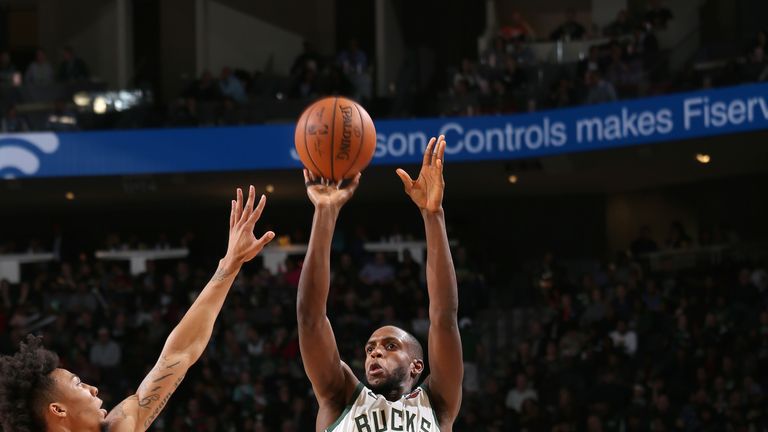 Conversely, 50.0 per cent of Middleton's shots this season have come from three-point range while 60.5 per cent of Antetokounmpo's attempts have been made from within three feet of the opponents' basket.
The Bucks' best players are taking more efficient (easier) shots more often. Credit must go to the players for adapting to Budenholzer's philosophy, an 'about-face' from what Kidd and Prunty asked of them last season, so quickly.
Beyond the big three/key personnel changes
While much of the Bucks' 2018/19 roster was with the team last season, Budenholzer's acquisitions of Lopez and Ilyasova have equipped Milwaukee with an increased scoring threat. The Bucks proved they can win without Antetokounmpo, who missed the 124-109 win over Eastern Conference rivals the Toronto Raptors on October 29 with a concussion.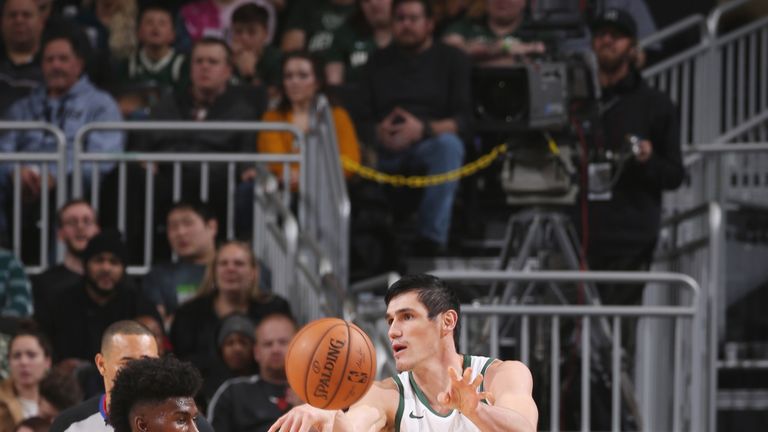 On that night, double-figure scoring from Middleton (14), Malcolm Brogdon (17), Bledsoe (17) and Ilyasova (19) made up for the absence of Giannis and paced the Bucks to an important victory. The latter three players all made more than 50 per cent of their shots in the win.
Forcing opponents to take inefficient shots
Not only are the Bucks disciplined enough to take the most efficient shots, on defense they are savvy enough to force their opponents to take the least-efficient ones.
Only one team defends two-point shots better than the Bucks. Their opponents make 48.8 per cent of their two-point shots, a sure sign that Budenholzer's players are doing a great job of denying high-percentage shots close to the basket.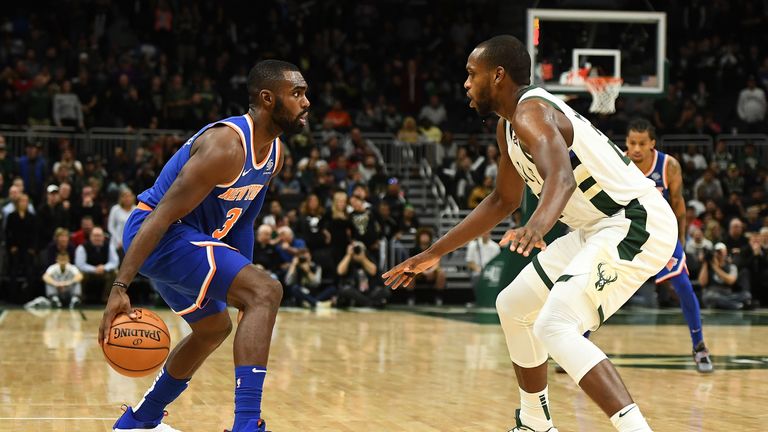 With the Bucks defending the rim, their opponents are forced to rely on mid-range jump shots, their least-efficient offensive option.
Forcing opponents into inefficient mid-range shooting was a hallmark of Gregg Popovich's title-winning San Antonio Spurs teams in the mid-2000s. It is no accident Mike Budenholzer was an assistant coach on those teams.
Only time will tell if Budenholzer can emulate Popovich and lead the Bucks to an NBA title. But their outstanding start to the season and the way they have adapted to quickly to a new offensive and defensive concepts has sounded a warning to their Eastern Conference rivals that the young Bucks are truly coming of age.
Friday night's games
Detroit Pistons @ Charlotte Hornets, 12am
Cleveland Cavaliers @ Toronto Raptors, 12am
Atlanta Hawks @ New York Knicks, 12:30am
Indiana Pacers @ Brooklyn Nets, 12:30am
Milwaukee Bucks @ Boston Celtics, 1am, live on Sky Sports Action
Orlando Magic @ Chicago Bulls, 1am
Minnesota Timberwolves @ San Antonio Spurs, 1:30am
Utah Jazz @ Portland Trail Blazers, 3am
Memphis Grizzlies @ Sacramento Kings, 3am
New Orleans Pelicans @ Los Angeles Lakers, 3:30am
Sky Sports is the home of the NBA in the UK with live coverage throughout the week, including selected live games free to all Sky subscribers via Sky Sports Mix. And www.skysports.com/nba will be your home for news, reports, video and features throughout the season while you can follow us @SkySportsNBA