Anthony Davis scores 25 points and pulls down 20 rebounds as the New Orleans Pelicans handed the Toronto Raptors their first home loss.
Monday night's results
New Orleans Pelicans 126-110 Toronto Raptors
Philadelphia 76ers 124-114 Miami Heat
Brooklyn Nets 113-120 Minnesota Timberwolves
Orlando Magic 109-117 Washington Wizards
Dallas Mavericks 103-98 Chicago Bulls
Utah Jazz 96-88 Memphis Grizzlies
Phoenix Suns 101-118 Oklahoma City Thunder
San Antonio Spurs 99-104 Sacramento Kings
Golden State Warriors 116-121 Los Angeles Clippers (OT)
New Orleans Pelicans 126-110 Toronto Raptors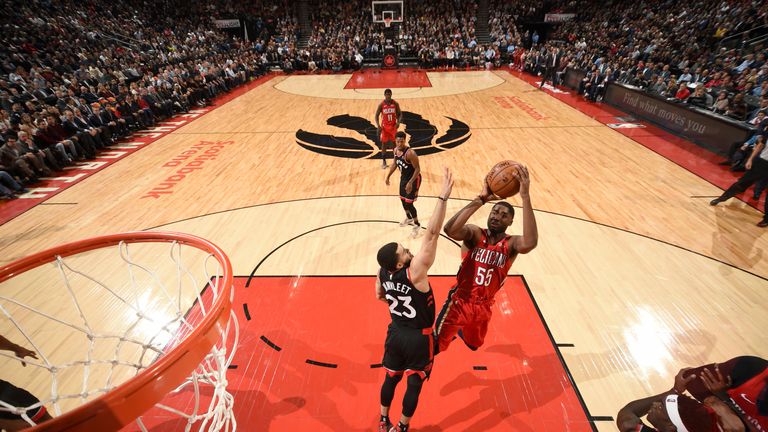 Jrue Holiday had 29 points and 14 assists and E'Twaun Moore scored 30 points as the visiting New Orleans Pelicans defeated the Toronto Raptors 126-110 on Monday night.
Anthony Davis added 25 points and 20 rebounds for the Pelicans, who won their third game in a row by handing the Raptors their first home loss in eight games this season. Toronto is 12-2 overall.
Pascal Siakam scored 22 points for the Raptors. Kawhi Leonard added 20 points, Serge Ibaka had 19 points and 14 rebounds, OG Anunoby 17 points and Fred VanVleet and Delon Wright 10 points each.
The Pelicans took an 11-point lead into the fourth quarter, but it was down to six after one minute when the Raptors had a 7-2 surge.
The Pelicans regained the 11-point advantage on a three-pointer by Darius Miller. When Moore scored on a layup with 8:39 to play, the lead was increased to 14.
The Raptors trimmed the deficit to nine before Davis made consecutive lay-ups. Holiday hit a three-pointer and assisted on a Moore basket to increase the lead to 17 with 4:24 to play.
Philadelphia 76ers 124-114 Miami Heat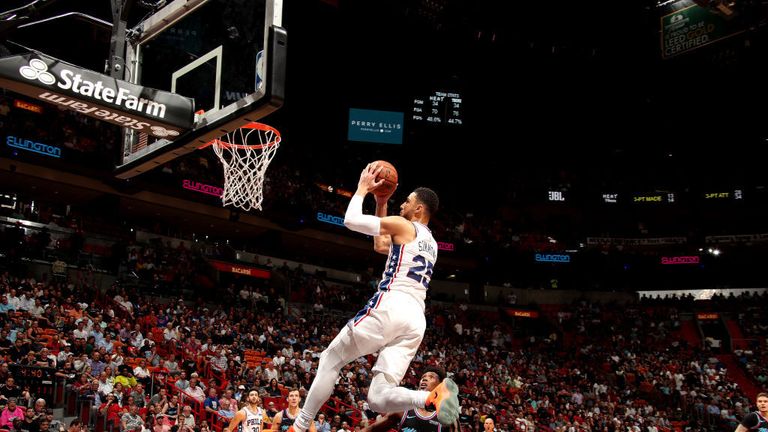 Joel Embiid posted 35 points, 18 rebounds and three assists, leading the visiting Philadelphia 76ers to a 124-114 victory over the Miami Heat.
Embiid has nine games this season with at least 30 points and 10 rebounds. Nobody else in the NBA has more than three 30/10 games.
JJ Redick added 25 points to lead Philadelphia to their seventh win in their past 10 games. The 76ers got a solid game from point guard Ben Simmons, who had 13 points, seven rebounds and seven assists.
Miami - who fell to their third straight defeat, all at home - were led by Goran Dragic, Josh Richardson and Hassan Whiteside.
Dragic, who was coming off his first scoreless game since March 2012, bounced back with 22 points and five assists, both team highs. Richardson added 17 points, and Whiteside had a double-double with 13 points and 11 rebounds.
However, Whiteside - who had 11 points and five rebounds in the first quarter - was slowed by foul trouble the rest of the game.
Brooklyn Nets 113-120 Minnesota Timberwolves
Karl-Anthony Towns produced 25 points and 21 rebounds as the Minnesota Timberwolves halted a five-game losing streak and overcame a season-worst 23 turnovers in a 120-113 victory in Minneapolis over the Brooklyn Nets, who ended a four-game road trip and lost Caris LeVert to an apparently serious right leg injury.
Towns posted his seventh double-double by shooting 9 of 11 from the floor. He had the double-double by half-time, then posted his sixth career game with 20 points and 20 rebounds and the 55th in team history.
Towns committed 10 of Minnesota's turnovers but also hit a key three-pointer with 4:32 left that pushed the lead to 110-99.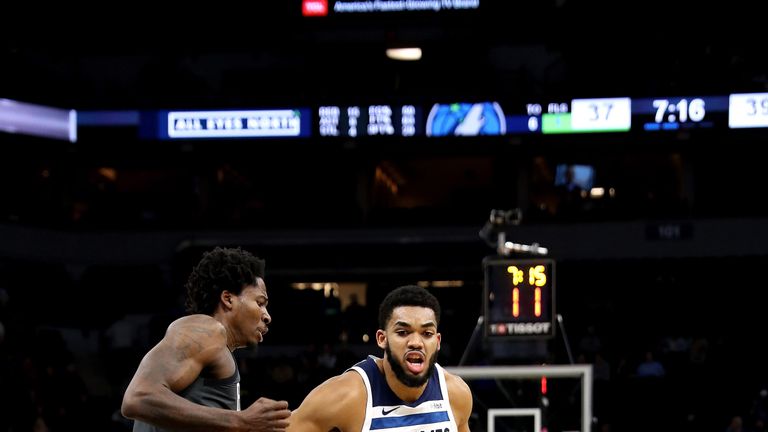 The Wolves played their first game since trading Jimmy Butler to Philadelphia. Minnesota obtained Dario Saric and Robert Covington, though neither player was active.
Jeff Teague returned after missing six games with a left knee contusion and added 24 and 11 assists as the Wolves shot 52.5 per cent. Derrick Rose added 23 points, while Taj Gibson contributed 17.
D'Angelo Russell hit a career-high nine three-pointers and led all scorers with his season-high 31 points. Rondae Hollis-Jefferson and Spencer Dinwiddie added 14 points apiece.
The Nets concluded their trip at 2-2, but the game was marred by LeVert's right leg injury with 3.7 seconds remaining in the first half. LeVert was injured attempting to defend a fast-break layup attempt by Josh Okogie, was placed in a wheelchair and taken by ambulance to a hospital for further evaluation.
Orlando Magic 109-117 Washington Wizards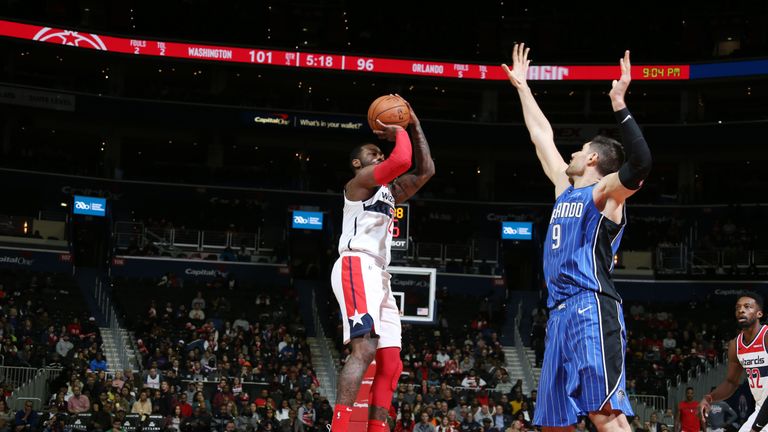 John Wall had 25 points and 10 assists and Bradley Beal added 21 points as the Washington Wizards defeated the Orlando Magic 117-109 for their second straight win.
The Wizards outscored the Magic 31-20 over the final nine minutes to avenge a loss in Orlando on Friday.
Jeff Green scored 18 points on 6-of-7 shooting off the bench for Washington, and Dwight Howard finished with 17 points and eight rebounds in 29 minutes.
Reserve Terrence Ross led Orlando with 21 points and Evan Fournier scored 20. The Magic, who had won four of five, got double-doubles from Aaron Gordon (18 points, 10 rebounds) and Nikola Vucevic (17 and 11).
Washington shot 50.6 per cent from the field, while Orlando connected on 48.3 per cent.
Dallas Mavericks 103-98 Chicago Bulls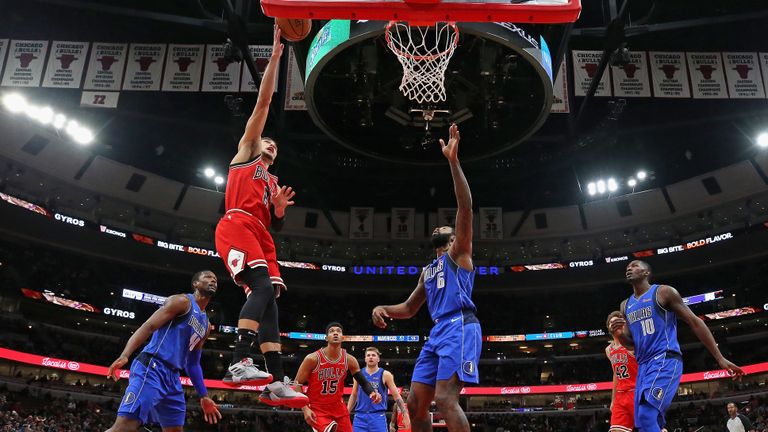 It took seven tries, but the Dallas Mavericks finally notched their first road victory of the season by holding off the Chicago Bulls to win 103-98.
Harrison Barnes led the Mavs to a second consecutive victory and their first road win since last March with 23 points, five rebounds and four steals.
Dennis Smith Jr scored all 11 of his points in the second half to help keep the Bulls, who got within one point three times down the stretch, at bay.
The struggling Bulls failed to win consecutive games thanks to an ugly shooting night, dipping to 39.3 per cent for the game, including 8-of-33 from beyond the arc. They turned the ball over 17 times.
Zach LaVine led Chicago with 26 points. He has scored at least 20 in every game this season.
Utah Jazz 96-88 Memphis Grizzlies
Joe Ingles scored 19 points while Rudy Gobert added 15 points, 16 rebounds and three blocks to lead the visiting Utah Jazz to a 96-88 victory over the Memphis Grizzlies.
Derrick Favors and Donovan Mitchell chipped in 12 points apiece, and Favors added eight rebounds to help Utah notch their third straight win.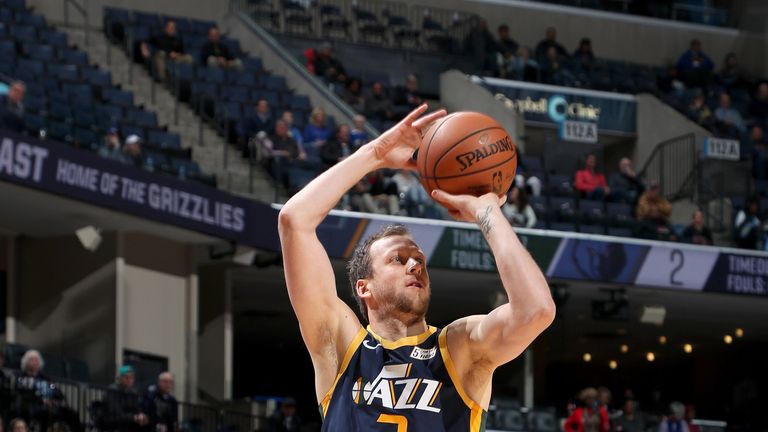 The Jazz beat Memphis for the first time this season after losing twice at home to the Grizzlies.
Mike Conley scored 24 points, and Marc Gasol added 16 to lead Memphis.
The Grizzlies held Utah to just 39 per cent shooting, but could not overcome their own 4-of-24 outing from the perimeter.
Utah put the game out of reach when Ingles fed Gobert for an alley-oop dunk and then hit three 3-pointer with 45.4 seconds left to give the Jazz a 94-84 lead.
Phoenix Suns 101-118 Oklahoma City Thunder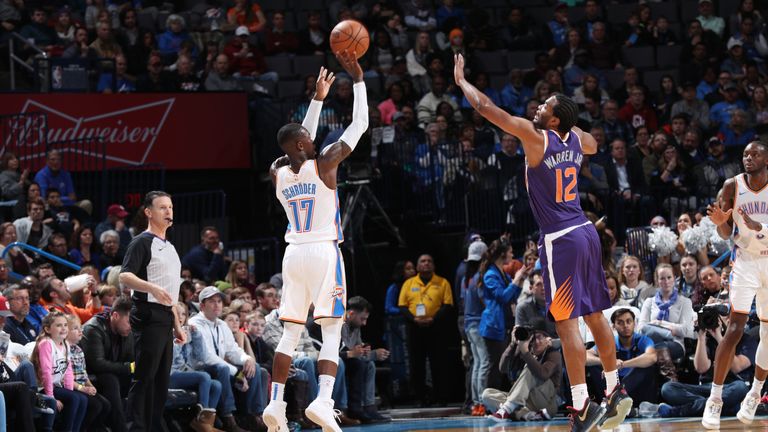 Paul George scored 32 points as the Oklahoma City Thunder, playing without Russell Westbrook for the fourth consecutive game, beat the visiting Phoenix Suns 118-101.
George scored 21 of his points before half-time as the Thunder built a lead as big as 28 points in the first half. The win was far from easy, though, as the Suns cut the once-big lead down to seven with eight minutes to play.
But from there, Oklahoma City outscored Phoenix 25-15 to win for the eighth time in nine games.
For the first time in the five games Westbrook has missed this season, the Thunder scored more than 100 points.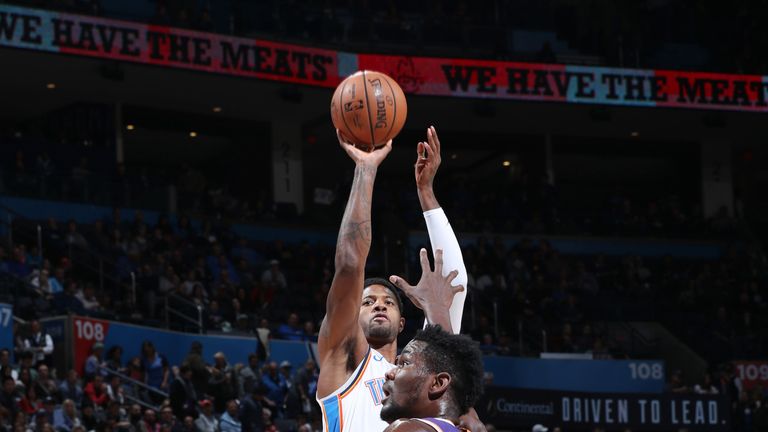 George was 11 of 19 from the floor, making six three-pointers.
Oklahoma City, who came into the game as the worst outside shooting team in the league, nailed 13 of their 27 three-point attempts.
Dennis Schroder, filling in for Westbrook as the starting point guard, had 20 points and nine assists.
TJ Warren led the Suns with 21 points, while Devin Booker added 19.
Phoenix have lost four consecutive games and six consecutive games on the road.
San Antonio Spurs 99-104 Sacramento Kings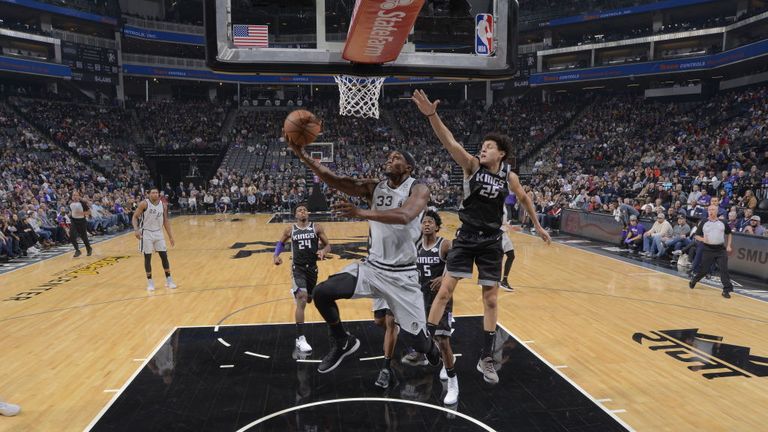 Bogdan Bogdanovic poured in 22 points off the bench to lead six Kings players in double figures as Sacramento produced a late-game rally to beat the visiting San Antonio Spurs 104-99.
The win was the first by the Kings over San Antonio since November 14, 2014, snapping a 14-game losing streak to the Spurs that included seven consecutive losses at home.
The game was tied at 90 with 5:11 to play before the Kings reeled off a 10-0 run that featured three-pointers by Nemanja Bjelica and D'Aaron Fox and an alley-oop dunk on the break by Willie Cauley-Stein.
Fox added 19 points for the Kings, with Buddy Hield scoring 14, Cauley-Stein pumping in 13 points and grabbing 13 rebounds, Harry Giles scoring 12 points and Bjelica adding 11 points.
DeMar DeRozan led the Spurs with 23 points and eights assists while LaMarcus Aldridge scored 14 points and took 18 rebounds. Rudy Gay racked up 14 points off the bench.
San Antonio have lost three of their past four games, following a four-game winning streak.
Golden State Warriors 116-121 Los Angeles Clippers (OT)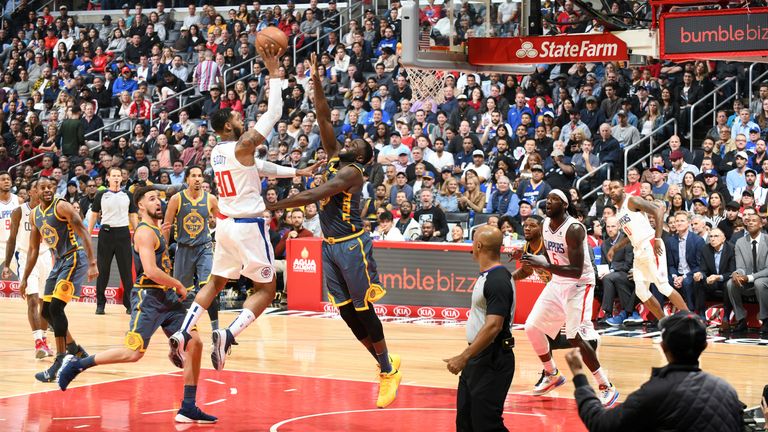 Lou Williams broke a tie with a lay-up with 55.2 seconds remaining in overtime and later added three free throws after getting fouled on a three-point attempt, pushing the Los Angeles Clippers to a 121-116 home victory over the Stephen Curry-less Golden State Warriors.
Williams' tie-breaking hoop came after Klay Thompson capped a 31-point performance with a three-pointer with 1:07 to go to produce a 116-all tie.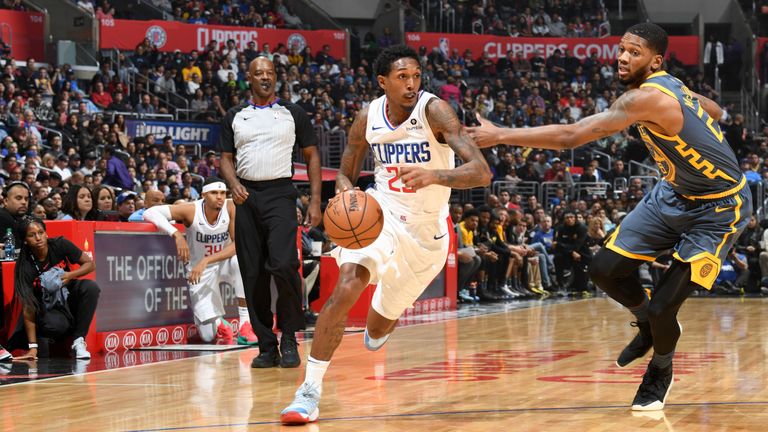 After Williams' hoop, the Warriors missed three opportunities to either tie or go ahead when Thompson misfired on a three-pointer and Kevon Looney couldn't connect on two follow-up shots.
Looney then fouled Williams at the other end on his three-point try with 13.4 seconds left, producing the clinching free throws.
Sky Sports is the new home of the NBA in the UK with live coverage throughout the week, including selected live games free to all Sky subscribers via Sky Sports Mix.
And www.skysports.com/nba will be your home for news, reports, video and features throughout the season while you can follow us @SkySportsNBA