Derrick Rose scored 11 of his 25 points in the fourth quarter while Karl Anthony-Towns shook off early foul trouble and scored 17 of his 21 points in the third as the Minnesota Timberwolves picked up their first road win with a 112-102 victory over the Brooklyn Nets on Friday.
Game leaders
Minnesota Timberwolves
Points: Derrick Rose - 25
Assists: Jeff Teague - 9
Rebounds: Taj Gibson - 11
Brooklyn Nets
Points: Dinwiddie/Harris - 18
Assists: Spencer Dinwiddie - 8
Rebounds: DeMarre Carroll - 7
Rose led the Wolves in scoring for the fifth time and produced his eighth 20-point game of the season by hitting 11-of-17 shots, including 5-of-7 in the fourth.
Towns made 9-of-18 shots while Taj Gibson added 16 and 11 rebounds. Jeff Teague contributed 15 points as the Wolves ended their season-opening eight-game road losing streak by shooting 47.8 per cent.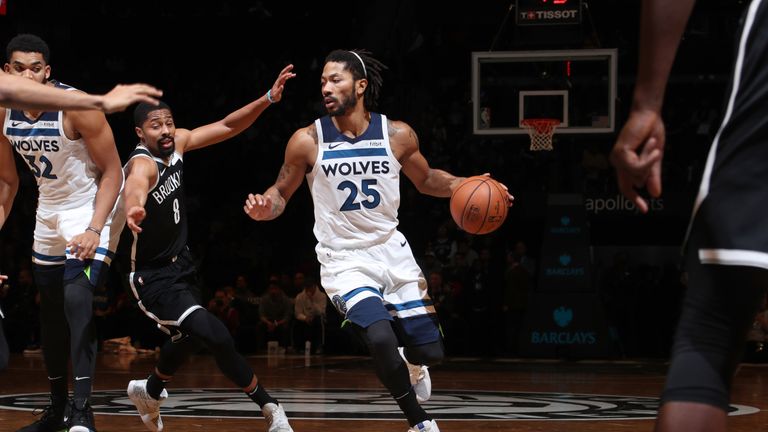 The Timberwolves won for the fourth time in six games since trading Jimmy Butler to Philadelphia on November 12. They also ended their worst road start in team history by improving to 1-9 on the road, leaving Cleveland and Phoenix as the NBA's only teams without a road win.
Joe Harris and reserve Spencer Dinwiddie led the Nets with 18 points apiece.
Brooklyn received little from their starting backcourt of Allen Crabbe (11 points) and D'Angelo Russell (five), who were a combined 6-of-20 from the floor.
Towns was limited to eight minutes before half-time as he picked up his third foul with 6:11 left in the second quarter.
While the Timberwolves struggled the first time Towns sat, they fared well when he sat in the second quarter and things went even better when he returned in the third quarter.
When the Nets were within striking distance, Towns hit a layup, a three-pointer, two floaters and a pair of free throws.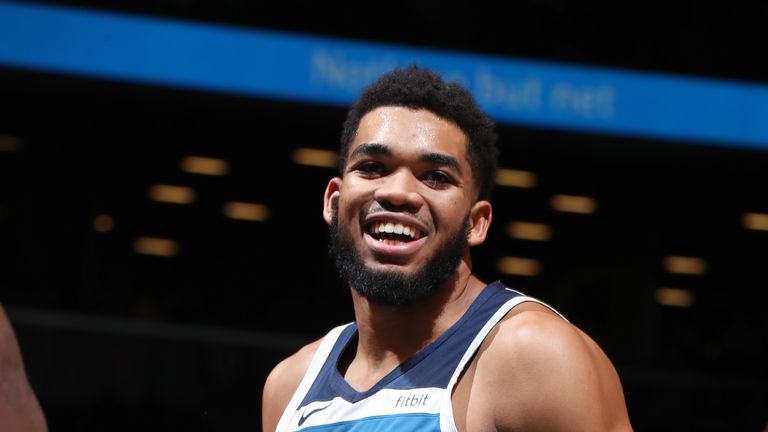 After Minnesota took a 76-63 lead on a three-pointer by Jeff Teague with 3:39 left, Towns continued to take over by scoring the next six points on a put-back, an 18-footer and a one-handed dunk as Minnesota took an 89-72 lead into the fourth.
The Nets nearly came all the way back as they were then within 104-100 with about three minutes left when Dinwiddie hit two free throws.
Rose hit a 10-footer with 1:42 left and Robert Covington dunked on Minnesota's next possession to make it an eight-point game and ensure there was no way back for the Nets.
Friday night's games
Minnesota Timberwolves 112-102 Brooklyn Nets
Memphis Grizzlies @ Los Angeles Clippers, 8:30pm
Houston Rockets @ Detroit Pistons, 12am
New Orleans Pelicans @ New York Knicks, 12:30am
Boston Celtics @ Atlanta Hawks, 12:30am
Cleveland Cavaliers @ Philadelphia 76ers, 12:30am
Washington Wizards @ Toronto Raptors, 12:30am
San Antonio Spurs @ Indiana Pacers, 1am
Miami Heat @ Chicago Bulls, 1am
Charlotte Hornets @ Oklahoma City Thunder, 1am
Phoenix Suns @ Milwaukee Bucks, 1:30am
Orlando Magic @ Denver Nuggets, 2am
Utah Jazz @ Los Angeles Lakers, 3:30am
Portland Trail Blazers @ Golden State Warriors, 3:30am
Sky Sports is the new home of the NBA in the UK with live coverage throughout the week, including selected live games free to all Sky subscribers via Sky Sports Mix.
And www.skysports.com/nba will be your home for news, reports, video and features throughout the season while you can follow us @SkySportsNBA