John Wall and Bradley Beal combined for 68 points on Monday as the Washington Wizards overcame a season-high 54-point game from James Harden to defeat the Houston Rockets 135-131 in overtime.
Game leaders
Houston Rockets
Points: James Harden - 54
Assists: James Harden - 13
Rebounds: Clint Capela - 14
Washington Wizards
Points: John Wall - 36
Assists: John Wall - 11
Rebounds: Markieff Morris- 10
Wall scored 36 points and dished out 11 assists, while his fellow All-Star guard Beal added 32 points to secure an upset victory against last year's Western Conference finalists in the capital.
Washington started overtime with an 8-1 run capped when Otto Porter Jr. picked up a steal and fed Beal for a dunk with 1:50 left, and the Rockets got no closer than within three points the rest of the way.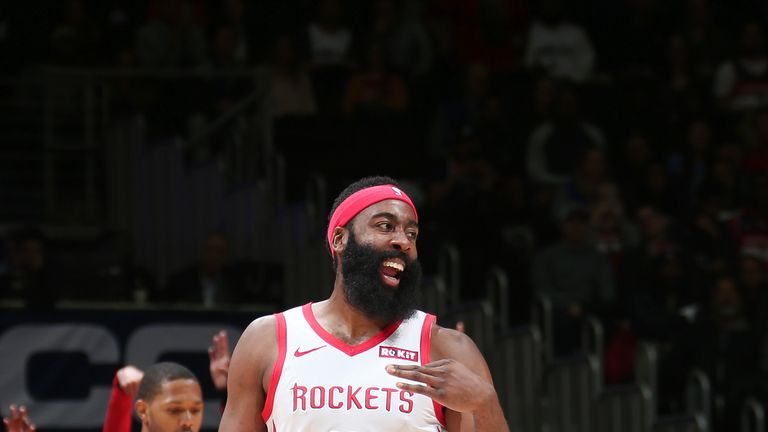 Houston shot 2 of 7 in overtime with four turnovers. Reigning Most Valuable Player, Harden, missed three consecutive shots and turned the ball over twice in the final minutes of regulation but fed Clint Capela for an alley-oop that tied the contest at 125-125 with 9.8 seconds left.
Wall had the ball knocked away on a jump-shot attempt with 1.2 seconds left, and he then blocked Eric Gordon's jumper at the buzzer.
Markieff Morris had 22 points and 10 rebounds as the Wizards' bench outscored the Rockets' reserves 45-9.
Gordon scored 36 points, and Capela had 17 points, 14 rebounds and four blocks for Houston, who have now lost three games in a row.
Harden had 11 assists, eight rebounds and 13 turnovers in 47 minutes.
The Rockets were without guard Chris Paul (strained hamstring) for a second consecutive game. Backup guard Gerald Green (sore right ankle) was also out.
Monday night's results
Milwaukee Bucks 107-110 Charlotte Hornets
Minnesota Timberwolves 102-95 Cleveland Cavaliers
Houston Rockets 131-135 Washington Wizards
San Antonio Spurs 108-107 Chicago Bulls
Boston Celtics 124-107 New Orleans Pelicans
Indiana Pacers 121-88 Utah Jazz
Orlando Magic 110-116 Golden State Warriors
Sky Sports is the new home of the NBA in the UK with live coverage throughout the week, including selected live games free to all Sky subscribers via Sky Sports Mix.
And www.skysports.com/nba will be your home for news, reports, video and features throughout the season while you can follow us @SkySportsNBA