The struggling Atlanta Hawks travel to Detroit to face the Pistons on NBA Primetime, live on Sky Sports Football on Sunday night at 9pm.
The Hawks (8-23) are in rebuild this season and have endured a tough opening third of the campaign as a consequence.
Live NBA: Atlanta @ Detroit


However, they have shown some signs of life recently, winning their last two outings to lift themselves off the bottom of the Eastern Conference. A team effort, led by 22 points from veteran guard Kent Bazemore, lifted them to a 114-107 win over the New York Knicks last time out.
The Pistons (15-15) have experienced a rollercoaster season to date, stringing together runs of victories before slumping to a succession of losses. A five-game winning streak leading into December was followed by six straight defeats. They broke out of that miserable streak slump with a notable 113-104 win over the Boston Celtics.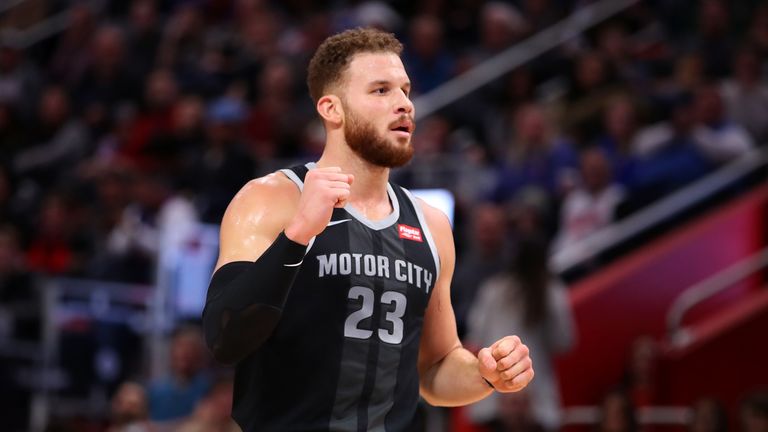 Detroit have relied on franchise star Blake Griffin to carry the offensive load and the former All-Star has responded well, averaging 25.7 points, 9.1 rebounds and 5.2 assists through 30 games.
In his last three outings, Griffin scored 34 points to lead the Pistons to a 129-123 victory over the Minnesota Timberwolves, supplied a triple-double in a loss to the Milwaukee Bucks and poured in 27 points in the win over Boston.
Key Battle: Reggie Jackson vs Trae Young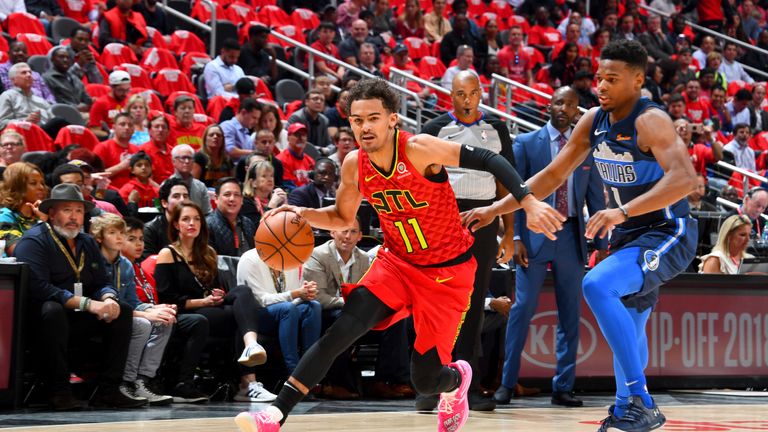 The face-off between these two scoring guards will go some way to dictating the outcome of the game. Jackson is a streaky performer, able to occasionally win games with his scoring and distribution but unable to produce those performances often enough.
As a veteran, Jackson may feel he has a point to prove against the rookie Young, selected fifth overall in the 2018 Draft. The Atlanta point guard has started every game in his first season and, while he has experienced the standard rookie lack of consistency, has also shown the ability to score and pass creatively. Young produced a 15-point, 10-assist double-double last time out against the New York Knicks.
Last time out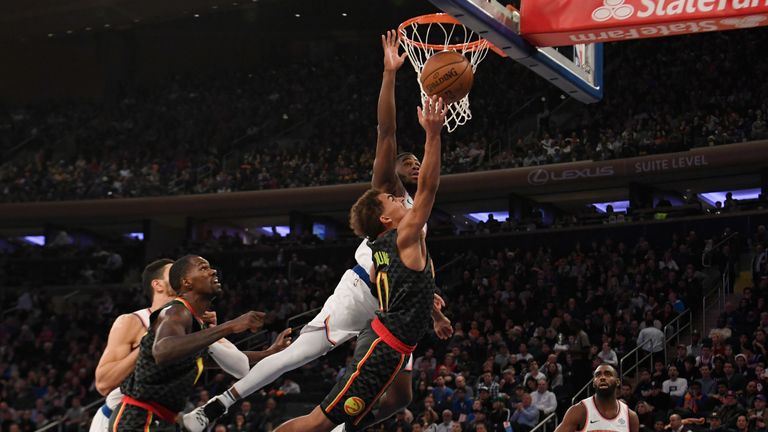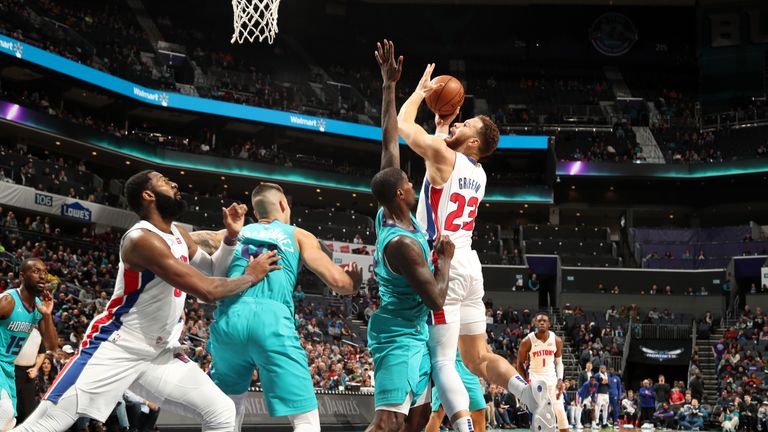 Numbers game
103.5 - That's the number of points the Hawks score per 100 possessions. It means they rank among the league's worst offenses (25th of 30).
That spells trouble against a Pistons team who, powered by Griffin, have topped 110 points in 15 of their 30 games and average 109.7 points per game.
Sunday night's game
Atlanta Hawks @ Detroit Pistons, 9pm, live on Sky Sports Football
Washington Wizards @ Indiana Pacers, 10pm
Charlotte Hornets @ Boston Celtics, 11pm
Phoenix Suns @ Brooklyn Nets, 11pm
Chicago Bulls @ Cleveland Cavaliers, 11pm
Miami Heat @ Orlando Magic, 11pm
New Orleans Pelicans @ Sacramento Kings, 11pm
Minnesota Timberwolves @ Oklahoma City Thunder, 1am
Los Angeles Clippers @ Golden State Warriors, 1:30am
Dallas Mavericks @ Portland Trail Blazers, 2am
Memphis Grizzlies @ Los Angeles Lakers, 2:30am
One to watch (Hawks): John Collins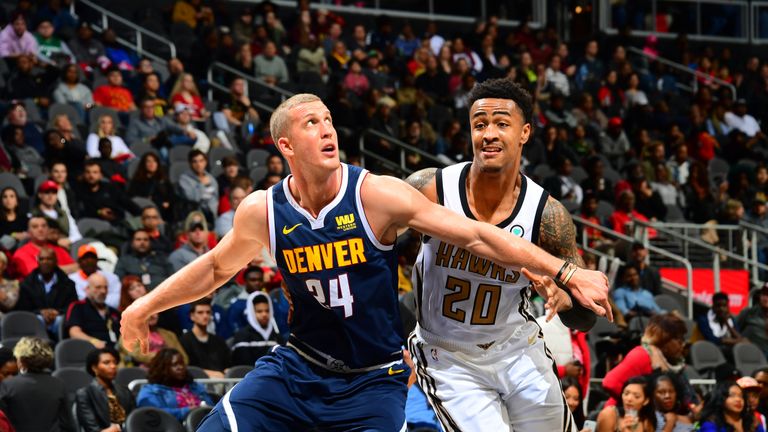 Trae Young isn't the only young star on the Hawks roster. After missing his team's first 15 games, the second-year power forward John Collins is enjoying a strong season, averaging 18.6 points and 9.5 rebounds per game.
Collins is a double-double machine, posting double-figure points and rebounds in nine of his 16 games to date.
Hawks' coach Lloyd Pierce is pleased with Collins' progress, telling sbnation: "You just see him becoming more comfortable as a lead scorer and he's doing it in a variety of ways. To see him on the glass, to see him put it on the floor, and then to see him stretch the floor, you're just seeing his growth all at once right now."
One to watch (Pistons): Andre Drummond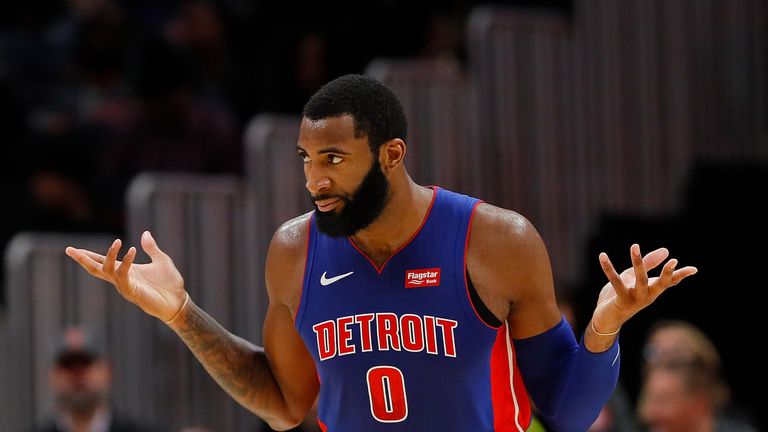 Now in his seventh year in the league, 6ft 11in center Drummond has settled in as a secondary offensive option behind Griffin. He remains dominant on the offensive and defensive boards too, averaging a league-leading 15.5 rebounds per game.
Drummond, like Collins, is a double-double threat every night, producing double-figure points and rebounds in 25 of his 30 games this season.
Sky Sports is the home of the NBA in the UK with live coverage throughout the week, including selected live games free to all Sky subscribers via Sky Sports Mix. www.skysports.com/nba will be your home for news, reports, video and features throughout the season while you can follow us @SkySportsNBA