All-star guard Jimmy Butler is reportedly "aggressively challenging" Philadelphia 76ers coach Brett Brown in training, according to ESPN.
Less than two months ago, Butler forced a trade from the Minnesota Timberwolves to the 76ers after a series of public criticisms, run-ins with team-mates and management and trade demands.
Butler is said to have "aggressively challenged coach Brett Brown on his role in the offence, complicating an already tenuous chemistry among the team's Big Three hierarchy," during a recent film session.
During the film session in Portland, ESPN reported Butler's protest of Brown and the system rose to a level some in attendance viewed as "'disrespectful' and beyond normal player-coach discourse."
Live NBA: Oklahoma @ Philadelphia
According the report, however, Brown viewed the incident more as falling in line with the nature of his relationship with Butler as opposed to a singular show of disrespect.
The report added Butler is aware that "his intense, direct style can come off as combative as he is trying to make clear his viewpoints."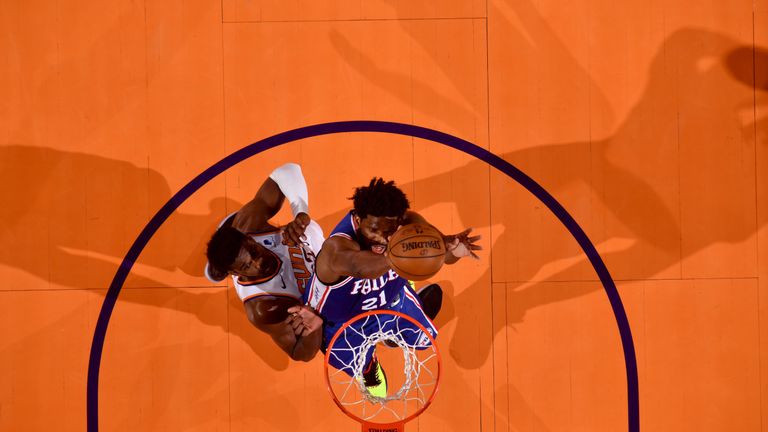 Many believed the 76ers' mid-November acquisition of Butler from the Timberwolves would make them contenders, if not the favourites, in the Eastern Conference with the trio of Butler, Ben Simmons and Joel Embiid on the floor.
While the team is 16-8 since the trade (15-6 in games that Butler plays in), the 76ers have struggled to establish consistent success while the trio has yet to establish a real chemistry.
According to the report, upper management has placed "an urgency for Brown and his coaching staff to stabilise the situation."
Butler, 29, can be a free agent this off-season, making the need to fit him into the 76ers' free-flowing offence even more critical. Philadelphia currently sits in fourth place in the East.
Want to watch the NFL or NBA on the Sky Sports USA channel but don't have Sky Sports? Get the Sky Sports Action and Arena pack, click here.
Sky Sports is the home of the NBA in the UK with live coverage throughout the week, including selected live games free to all Sky subscribers via Sky Sports Mix. www.skysports.com/nba will be your home for news, reports, video and features throughout the season while you can follow us @SkySportsNBA