A year after being traded away by the Los Angeles Clippers, Pistons franchise star Blake Griffin is settled in his new surroundings and optimistic about what his Detroit team can achieve as he prepares to face his former team.
If Blake Griffin were prone to melancholia, last Monday would have been the day. As a winter storm raged outside and the one-year anniversary of the trade that uprooted him from sunny Los Angeles neared, if he harboured any regrets for his fate they surely would have revealed themselves in that moment.
"This feels like home," he said after Pistons practice. "Last year was such a whirlwind. Even at the end of the season, I wasn't acclimated, wasn't adjusted yet. But it feels like home now. I've really come to be very, very fond of Michigan and the fans, the people, everything, top to bottom, the organisation. So I'm settled in.
"But we still have things we need to work on. We're obviously not where we want to be. It's a work in progress and I'm excited about that challenge."
The Pistons take a 22-28 record into Saturday game against his former team the Los Angeles Clippers, live via a free live stream on skysports.com and the Sky Sports mobile app.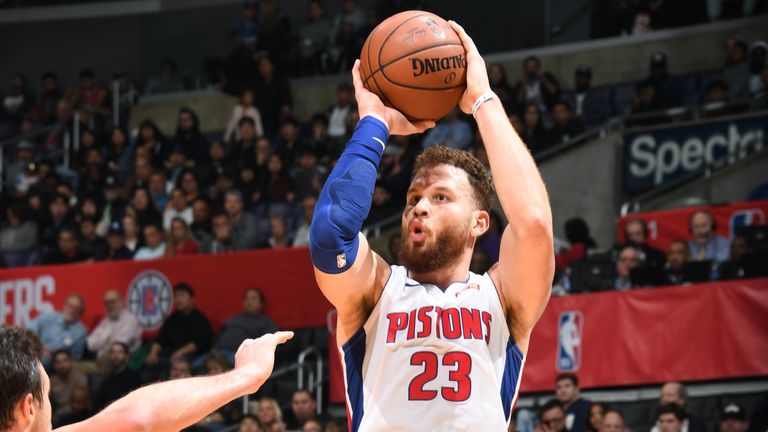 Griffin, who is averaging 26.2 points per game, was selected for the upcoming All-Star Game as a reserve on Thursday night and attributes his return to All-Star status to two major factors: a fully healthy off-season for the first time in four years and utilization within Casey's offense.
"The offense is really run through me," he said. "I'm up there in touches per game. I don't know that I'm shooting a whole lot - around 18 a game (18.7, which ranks 14th in the league).
"But just having the ball a lot, being involved in everything, you get a little more opportunity. And being able to really prepare this summer and work on all the things I'm doing this season helps. I'm a big believer that what you put in is what you get out and I put a lot in this summer."
Despite Griffin's productivity, the Pistons' are lagging in offensive efficiency, where they rank only 25th. The major reason? They're dead last in three-point shooting percentage, making less than a third of their attempted triples (33.1 per cent) Griffin is not the problem there, either, hitting above the league average at 36.2 per cent.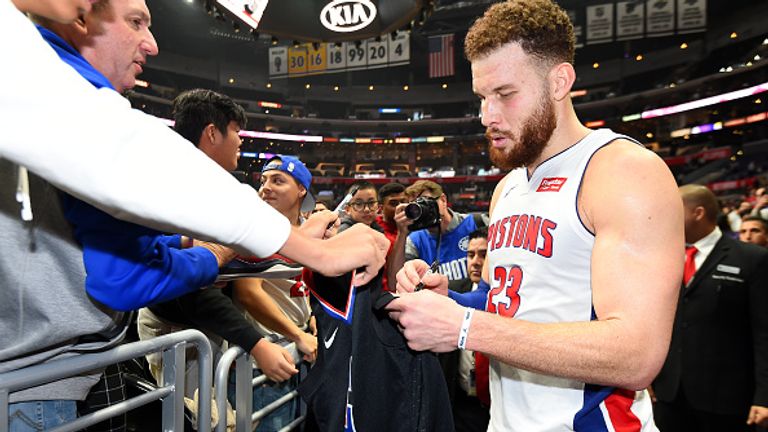 "At one point, I believe we were leading the league or top three in getting open shots and then also somewhere toward the bottom three of making those open shots," Griffin said. "I don't think it's a question of is our offense working or what we're doing working. It's just knocking down shots. Knocking down those open threes or finishing better at the rim could vault us up in the top 15, easily.
"We can't get frustrated with the type of shot we're getting because we're getting great shots. Our offense is set up to let us succeed. We just have to take advantage of it."
Live NBA: LA Clippers @ Detroit


Now would be a good time to do it, against the team that traded him away 12 months ago.
Griffin remains enthusiastic about the Pistons' possibilities for this season despite the tailspin that began in early December, after a 13-7 start, when the schedule stiffened and a run of injuries ensued.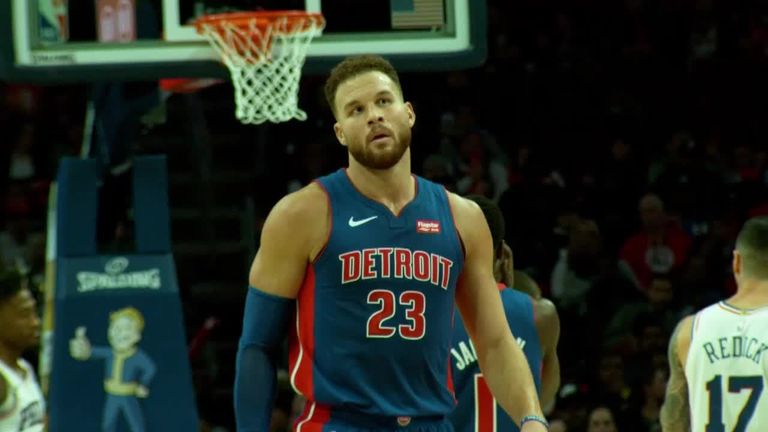 "We need everybody healthy," he said. "When guys go down, we've struggled. Ish (Smith) being out has hurt but we have guys capable of stepping up. We need that every day from everybody.
"Consistency is the thing. We've done it in stretches. We've beaten some good teams. We've won some close games. I'm pretty sure we have the most close games of any team, so we should be better at it by now. We just have to lock in and do that and we are capable of being a playoff team that's consistently good every night."
Saturday night's game
Los Angeles Clippers @ Detroit Pistons, 10pm, live & free on SS.com and Sky Sports mobile app
Chicago Bulls @ Charlotte Hornets, 12am
Milwaukee Bucks @ Washington Wizards, 12am
Brooklyn Nets @ Orlando Magic, 12am
Dallas Mavericks @ Cleveland Cavaliers, 12:30am
Indiana Pacers @ Miami Heat, 12:30am
Los Angeles Lakers @ Golden State Warriors, 1:30am
New Orleans Pelicans @ San Antonio Spurs, 1:30am
Atlanta Hawks @ Phoenix Suns, 2am
Houston Rockets @ Utah Jazz, 2am
Philadelphia 76ers @ Sacramento Kings, 3am
That does not sound like a guy beaten down by his circumstances - or by the Michigan winters. Told he could expect a pure Michigan experience when he stepped outside, Griffin shrugged. "I don't mind the cold."
Want to watch the NFL or NBA on the Sky Sports USA channel but don't have Sky Sports? Get the Sky Sports Action and Arena pack, click here.