Giannis Antetokounmpo recorded 30 points, 15 rebounds and nine assists as the Milwaukee Bucks concluded a five-game road trip with a 113-94 victory over the Brooklyn Nets.
Monday night's scores
Milwaukee Bucks 113-94 Brooklyn Nets
Houston Rockets 118-110 Phoenix Suns
Denver Nuggets 103-129 Detroit Pistons
San Antonio Spurs 112-127 Sacramento Kings
Indiana Pacers 109-107 New Orleans Pelicans
Atlanta Hawks 137-129 Washington Wizards
Milwaukee Bucks 113-94 Brooklyn Nets
Giannis Antetokounmpo recorded 30 points, 15 rebounds and nine assists on Monday night as the Milwaukee Bucks concluded a five-game road trip with a 113-94 victory over the Brooklyn Nets.
Antetokounmpo, who entered the game leading the league in points in the paint (17.2 per game), constantly attacked the rim and finished with a combined nine dunks and lay-ups. He shot 12-of-19 from the field as Milwaukee finished the trip with four straight wins, won for the 10th time in 11 games and recorded their 20th double-digit win of the season.
With former president Bill Clinton sitting courtside, Antetokounmpo recorded his 37th double-double and 22nd game with at least 30 points. He reached 30 points on a putback lay-up with about nine minutes left while getting fouled to give Milwaukee a 93-74 lead.
Malcolm Brogdon added 16 while Eric Bledsoe contributed 15 after sitting out Saturday's win against the Wizards in Washington with a sore left Achilles as the Bucks shot 42.2 per cent.
The Nets dropped a third straight game for the first time since their eight-game skid from November 21-December 5. Brooklyn also lost for the second time in the last 16 home games and fell to Milwaukee for the 12th time in the last 13 meetings.
D'Angelo Russell led the Nets with 18 points but shot 7-of-20 as Brooklyn shot a season-low 32.4 per cent. The Nets missed their first 13 three-point attempts and finished 5-of-42 from behind the arc.
Houston Rockets 118-110 Phoenix Suns
James Harden extended his streak of consecutive 30-point games to 27 as the Houston Rockets defeated the host Phoenix Suns 118-110.
Harden finished with 44 points, eight rebounds, six assists and three steals. His 30-plus-point scoring streak is now the third longest in NBA history, behind two by Wilt Chamberlain.
The Houston star shot 15-of-26 from the floor and 9 of 11 from the free-throw line to help send the reeling Suns to their season-worst 11th consecutive setback.
Harden scored 22 points before half-time and was the only member of the Rockets to reach double figures prior to the intermission. The Rockets fashioned a more balanced scoring attack in the second half, as Kenneth Faried wound up with a double-double (17 points, 14 rebounds) while James Ennis III (13 points) and Chris Paul (18 points, five steals) also chipped in.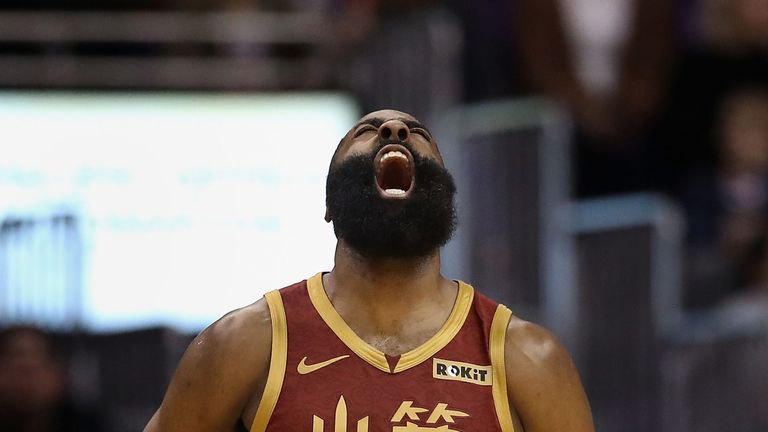 For Harden, it was his 20th 40-point game on the season.
The Rockets never trailed, with Phoenix last forging a tie at 38-all on a Jamal Crawford three-pointer at the 8:56 mark of the second quarter. Houston extended to a double-digit lead at 57-46 on an Austin Rivers three-pointer just over five minutes later, and the visitors withstood a number of spirited Suns challenges in the second half.
Jackson scored 25 points while Kelly Oubre Jr added 23 off the bench for the Suns. Rookie center Deandre Ayton paired 15 points with 11 boards, and Devin Booker had 19 points, seven rebounds and five assists for the Suns
Denver Nuggets 103-129 Detroit Pistons
Andre Drummond piled up 27 points, 12 rebounds, three assists and three blocks in 26 minutes as the host Detroit Pistons snapped the Denver Nuggets' six-game winning streak with a 129-103 victory.
The Pistons bounced back from a damaging home loss to the Los Angeles Clippers on Saturday in which they squandered a 25-point lead. They had no trouble keeping their big lead against depleted Denver.
The Nuggets were missing three of their starters. Point guard Jamal Murray missed his sixth straight game with an ankle injury and shooting guard Gary Harris sat out his third consecutive game with a groin injury. Power forward Paul Millsap was out with right ankle soreness.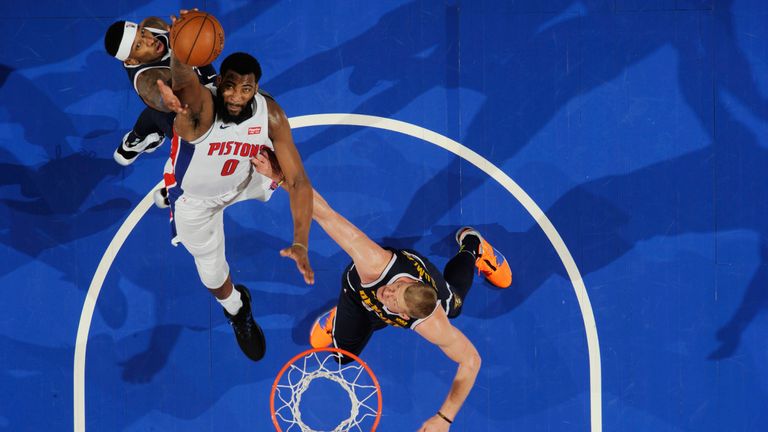 Stanley Johnson had 21 points and six rebounds off the bench for Detroit, while another reserve, Langston Galloway, supplied 18 points. Blake Griffin contributed 17 points, seven rebounds and four assists, while Reggie Jackson and Luke Kennard each scored 14 points.
Denver, who entered the night tied with Golden State for the best record in the Western Conference, were led by reserve Trey Lyles with 20 points. Monte Morris had 18 points, Malik Beasley and Nikola Jokic scored 16 apiece and Mason Plumlee chipped in 15 points, 11 rebounds and six assists.
San Antonio Spurs 112-127 Sacramento Kings
Marvin Bagley III, Yogi Ferrell and Harry Giles all scored in double figures off the bench as the host Sacramento Kings used superior depth to defeat the San Antonio 127-112, snapping the Spurs' five-game winning streak.
The Kings' third straight win was their second this season over the Spurs, allowing them to clinch the three-game season series for the first time since 2002.
After leading by as many as 14 points in both the first and third quarters, the Kings were up just 100-94 after a three-pointer by the Spurs' Davis Bertans with 9:44 to go. Ferrell then hit a three to trigger an 18-7 burst that put the game away and allowed Sacramento to move within a half-game of the Los Angeles Clippers for the eighth playoff spot in the Western Conference.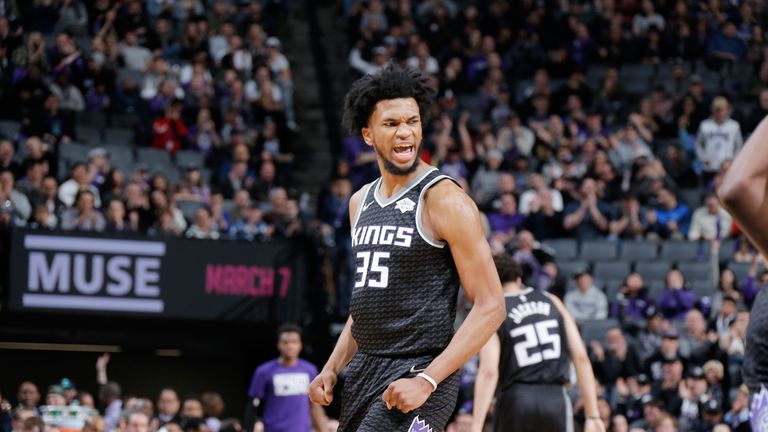 Ferrell finished with 19 points, Bagley a team-high 24 and Giles 11, helping the Sacramento reserves outscore their San Antonio counterparts 60-32. Starters De'Aaron Fox (20 points), Buddy Hield (18) and Iman Shumpert (13) also scored in double figures.
DeMar DeRozan tied Bagley for game-high scoring honors with 24 and LaMarcus Aldridge finished with 22 for San Antonio, who were opening their eight-game 'Rodeo Trip'.
Indiana Pacers 109-107 New Orleans Pelicans
Darren Collison scored 22 points to lead a balanced scoring attack as the visiting Indiana Pacers held off the New Orleans Pelicans 109-107.
Collison was joined in double figures by Domantas Sabonis (16 points and 13 rebounds), Myles Turner (15 points, nine rebounds), Thaddeus Young (14 points) and Bojan Bogdanovich (14 points) as the Pacers won their second straight game to finish a 2-2 road trip.
Jahlil Okafor had 25 points and 13 rebounds and Jrue Holiday added 19 points and 11 rebounds to lead the injury-riddled Pelicans, who lost for the sixth time in seven games.
Ian Clark had 18 points, Darius Miller scored 16 and Cheick Diallo had 12 points and 14 rebounds for New Orleans.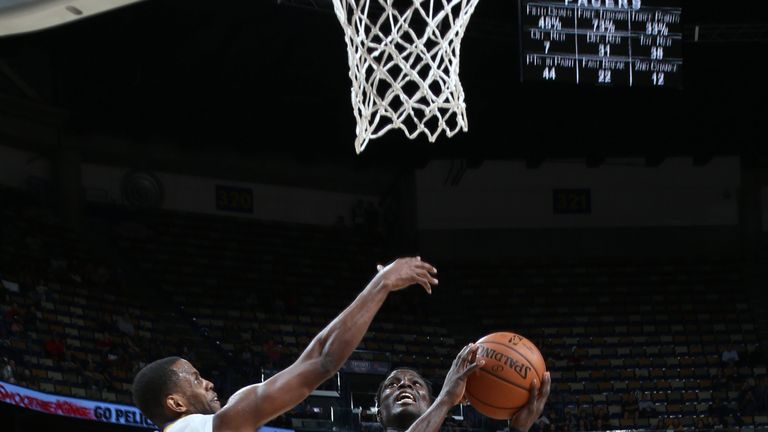 In the fourth quarter, Indiana extended the lead to 11 before New Orleans cut it to four on a three-pointer by Miller. New Orleans had a chance to take the lead, but Miller missed a triple, and Collison's three-pointer gave the Pacers a 106-102 lead with 1:54 to play.
Collison's jumper pushed Indiana's lead to 108-104 with 27 seconds left, and after Miller missed another three, Collison added a free throw with 10 seconds left.
Clark made a lay-up to trim the deficit back to three, and the Pacers turned the ball over with five seconds left. Indiana fouled Holiday before he could attempt a tying three-pointer. He made the first free throw and intentionally missed the second, but New Orleans knocked the rebound out of bounds. The Pacers inbounded the ball and the clock expired.
Atlanta Hawks 137-129 Washington Wizards
Taurean Prince scored 21 points and Kevin Huerter had 19 as the visiting Atlanta Hawks defeated the Washington Wizards 137-129.
Overall, nine Atlanta players scored in double figures, including all five starters. Prince made 7-of 10-shots from the field, including 5-of-7 three-point attempts.
Omari Spellman (16 points, 10 rebounds), John Collins (15 points, 11 rebounds) and Trae Young (10 points, 10 assists) made multifaceted contributions for the Hawks.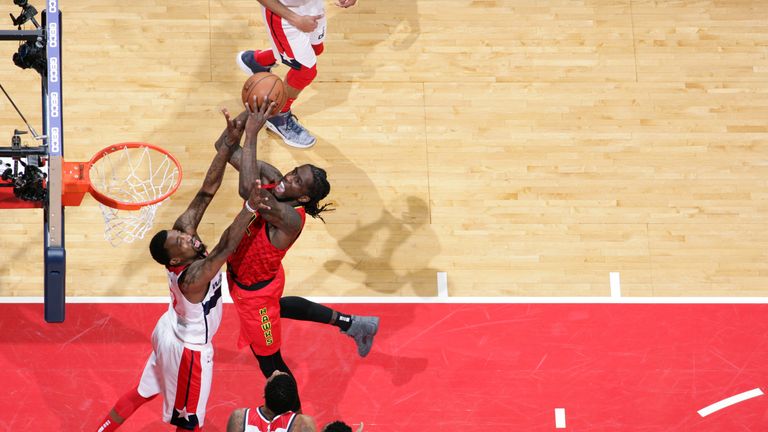 Collins got his double-double in just 16 minutes of first-half action. He sustained what the team called a "facial laceration" in the second quarter and did not return.
Atlanta repeatedly hurt the Wizards with their three-point shooting. The Hawks made 49 per cent (20 of 41) from long range, and that was the difference.
Bradley Beal led the Wizards with a game-high 27 points while Jeff Green added 26 and Trevor Ariza had 25.
Want to watch the NFL or NBA but don't have Sky Sports? Get the Sky Sports Action and Arena pack, click here.