The Toronto Raptors traded for Marc Gasol and the Milwaukee Bucks acquired Nikola Mirotic at the trade deadline.
Gasol is going to the Raptors in a deal that also includes Jonas Valanciunias headed to the Memphis Grizzlies.
CJ Miles and Delon Wright will be included and going to Memphis, according to ESPN's Adrian Wojnarowski.
It is a power move for Toronto, as they look to improve their roster as they vie with Philadelphia and Milwaukee, among others, in the Eastern Conference.
The 34-year-old Gasol will presumably start at center for Toronto, and it is unclear if Serge Ibaka will be pushed down to power forward or if he will come off the bench in a sixth-man role.
Regardless, Gasol has missed only two games this season and is averaging 15.7 points, 8.6 rebounds, 4.7 assists and a combined 2.3 steals/blocks, while shooting a solid 34.4 per cent from distance.
Considering he is on a better, more well-rounded team now, it is possible we will see Gasol's overall production take a dip, though he will undoubtedly be a vital part of the Raptors for the remainder of the season.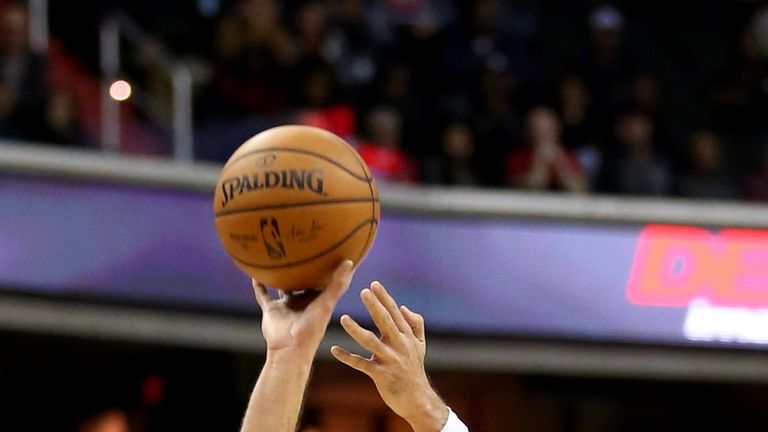 The Milwaukee Bucks acquired sharpshooter Nikola Mirotic from the New Orleans Pelicans as part of a three-team deal.
Forward Thon Maker went from Milwaukee to the Detroit Pistons while New Orleans picked up center Jason Smith and four second-round picks from the Bucks.
The Pistons dealt forward Stanley Johnson to the Pelicans. The Pelicans also get Denver's second-round pick in 2019; Washington's 2020 and 2021 second-rounders; and Milwaukee's second-rounder in 2020, per ESPN.
The 6ft 10in Mirotic, who turns 28 on Monday, is averaging 16.7 points per game and 8.3 rebounds, both career highs, in 32 games. He's also making 2.7 3-pointers per game, tied for ninth in the NBA and also a career high.
"We are thrilled to add such a talented player in Nikola Mirotic to our roster," Bucks general manager Jon Horst said. "He is a skilled, two-way player who fits extremely well into our system. He shoots at a high percentage from beyond the arc, rebounds and defends at his position and provides depth to our frontcourt.
"We thank Thon and Jason for their contributions to the Bucks and wish them well."
Mirotic gives the Bucks a third player averaging six three-point shot attempts per game, joining Brook Lopez and Khris Middleton. The Houston Rockets are the only other team to feature that many long-range bombers.
In his fourth season, Johnson is averaging 7.5 points and 3.6 rebounds. Johnson, 22, was the eighth overall pick in the 2015 draft. Maker, 21, averaged 4.7 points and 2.7 rebounds in 35 games, all off the bench, for the Bucks this season.
Smith, 32, is headed back to New Orleans, where he played from 2010-11 through 2013-14. He has played with five other NBA franchises, too, including stints with both the Washington Wizards and the Bucks this season. In 18 overall games (one start) in 2018-19, Smith is averaging 3.2 points and 2.7 rebounds.
Notable trade deadline day deals
Porter heads to Chicago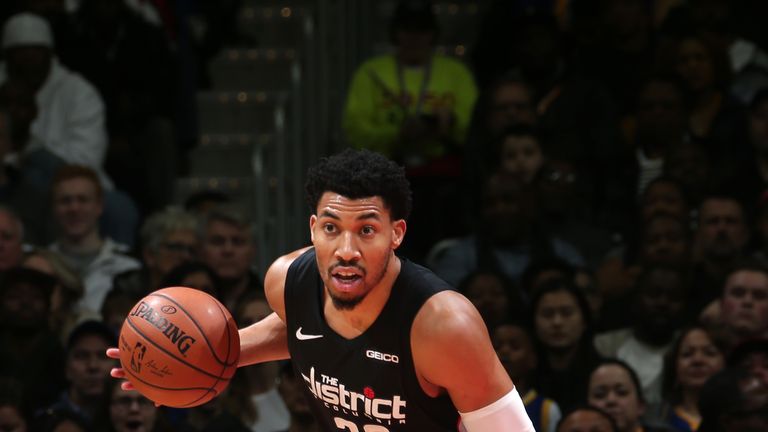 The Washington Wizards traded Otto Porter Jr to the Chicago Bulls in exchange for Bobby Portis and Jabari Parker, the club confirmed Wednesday night.
The deal also includes a 2023 second-round pick going from Chicago to Washington.
"We are bringing in two former first-round picks who will give us frontcourt depth with their ability to play multiple positions," Wizards president Ernie Grunfeld said. "The trade also provides us with an opportunity to continue to develop two promising young players while giving us future flexibility."
Wiz ship Morris to Pelicans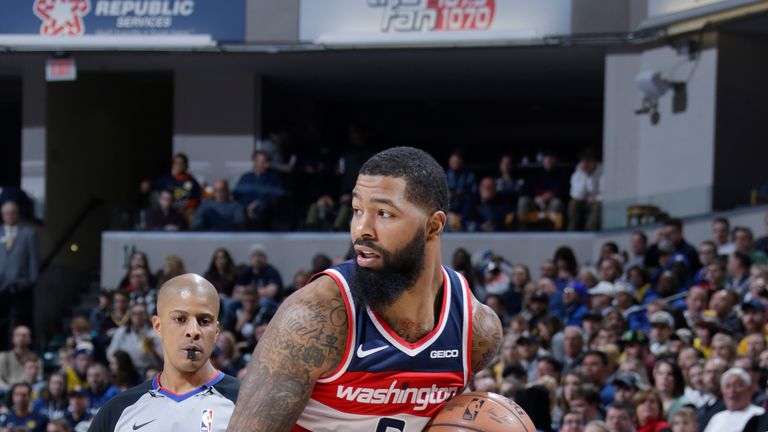 The Wizards also sent forward Markieff Morris and a 2023 second-round pick to the New Orleans Pelicans in exchange for forward Wesley Johnson.
Grunfeld added of the Johnson deal: "This trade gives us a veteran wing player and former first-round pick in Wesley, who will add experience and shooting to our bench.
"Markieff was an important part of our team during his time here, and we appreciate his contributions over the last four seasons."
Sixers acquire Ennis from Rockets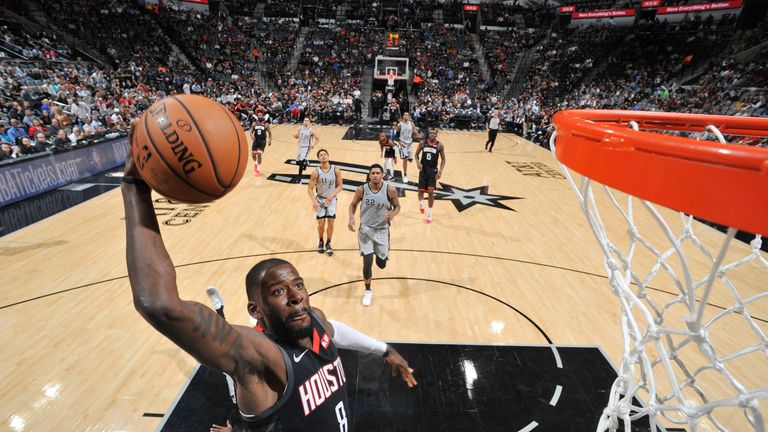 The Philadelphia 76ers boosted their perimeter defense Thursday by acquiring veteran forward James Ennis from the Houston Rockets, according to multiple reports.
In exchange, the Sixers gave the Rockets the right to swap second-round picks in 2021, sources told The Athletic.
To make room, Philadelphia waived guard Malachi Richardson just one day after acquiring him in a trade with the Toronto Raptors, according to Philly.com.
Ennis, 28, was averaging 7.4 points and 2.8 rebounds in 39 games (25 starts) during his first season in Houston. He is shooting 50.0 percent from the field and 37.3 per cent from three-point range.
Heat trade Johnson, Ellington to Suns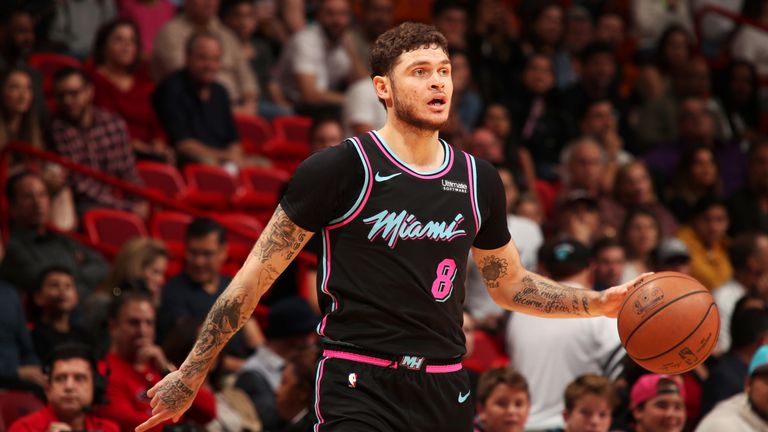 The Miami Heat traded guards Tyler Johnson and Wayne Ellington to the Phoenix Suns for forward Ryan Anderson.
The deal provides salary-cap and luxury-tax relief for the Heat, while Johnson gives the Suns another playmaker and ballhandler to back up star guard Devin Booker.
Grizzlies trade two to Clippers for Bradley
The Memphis Grizzlies dealt guard Garrett Temple and forward JaMychal Green to the Los Angeles Clippers for guard Avery Bradley.
The Clippers cleared a spot for the extra player brought on in the trade by waiving Marcin Gortat.
Bradley, 28, started 49 of the Clippers' first 50 games this season and averaged 8.2 points, 2.7 rebounds and 2.0 assists in 29.9 minutes per game.
Boston's first-round pick in 2010 (19th overall), Bradley is a two-time NBA All-Defensive selection who played with the Celtics (2010-17) and Detroit Pistons (2017-18) before joining Los Angeles in the Blake Griffin trade on January 29, 2018.
Rockets, Cavs, Kings swing three-team deal
The Houston Rockets acquired guard Iman Shumpert on Wednesday night in a three-way trade that involved the Sacramento Kings and Cleveland Cavaliers
The Rockets also landed guards Nik Stauskas and Wade Baldwin from Cleveland in the deal. Both players joined the Cavaliers two days earlier in a trade that sent Rodney Hood to the Portland Trail Blazers.
The Kings, who gave up Shumpert, will receive guard Alec Burks from the Cavaliers in the deal.
Cleveland receive guard Brandon Knight, forward Marquese Chriss and a protected 2019 first-round pick from the Rockets.
Houston subsequently moved Stauskas and Baldwin to the Indiana Pacers in exchange for a solitary second-round pick.
Raptors trade Monroe plus pick to Nets
The Toronto Raptors traded center Greg Monroe and a second-round pick in 2021 to the Brooklyn Nets in exchange for cash considerations. The Nets have requested waivers on the ninth-year veteran.
Monroe, 28, averaged just 11.1 minutes in 38 games (two starts) for the Raptors this season, tallying 4.8 points and 4.1 rebounds per contest.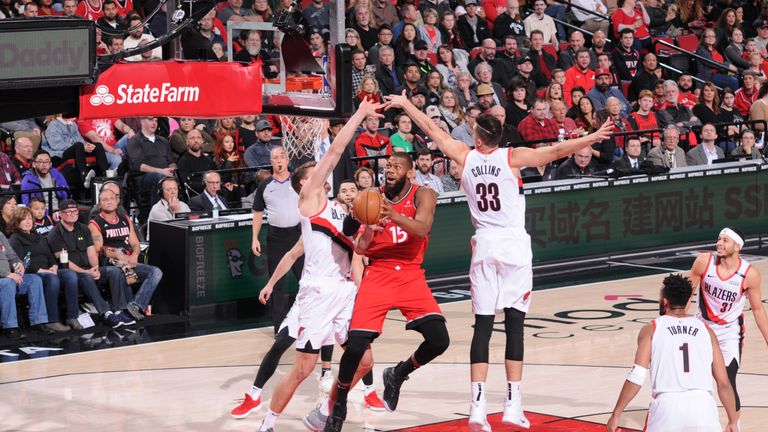 A lottery pick (seventh overall) by Detroit in 2010, Monroe played with the Pistons, Milwaukee Bucks, Phoenix Suns and Boston Celtics before signing a one-year, $2.2m deal with Toronto as a free agent in August 2018.
Monroe's best years were with the Pistons. He averaged a career-high 16.0 points in 2012-13 and a career-high 10.2 rebounds in 2014-15.
If Monroe clears waivers, he would be free to sign with any team that has a need for a 6ft 11in post player with 627 games of experience.
Clippers flip Muscala to Lakers for Beasley, Zubac
Mike Muscala's tenure with the Los Angeles Clippers did not even last one game as the center was traded to the Los Angeles Lakers on Thursday for forward Michael Beasley and center Ivica Zubac.
Muscala, who was acquired by the Clippers on Wednesday in the trade that sent Tobias Harris and two others to the Philadelphia 76ers, will still call Los Angeles home, but he will be wearing purple and gold.
He averaged 7.4 points and 4.3 rebounds in 47 games (six starts) for the Sixers.
Beasley, who missed time in December to spend time with his ailing mother, averaged 7.0 points with 2.3 rebounds in 26 games (two starts) for the Lakers.