The acquisition of Tobias Harris gives the Philadelphia 76ers a core four of star players - but will their new-look team function cohesively? Mark Deeks offer his expert take.
After trading for Jimmy Butler barely a month into the season, the Philadelphia 76ers found that vital piece that seems to be the orthodox path to NBA championships - a third star.
Look back at the last eight NBA champions, for example. Steph Curry, Klay Thompson, Kevin Durant (and/or Draymond Green). LeBron, Kyrie, Love. LeBron, Wade, Bosh. Tony Parker, Tim Duncan, Kawhi Leonard. With the possible exception of the 2010-11 Dallas Mavericks - and even then, a trio of prime Dirk Nowitzki, prime Tyson Chandler and nearly-prime Shawn Marion is not far short of being one - every title-winning team has had a Big Three.
Indeed, so do most champions throughout NBA history. The Heatles were far from the only one; they merely restarted it.
However, look at the first of those. The Golden State Warriors now have four stars, or five if DeMarcus Cousins gets back to his best. Three might not be enough anymore. And so now the 76ers have also traded for another near-All-Star - power forward Tobias Harris of the Los Angeles Clippers.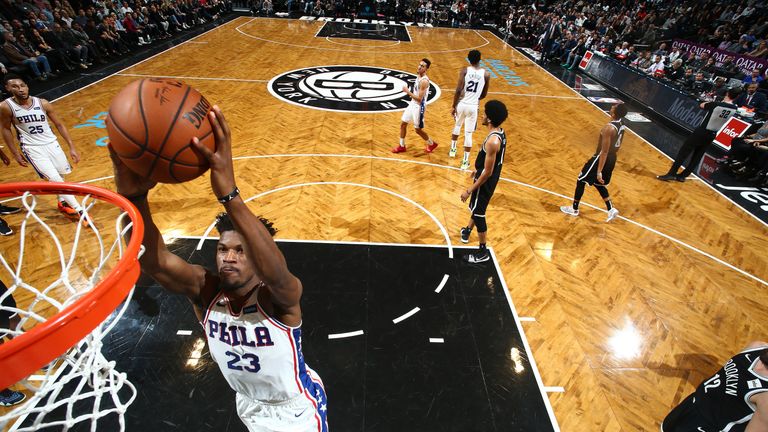 In theory, Butler at the two wing positions would join with Harris at power forward, Joel Embiid at center and Ben Simmons' unique point guard/forward hybrid game to ensure the 76ers could put an All-Star at any position, at any time, and almost always have more than one concurrently on the floor.
At the time of the Butler trade, the 76ers had a 9-6 record - in the time since, they have gone 25-13. Early returns in that respect are good, and Harris, it follows, should only add to that.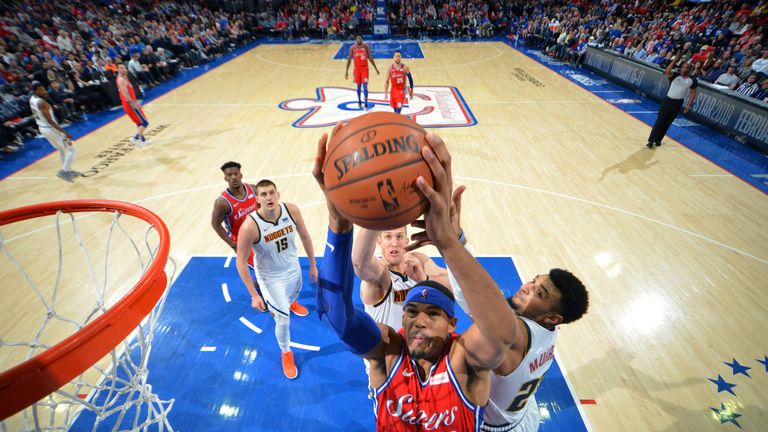 But the multiple star set-up only works if all the stars cohere.
For the purposes of the remainder of this piece, let us ignore the off-court chemistry of this core four. Adding the notoriously strong-willed Butler (who has already twice forced his way off playoff teams) to two young impressionable stars in Embiid and Simmons (about whom there are already stories of a less-than-harmonious relationship) is a potent mixture of ingredients, it seems. Yet from this side of the fence, we could only speculate as to how that could work, and any such speculation would be unhelpful.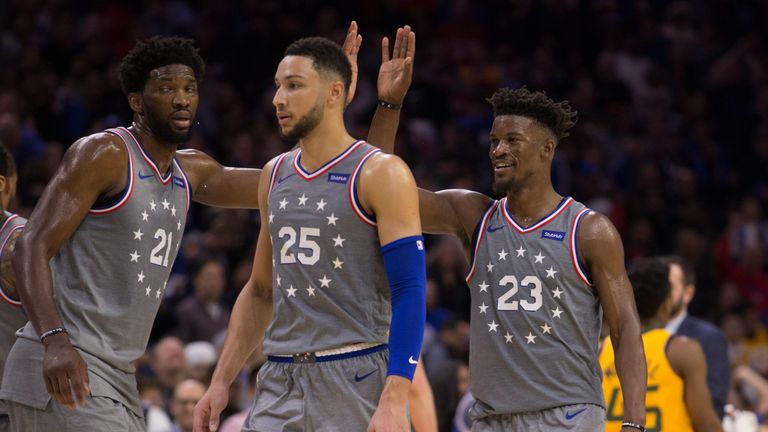 What we can empirically look at is how the 76ers are faring with the trio prior to Harris, how they fit together, how the 76ers have flanked them so far, and how Harris fits into that going forward.
At the crux of any cohesion issues facing the 76ers this season thus far has been the concern about outside shooting. Simmons' unique game creates opportunities and rotational flexibility, yet also places significant demands on others to cover for his lack of shooting threat.
His smooth handle, ability to get to the rim and finish, and natural court vision, all within a 6ft 10in frame, have almost never been seen before in the NBA. Yet he is also almost uniquely unable to score from the perimeter in a way that guards normally can, and in a way that is unnervingly out of kilter with the wider NBA trend towards floor spacing.
Embiid, too, is a sub-par shooter from outside. While the big man is willing to put up shots from anywhere, and demonstrates a nice touch from mid-range, he is a sub-30 per cent shooter from three-point range at this point in his career.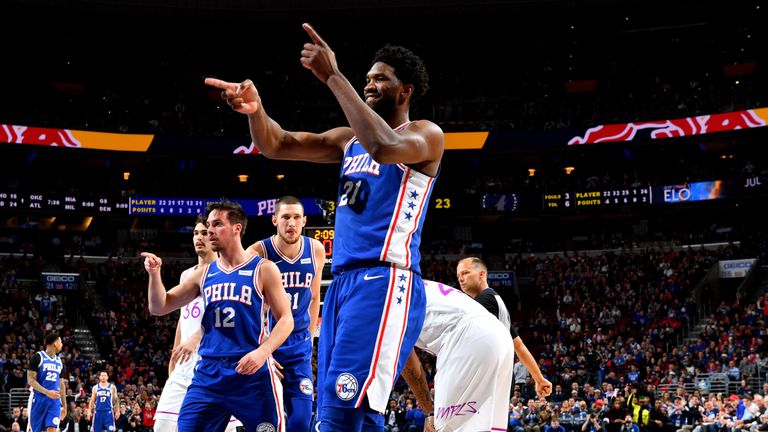 Pick-and-pop possessions between he and Simmons would add dimensions to the offense, rather than just tying the big man to the post, but that has not become a reality yet. As it stands, the 76ers largely avoid pick-and-roll plays, but perhaps this is because they have to without either half of that duo being a shooting threat.
Added to that, Butler is merely a low-volume, decent-efficiency shooter himself, who should be the one for whom the floor is spaced for more rather than being the one doing it. On the plus side, the addition of Butler (who can at least make and create jumpers) to the incumbent duo was intended to be a big aid in clutch situations going forward, when jumpers become even more of the norm than they already are.
Yet having a trio of high-minute star players in which the best outside shooter is merely an average one is not following the championship template as established by those historical title-winning trios above.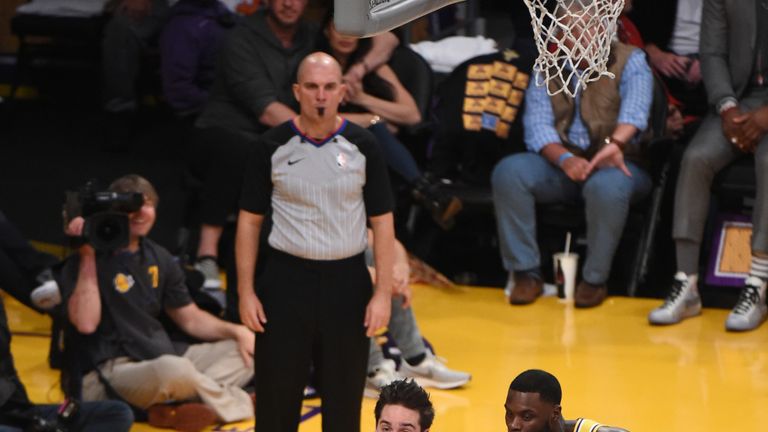 It further has not helped that other players good enough to earn minutes in the 76ers' rotation are also sub-par shooters. The irritating-in-a-good-way TJ McConnell is another highly limited shooter at the point guard spot. Wantaway third-year player Furkan Korkmaz is happy to take shots but not so good at making them (33.6 per cent) while rookie defensive specialist Jonah Bolden is even more inefficient (30.4 per cent).
Wilson Chandler is enjoying a good shooting season (39.0 per cent from three), it is anomalous compared to his career mark of 34.3 per cent and is not to be relied upon yet. Despite being brought in to be a frontcourt shooting specialist, Mike Muscala has been fairly sedate himself (34.5 per cent) while also struggling to defend).
In a league of shooting, where very few teams run any line-ups at all that feature as many as two sub-par shooters, the Sixers' rotation had at least six, and one complete non-threat at a key offensive position. And that list does not even include the rehabbing Markelle Fultz, whose shot is so broken as to be a meme. With this in mind, the 76ers have worked around the problem - and effectively.
Sunday night's game
Portland Trail Blazers @ Dallas Mavericks, 8pm
Los Angeles Lakers @ Philadelphia 76ers, 8:30pm, live on Sky Sports Arena
Phoenix Suns @ Sacramento Kings, 11pm
Orlando Magic @ Atlanta Hawks, 12:30am
Miami Heat @ Golden State Warriors, 1:30am
Hitherto, rotationally, the Sixers have overcome this through judicious usage of a couple of role players. Rookie Landry Shamet is a point guard by trade, but was re-assigned to the off-ball shooting threat role. He delivered, hitting 40.6 per cent of his three-pointers when most rookies struggle to adjust to the length. Shamet was hugely valuable since the Butler trade, and while he is not the calibre of shooter than JJ Redick is, he had a gravitational effect among the second unit that created space for everyone else.
This could only overcome so much. Impressively, despite the lack of shooting among the big three and the limitations elsewhere, the Sixers ranked eighth in the league in three-point percentage this season, as Brett Brown has staggered his few shooters to flank his stars as best he can while also ensuring they get as much time as possible together.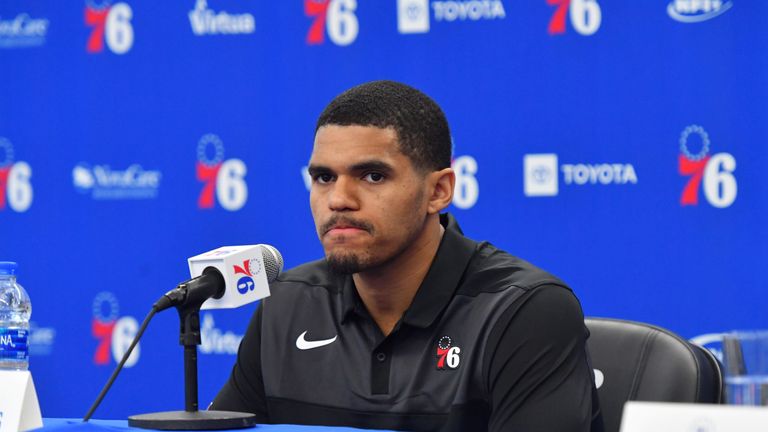 Key to this was Chandler, whose career-best shooting season is most timely slotting in regularly at both power forward spots to provide some spacing, while Muscala also saw heavy usage. But Chandler and Muscala are not front-line players and have defensive issues. The cracks were being papered over.
They have opened even wider now Shamet, Chandler and Muscala have been shipped to the Clippers in exchange for Harris. Fultz and his faltering shot have been shipped to Orlando.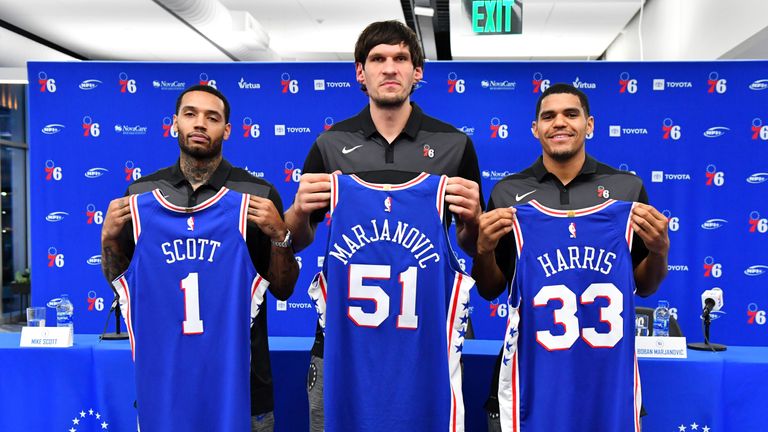 Over the course of his career, Harris has gone from sub-par shooter to excellent shooter, while also developing his ball-handling skills to the point that he can shoot off the dribble and create more regularly for himself. Ranked by Synergy Sports as the ninth-best spot-up shooter in the league, the seventh-best in isolation and the 11th-best as a pick-and-roll ball handler; he scores more than 20 points per game on percentages of 49/42/88.
At the start of the season, the 76ers lacked players who could consistently create and make shots off of the dribble. With Harris and Butler, they now have two. With internal development, they now have three.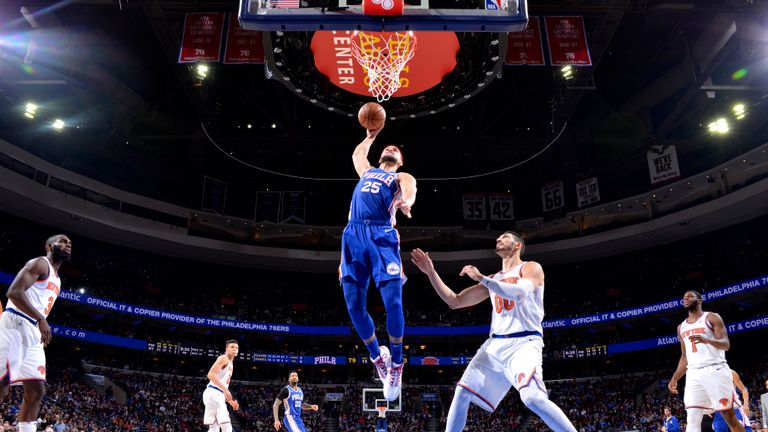 Strategically, the versatility in Simmons' game availed by his size has hitherto meant more time for him at the power forward spot, alongside TJ McConnell at point. In this respect, Simmons has spent more time in the post, where he has been able to finish better than in his rookie season as well as using his passing vision to pass back out of it well.
Simmons is also being more aggressive at driving the ball in half-court situations, to match his dynamism in transition.
However, because he still cannot shoot, this often leads to a clogged lane.
Embiid needs someone to get him the ball, and who can spot up to space the court, something he can exploit with the level of defensive attention he brings should he ever get more comfortable passing out of double teams. And Simmons is not that player. Nor is McConnell, who, for all his excellence, does not add to the spacing.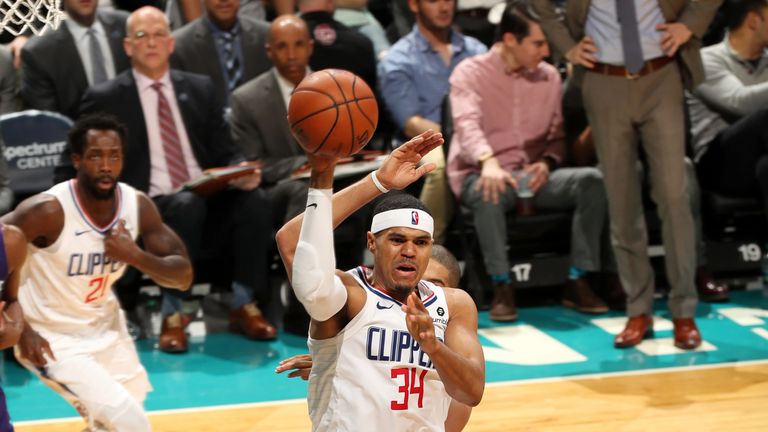 Harris is not going to provide spacing at the point guard position, either. However, with Harris in the fold, Simmons will no longer have to cover the power forward position so much. The reinforcement of this position plus JJ Redick at shooting guard makes for an amazing five-man unit for the 76ers, and the spacing will help the reserve unit too as McConnell, a drive-and-kick or cut-and-kick player, now has someone to kick to.
While a replacement for the shooting of Shamet will be sought, the buyout market, soon to contain such players as Wayne Ellington and Wesley Matthews, could see them do so.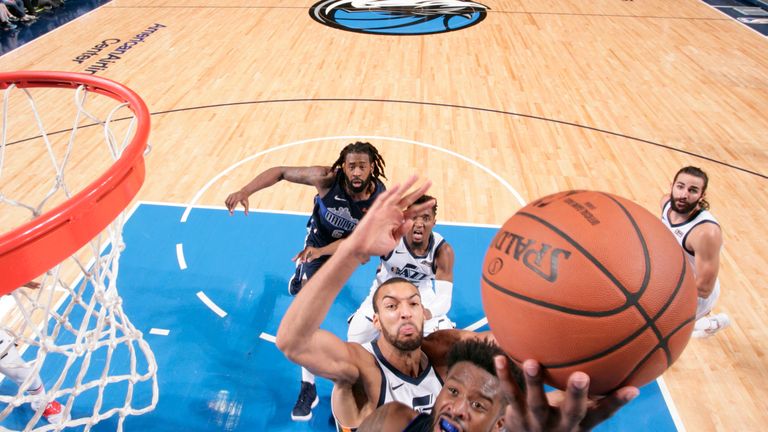 Having two fully cohesive pieces to build around such as the Splash Brothers of Steph Curry and Klay Thompson in Golden State would be idea, but it is almost unique and almost unplannable. The 76ers have done the bulk of the grunt work in acquiring their four-star players. Now, they need to flank them further.
If the other shooters were elite, that would be a big help. Indeed, the 76ers realised the value of extra shooting help as much as anybody last season when they were able to pick up Marco Belinelli and Ersan Ilyasova from the buyout market.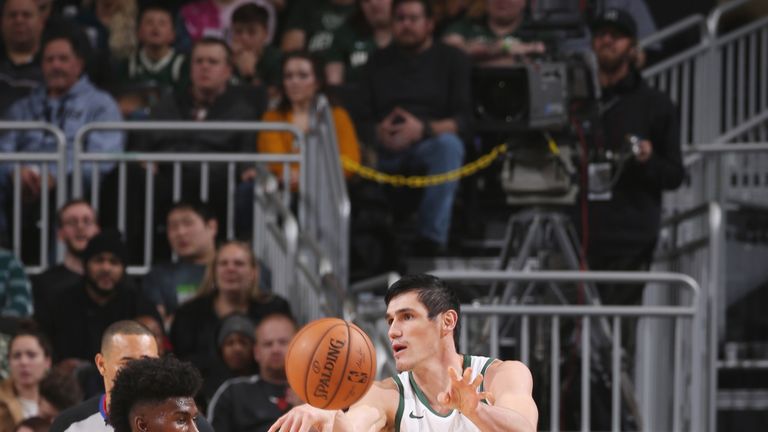 With better complimentary talents would come better success; Belinelli and Ilyasova evidenced this last season in the big playoff minutes they played and the value they brought to the team in being able to run out offensive threats at every position. Philadelphia will be hoping for much the same on this year's version of the market.
The depth however can added piecemeal over time. By virtue of the quality of their line-up, and their clear commitment to contending, the 76ers have made themselves an attractive destination.
The Philadelphia 76ers have spent a lot to acquire a lot, and wish not to be defined by what they do not have. What they do have are two prolific and unique combinations of size and skill in Embiid and Simmons, a third star in Butler, a fourth in Harris, youth on their side and assets still to play with.
It is true the time frames of their core four do not entirely dovetail, that there is implosion-potential in the locker room, that they lack depth, that Harris needs to stay to justify the price paid, and that if he does so, there will be little to work with to build out the roster. There is plenty of work still to do.
But, yeesh. Just look at that starting five.
Want to watch the NBA but don't have Sky Sports? Get the Sky Sports Action and Arena pack, click here.