Giannis Antetokounmpo's 41-point performance in the Milwaukee Bucks' series-clinching Game 4 win over the Detroit Pistons earned fulsome praise from his team-mates.
Monday night's scores
Milwaukee Bucks 127-104 Detroit Pistons - Bucks win series 4-0
Houston Rockets 91-107 Utah Jazz - Rockets lead 3-1
Antetokounmpo underlined his credentials for this season's MVP award, producing a career-play-off best points haul as the Bucks completed a 4-0 sweep of the Pistons, their first playoff series win for 18 seasons.
Detroit had no answer as Antetokoumpo powered to the rim for dunks, drew fouls for three-point plays and terrorised them on the defensive end with four blocks, including a highlight second-quarter swat on Ish Smith.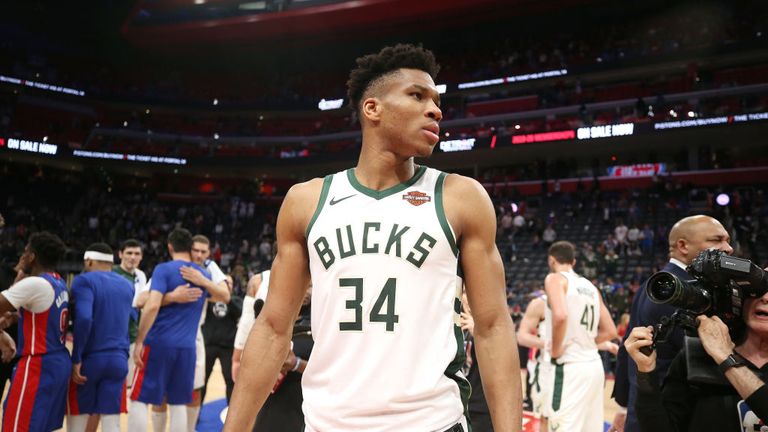 Giannis' team-mates offered fulsome praise for his efforts. "He was terrific tonight," said Bucks forward Nikola Mirotic. "Offensively and defensively, blocking shots, finishing, dunking… it was just amazing watching him tonight. He really set a tone from the beginning. He played very aggressive."
Antetokounmpo's aggression led to him taking 20 free throws in the game (making 15) as his forays to the Pistons' basket frequently resulted in him being fouled. Detroit had no other way to stop him.
Milwaukee center Brook Lopez said: "[Giannis is] so tough. He just keeps going and doesn't really complain. He's super-professional. It's Giannis!
"It's crazy to be able to witness each one of these [performances] what seems like each and every day."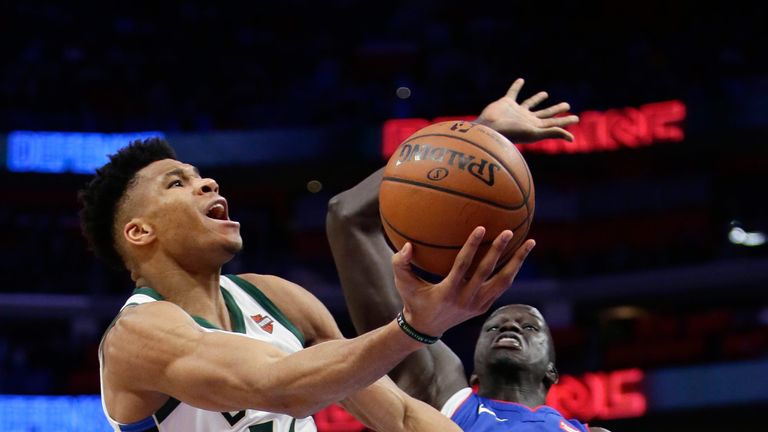 On one raid to the rim, Antetokounmpo absorbed contact from Pistons center Andre Drummond, switched the ball in his hands in mid-air and still scored despite being fouled, completing a spectacular three-point play that produced awed gasps from the crowd.
"I just tried to imitate [team-mate Eric] Bledsoe in Game 3," Antetokounmpo said. "I just got up and tried to finish with the other hand."
"I've been six years in the league and just to win our first playoff series with this group right here, it's unbelievable. I think we played great basketball. We stuck together the whole series even when we faced adversity and they were up.
"They were taking leads and we weren't playing our best. I think we were able to, you know, keep fighting, keep pushing as a group, and it feels good to win our first playoff series together."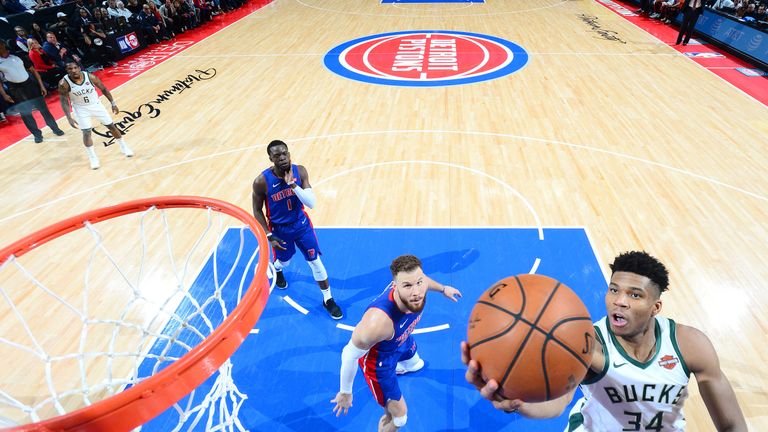 Antetokounmpo's performance also earned plaudits from his coach, Mike Budenholzer.
"When we get stops and then we can get out and run and play in transition, those two things give us our best chance. It starts with us being better defensively and then everybody running and playing with [Giannis] and when he has opportunities to either share it with his team-mates or get to the rim," he said.
"He takes pounding but I think he's built for it. I think he was great at the free throw line in the second half - we struggled as a team in the first half at the free throw line - so, yeah. Giannis was special tonight with 41."
The Bucks will now take on the Boston Celtics in the Eastern Conference semi-finals.
Want to watch the NBA but don't have Sky Sports? Get the Sky Sports Action and Arena pack, click here.