Stephen Curry and Klay Thompson dominated their matchup with Damian Lillard and CJ McCollum, combining for 12 three-pointers and 62 points in the Golden State Warriors' 116-94 victory over the Portland Trail Blazers in Game 1 of the Western Conference finals on Tuesday night.
Game leaders
Portland Trail Blazers
Points: Damian Lillard - 19
Assists: Damian Lillard - 6
Rebounds: Enes Kanter - 16
Golden State Warriors
Points: Stephen Curry - 36
Assists: Stephen Curry - 7
Rebounds: Draymond Green - 10
Warriors lead series 1-0
Golden State Warriors 1-0 Portland Trail Blazers
Game 1: Trail Blazers 94-116 Warriors | Box Score
Game 2: Trail Blazers @ Warriors, May 17, 2am
Game 3: Warriors @ Trail Blazers, May 19, 2am
Game 4: Warriors @ Trail Blazers, May 21, 2am
Game 5 if necessary: Trail Blazers @ Warriors, May 23, 2am
Game 6 if necessary: Warriors @ Trail Blazers, May 25, 2am
Game 7 if necessary: Trail Blazers @ Warriors, May 27, 2am
All games broadcast live on Sky Sports Arena
Game 2 in the best-of-seven series is scheduled for Thursday night, also on top-seeded Golden State's home court.
Curry finished with a game-high 36 points and Thompson added 26 for the Warriors, who won a second consecutive game without star forward Kevin Durant, out with a bruised right calf.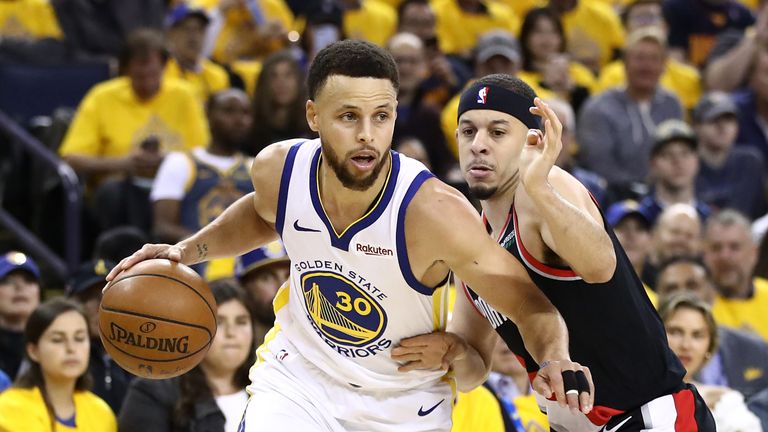 Curry shot 9-for-15 on three-pointers, Thompson went 3-for-9 from beyond the arc and backup Quinn Cook mixed in two timely treys to quell the Trail Blazers' last threat, pushing Golden State a game up on an opponent they dominated 4-1 and 4-0 in the 2016 and 2017 playoffs.
Lillard shot just 4-for-12 en route to a team-high 19 points, while McCollum added 17 for the Trail Blazers, who were facing a fresh team that had enjoyed three days off after eliminating Houston in Game 6 on the road Friday night.
The Warriors used a 13-5 burst to open the second half to extend a nine-point half-time advantage to 67-50. Curry had three triples in the run.
But Portland, who flew straight to Oakland after winning a decisive Game 7 at Denver on Sunday, refused to quit. Rodney Hood and Seth Curry drilled three-pointers in an 11-4 run that ended the period and gave the Trail Blazers hope at 77-71 entering the fourth.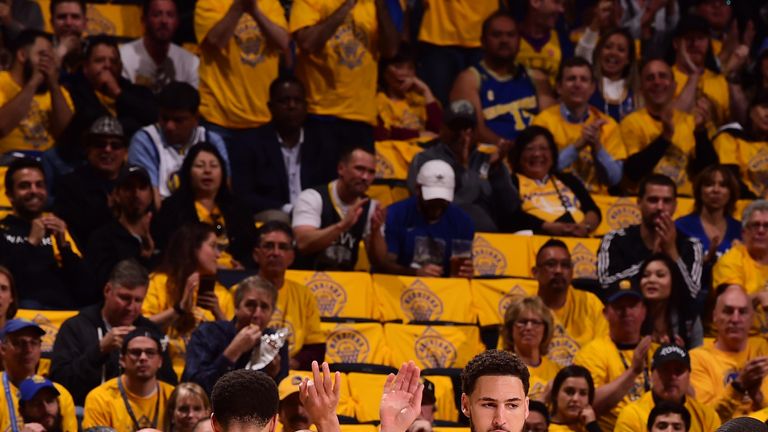 The Warriors' lead was just 79-73 before Cook hit his two three-pointers, helping Golden State go back up by 14, and the three-point discrepancy proved too much for the Trail Blazers to overcome.
Draymond Green complemented Curry and Thompson with a team-high 10 rebounds to go with 12 points for the Warriors, who shot 50 per cent from the field and 51.5 per cent (17-for-33) from three-point range. The Warriors outscored the Trail Blazers 51-21 on threes.
Hood and Maurice Harkless had 17 points apiece and Enes Kanter a game-high 16 rebounds with 10 points for the Trail Blazers, who were limited to 36.1 per cent shooting overall and 25 per cent (7-for-28) on treys.
After having split the season series 2-2, the teams played on mostly even terms for the first 16 minutes, during which the Warriors managed just a two-point lead.
Consecutive hoops by reserve Jonas Jerebko, one a three-pointer, finally got the Warriors rolling, before Curry took over. He poured in 11 points in the final 5:29 of the half, helping Golden State take a 54-45 lead into the intermission.
Curry had 19 of his 36 points in the first half.
Game 2 takes place in Oakland in the early hours of Friday morning (2am), live on Sky Sports Arena.
Want to watch the NBA but don't have Sky Sports? Get the Sky Sports Action and Arena pack, click here.