Dr James Naismith's invention of basketball was influenced by his Scottish heritage, says Naismith's grandson Jim. Max Whittle meets the Naismith family on their pilgrimage to Scotland and explores the country's role in the creation of the game.
You do not have to be a basketball fan to notice Jim Naismith's exceptional moustache.
The hair above his upper lip, perfectly groomed and wonderfully white, is his defining characteristic. It is what makes him look so much like his late grandfather, Dr James Naismith, the man who invented basketball.
Before Jim made a trip to Glasgow in 1979, it was never his intention to grow one, afraid of the repercussions that might come from his wife, Beverly. Careful to tell her that it would disappear the second she did not like it, the transformation was his way of finding out how much of the Naismith line was in him. This was the very first day of a journey that took him to a city where Dr Naismith's father John - Jim's great grandfather - was born.
Just as Dr Naismith did when he visited Scotland, his grandson Jim learned a lot on his pilgrimage home. It was a way for him to connect with Naismith ancestry and, to a different degree, discover the roots of basketball.
Forty years later, his moustache a survivor through each one of them, Jim is once again back in Scotland.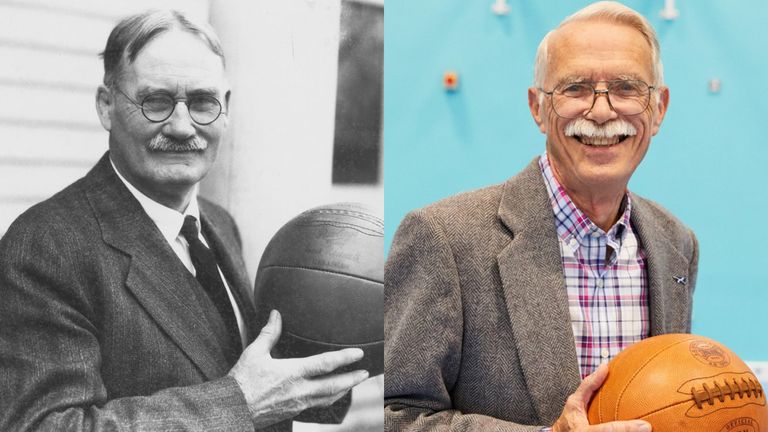 Margaret Jonker, the youngest of Jim and Beverly's children, was seven years old when the family made their first trip to Scotland. She remembers the first friend she made, a frog that she pocketed outside Urquhart Castle, while the kilt she bought is safely stowed in her cedar chest at home in Texas.
"Where we live, you drink ice tea, not hot tea. But I drink hot tea once a week, and I always put milk in it. I make scones for my children too. I just love the Scottish way."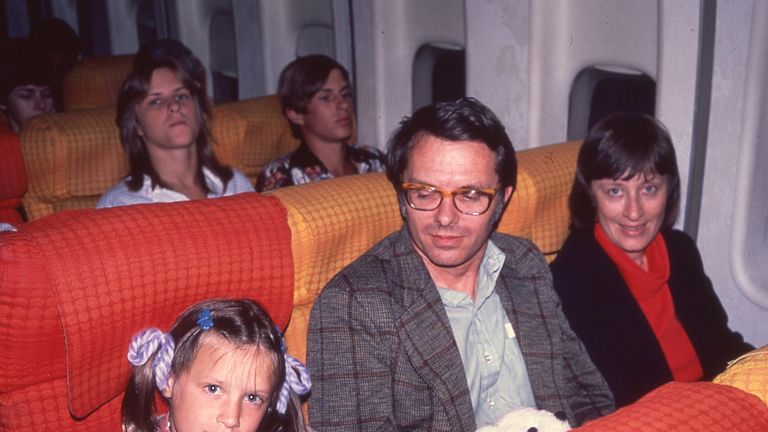 Margaret is sitting next to her parents inside Strathclyde Sports Centre, 25 young children playing basketball in front of them. It was for this exact scenario that Dr Naismith invented the game, intended as a recreational activity in the hope that those involved would become better people and have fun doing it. He never wanted a penny for his creation and did not make one either.
Kieron Achara, one of the greatest basketball players in Scottish history and recently retired, gathers the children in a circle to tell them which special guest is in the building today. "Does anybody know who invented basketball?", Achara asks them. An arm in the front row flies straight up. "Dr James Naismith", the boy correctly answers. Jim, Beverly and Margaret smile.
Basketball was thought up at the YMCA Training Centre in Springfield, Massachusetts, several decades after the Naismith's and Young's - Dr Naismith's grandparents on his mother's side - emigrated to Canada as part of a large group of Scottish settlements established there in the early 1800s.
Continuing his studies and working as a physical education teacher, Dr Naismith was assigned a task by the dean of the department, Dr Luther Gulick. Within two weeks he had to come up with an indoor game that the students in freezing cold Massachusetts would buy into and enjoy over the winter months.
Dr Naismith struggled with the assignment at first, but he had an inspiring thought on the penultimate day that helped attain what he set out to do, later writing about it in his notes.
"All the stubbornness of my Scottish ancestry was aroused, all my pride of achievement urged me on", he wrote. Thirteen rules later, 'basket ball' was born. Dr Naismith's words are, simply put, a direct connection between his Scottish heritage and the invention of basketball.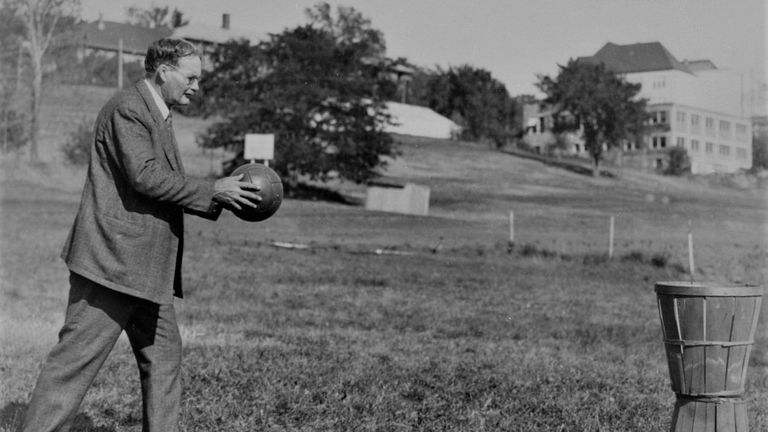 "My father did not tell me much about my grandad and I appreciate that in a way", Naismith says, who was just three years old when Dr Naismith died. "It let me be free to try and put these pieces together."
Dr Naismith made two recorded trips to Scotland, so that means grandson Jim has now equalled his tally. Dr Naismith's first trip was in 1893, at which point he had already lost both of his parents to typhoid fever. Following the tragedy, he lived with his Scottish grandmother, Annie Young, until her death three years later.
Through the very difficult circumstances of his childhood, Naismith says, "grandad was raised as a wee Scot." As the years went on, that included walking around McGill University campus proudly wearing his kilt as a member of the Royal Scots Regiment. He later owned a Scottish collie dog named Roderick and was very fond of Scottish poet Robert Burns, gifting one of his books to his wife Maude with the message, "Tae the bonniest lass".
Following his first trip, Dr Naismith handed a silver pin with a Scottish thistle on it to Maude, a little different to the Basketball Scotland pin Jim Naismith would receive in Glasgow 126 years later.
"I think he smiles when he is here", Margaret says. "He was very little when his grandfather passed away, so it is nice to see the land where he is from, as well as bringing back good memories of his father."
"Speaking to the kids this morning, I do not know a single one of them, but in a way I kind of do", Naismith says.
"Frankly, I feel like I am at home. My great grandad was born in Glasgow. I am in Glasgow. Maybe some of the radiation is pointing …" He trails off into laughter, louder as each breath passes. "I know where I am and I know there is a direct family heritage in this area. People change slowly, but in a way it takes a long time. There are people around here that still have common understandings and common feelings from 150 years ago.
"I feel like I am talking to people that could have been neighbours to my grandad."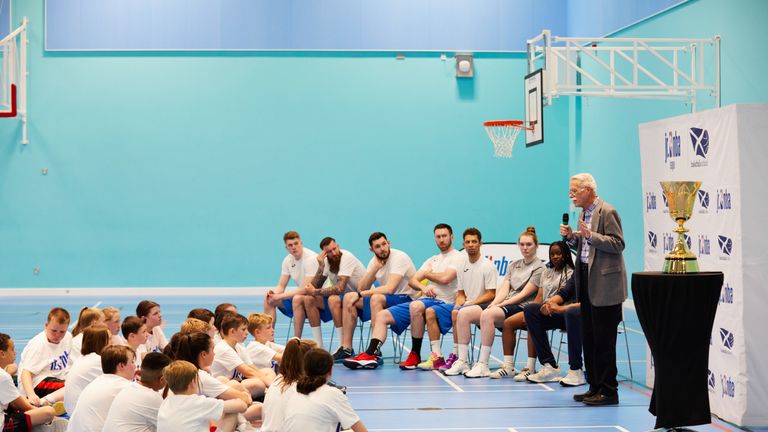 The significance of Naismith's grandfather is not lost on Jim's wife, Beverly. "We are soul mates, just as you read they [Dr Naismith and Maude] were", she says. "You have to have common interests, and we do. Following the history of Jim's grandfather has been particularly important."
Beverly would not have felt that more than when her husband was presented with a Scotland Basketball jersey at the sports centre with his name on the back, inscribed with the number 91 to signify the year, 1891, that the game came into being. Alongside the jersey he holds a replica of the original Spalding basketball from 1894; at the inception of Dr Naismith's game, a soccer ball was thrown into peach baskets that were only 10 feet high because that is where the railings hung in the YMCA gymnasium.
As they pose for photos, the Naismith Trophy that is awarded to the FIBA World Cup winner glows to the left of Jim, another piece of basketball memorabilia with a Scottish name. The decor seems only to make the location even more suitable.
"I know he has had the greatest impact on sport", Naismith says affirmatively. "It is the only sport that was created by an individual person, and while basketball has changed the same way other sports have, this is the one that can all be traced back to one individual that would tell the story, 'here is why I did what I did'.
"A kid likes nothing more than warm love, it is that simple. I think grandad invented the game, to a big extent, to give them that."
For all of their connections to the game, Dr Naismith and Jim never played much themselves. Both made two trips to Scotland, the same number of times - reportedly - that Dr Naismith played the game; once at Springfield and again at the University of Kansas, where he became the school's first basketball coach.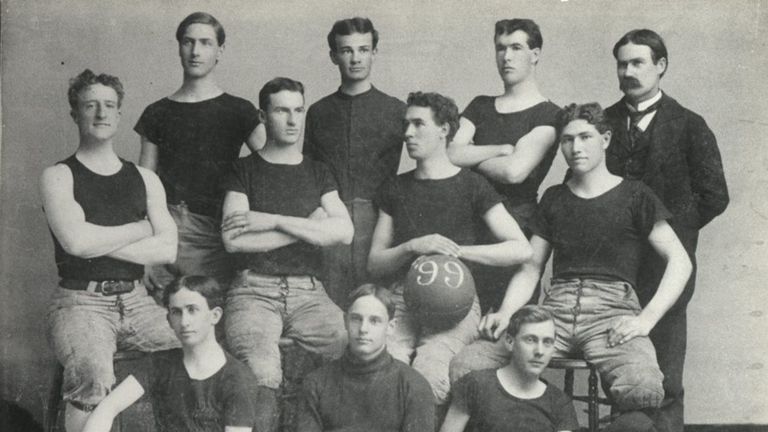 Jim tried to play in high school. "Most of my skills were devastating", he says. Up until last year, however, Naismith shot free throws as part of his workout at his local gym until it closed for refurbishment. He was taking part in a golf fundraiser for his grandad some time ago when he spotted 'a basketball goal'.
"I asked the guy down there if I could shoot some goals, so I lined up and … whoosh! I thought, 'oh, cool', then whoosh!" He imitates his shooting stroke, laughing once again. "I heard the guy next to me tell somebody, 'good grief, he is up to 80 per cent', and I did not even know what that meant. But, I carried that forward with a personal and determined goal to hit 80 per cent as part of my workout."
He proudly told his wife and daughter that evening in a Glaswegian restaurant called The Babbity Bowster that he once hit 53 'free shots' and remained over 80 per cent for the night.
"Evidently, if all you do is let me shoot free shots, I can do pretty well in the game."


Many people have approached Jim and told him that basketball saved their life, touching him deeply. "Sometimes there are tears in their eyes", he says.
Achara, the youngest player to ever play for the Scotland national team, knows it changed his.
"Being Scottish and playing basketball, I have always had to defend myself. Knowing all of this now, I can say, 'OK, wait a second here, we had a big part to play in this sport that we love'. It has given me a little bit of passion and a little bit of motivation to really promote the game here and to say that we actually do belong."
Long before Achara represented Great Britain at the 2012 Olympic Games, Dr Naismith was serenaded in Berlin when basketball became an official event at the 1936 Olympics. On his way there, he stopped in Scotland for a second time, staying at The Grand Hotel in Glasgow. From there he affectionately wrote to Maude, 'all the love of the Scottish for their wives for your own dearself'.
Very soon, more love would need handing out. During the 1936 Games, on August 4, Jim Naismith was born.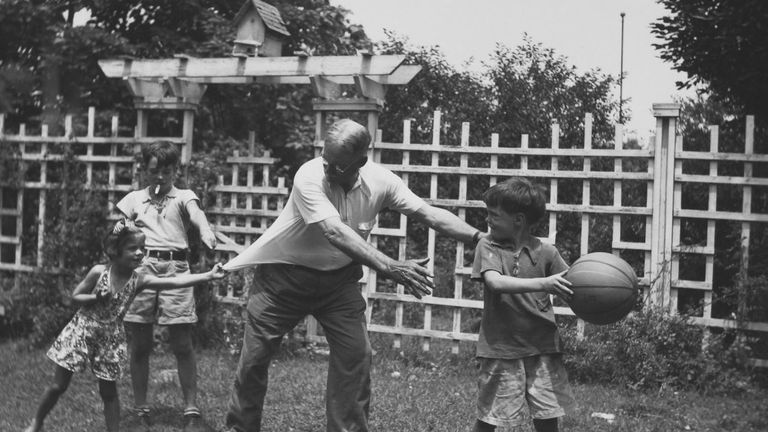 During his lifetime, Naismith has learned exactly why basketball was so important to his grandfather, and the world. "After he invented the game, it ran right past him", he says of its growth.
Dr Naismith would at times catch up with it, too. He served in World War I as a chaplain, instructing soldiers in an attempt to raise morale. In one of many letters to his wife, he wrote about a souvenir he cherished. "It is a basketball used by the British in a game on the battlefield of Lille, in one of the first games they played. The British army is making basketball one of its games."
"When you hear people - especially here in Scotland - tell you that they are forever thankful for basketball, and you are related to the man that made that opportunity available, it hits you pretty deep", Naismith says.
His family have learned from their trips how proud a nation Scotland is. At one time or another, they invented the television, the telephone and penicillin to name but a few. But all these years, despite Achara's view that "we claim everything", Scotland might not be taking enough credit for the world's happiness.
"We have a copy of a little book that is titled 'How the Scots invented the world', Naismith says, "and grandad's name should be in it."
This Naismith trio are soon to commence a train journey that crosses through various Scottish towns as they continue their education. Thinking back to her inaugural trip, Margaret is still saddened that her father Jim never bought a kilt for himself.
"If you saw my legs you would know why", he says.
Just like his jokes, Naismith gets serious at the right times too. "Having lost his own parents, my grandad was very sensitive about how kids were instructed, how they were loved and cared for, and I am quite confident that his view of the world and people came from very deep in his heritage out of Scotland."
Naismith taps his chest, just below the Basketball Scotland emblem. "His invention was from right here, in his heart throughout his life."
As is their Scottish heritage, synonymous with the story of basketball.
Making It Rain: A Scottish Basketball Story - a 30-minute documentary narrated by Jim Naismith - will premiere on Sky Sports Action this Wednesday, May 22 at 6:30pm (re-airing at 9pm)