NBA great Kobe Bryant was killed in a helicopter crash on Sunday in Calabasas, California, at the age of 41.
Bryant's 13-year-old daughter Gianna, who was an aspiring basketball player, also died in the crash just before 10am local time in Calabasas, which is about 40 miles northwest of Los Angeles.
Bryant and his daughter were on their way to a basketball tournament when the Sikorsky S-76 helicopter crashed. Los Angeles Sheriff Alex Villanueva said nine people were on board the helicopter - the pilot plus eight passengers - and there were no survivors.
Kobe Bryant is survived by his wife, Vanessa, and his three other daughters Natalia, Bianca and Capri.
Dense fog is set to be at the centre of the investigation into the accident. Los Angeles Police and the sheriff's department had both grounded their helicopters in the morning because of the weather.
A police spokesman told the LA Times the conditions "did not meet our minimum standards for flying", while a pilot who used to fly Bryant said the weather was almost certainly to blame.
"The likelihood of a catastrophic twin-engine failure on that aircraft - it just doesn't happen," Kurt Deetz told the paper.
The helicopter was held up to allow for other aircraft and circled for about 15 minutes until it got clearance from air traffic controllers to continue.
The City of Calabasas tweeted the aircraft went down in a remote field off Las Virgenes.
They added nobody on the ground was hurt and the FAA (Federal Aviation Administration) and NTSB (National Transportation Safety Board) were investigating.
Three bodies were recovered from the helicopter wreckage on Sunday before search efforts were suspended due to darkness and safety concerns, the Los Angeles County Coroner's Office said.
John Altobelli, 56, the longtime baseball coach at Orange Coast College, was killed along with his wife, Keri, and daughter, Alyssa, in the helicopter crash.
Altobelli's daughter played on the same basketball team as Bryant's daughter, said Altobelli's younger brother, Tony, the sports information director at the school.
Also killed on board was Christina Mauser, an assistant girls basketball coach at a private school in Orange County, Mayor Katrina Foley of Costa Mesa, California, said on Twitter.
Sarah Chester and her middle-school-aged daughter Payton were on also on board, according to a Facebook post by elementary school principal Todd Schmidt.
Several Southern California media outlets identified the pilot as Ara Zobayan, citing friends.
Former point guard Bryant played for the Los Angeles Lakers between 1996 and 2016 and is widely regarded as one of the greatest professional basketball players of all time.
Michael Jordan, six-time NBA champion, said: "I am in shock over the tragic news of Kobe's and Gianna's passing.
"Words can't describe the pain I'm feeling. I loved Kobe - he was like a little brother to me. We used to talk often, and I will miss those conversations very much.
"He was a fierce competitor, one of the greats of the game and a creative force. Kobe was an amazing dad who loved his family deeply - and took great pride in his daughter's love for the game of basketball."
NBA Commissioner Adam Silver added in a statement: "The NBA family is devastated by the tragic passing of Kobe Bryant and his daughter, Gianna.
"He will be remembered most for inspiring people around the world to pick up a basketball and compete to be the very best of their ability.
"He was generous with the wisdom he acquired and saw it as his mission to share it with future generations of player, taking special delight in passing down his love of the game to Gianna.
"We send our heartfelt condolences to his wife, Vanessa, and their family, the Lakers organisation and the entire sports world."
Bryant played his entire NBA career with the Los Angeles Lakers, helping them win five NBA championships. He also won two Olympic gold medals with Team USA.
Considered one of the greatest to ever play the sport, Bryant was selected in 18 All-Star games and was named the Most Valuable Player (MVP) in the league in 2008.
Kobe was a legend on the court and just getting started in what would have been just as meaningful a second act. To lose Gianna is even more heartbreaking to us as parents. Michelle and I send love and prayers to Vanessa and the entire Bryant family on an unthinkable day.

— Barack Obama (@BarackObama) January 26, 2020
RIP Kobe, hero to many including my grandson, extraordinary athlete and always kind to me & my family. My deepest condolences to his family

— Whoopi Goldberg (@WhoopiGoldberg) January 26, 2020
Bryant, who was born in Philadelphia in 1978, was drafted at number 13 by the Charlotte Hornets in 1996 but was immediately traded to the Lakers.
The Lakers retired both of Bryant's shirt numbers - eight and 24 - in a ceremony in December 2017. Then-franchise president Magic Johnson said: "We're here to celebrate the greatest who has ever worn the purple and gold."
He stood third in the all-time NBA points list until Saturday night, when current Laker LeBron James overtook him.
James had told NBA.com after the game: "I'm just happy to be in any conversation with Kobe Bryant, one of the all-time greats to ever play."
Bryant tweeted on Saturday night: "Continuing to move the game forward @KingJames. Much respect my brother."
Bryant was also an Oscar winner, landing an Academy Award for his short film Dear Basketball in 2018.
As news of Bryant's death spread, thousands of mourners gathered at the Los Angeles Staples Center, home of the Lakers, to pay tribute to their former player.
Tributes to Bryant were also paid at NBA games on Sunday night. The game between the Toronto Raptors and the San Antonio Spurs saw both teams run out the 24-second shot clock - in honour of the Lakers' former number 24.
Meanwhile, Brazil international footballer Neymar celebrated scoring a goal in Paris Saint-Germain's football match at Lille by making a number 24 gesture with his fingers in honour of Bryant.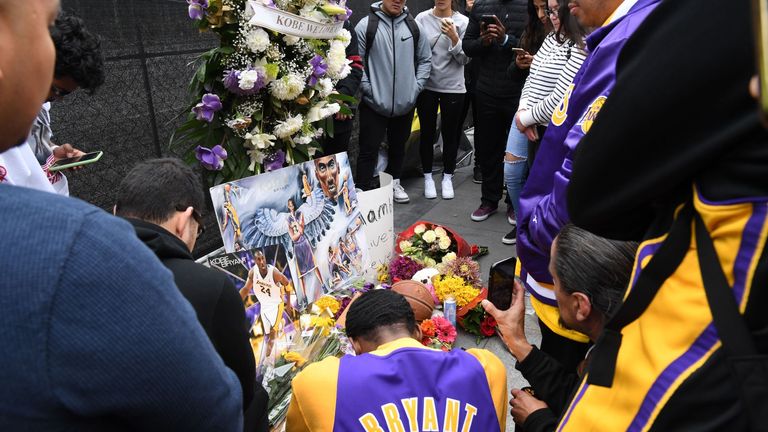 "He influenced a generation of younger players"
Sky Sports NBA editor Lee Harvey shares his thoughts on Kobe Bryant
"You didn't need to watch NBA basketball to know Kobe Bryant. Like Michael Jordan, on whom Bryant based so much of his game, Kobe transcended his sport and became a global icon. And like Michael - and LeBron, Tiger and Kareem - you knew him by his forename alone.
"Bryant was a fearless shotmaker, a serial game-winner, an artist dedicated to his craft. He embraced big moments - no shot was too big, no moment awed him. Because of that, he won five NBA titles, two Olympic golds, a league MVP.
"He influenced a generation of younger players that followed him into the NBA. Ask Stephen Curry, Kevin Durant, James Harden who they idolised growing up - they will all say Kobe. That influence extended beyond the court thanks to the peerless work ethic and discipline Bryant maintained throughout his 20-year pro career. He defined professionalism in the modern NBA.
"Bryant's enduring commitment to excellence underscored his glittering career. It was a privilege to watch him play."