Commonwealth Games: England's strong start paves way for victory over Malawi
England's 66-41 victory over Malawi adds to a 74-22 result against Trinidad & Tobago on Friday; Jess Thirlby's team now have a rest day before taking on Northern Ireland on Monday in their next Pool B match; Scotland fall to a 83-30 defeat against the Australian Diamonds
Last Updated: 30/07/22 4:14pm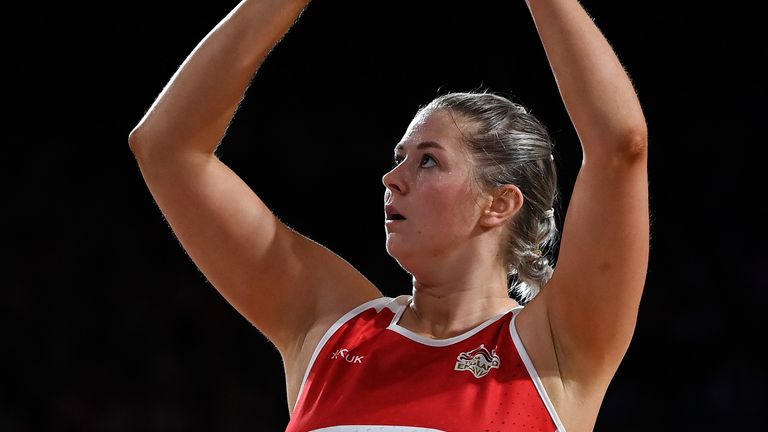 England continued the defence of their Commonwealth Games title with a 66-41 victory over Malawi on Saturday afternoon.
Jess Thirlby's outfit started much faster than they had done against Trinidad & Tobago the day prior.
Eleanor Cardwell and Stacey Francis-Bayman both thrived after being handed starting roles and a 35-20 half-time lead set England on their way.
Following half-time changes, the home side stuttered during a drawn third quarter before reasserting themselves quickly after the last break and creating another comfortable final scoreline.
England now have a rest day before returning to court on Monday against Northern Ireland. In the earlier match, Scotland fell to a 83-30 defeat at the hands of the Australian Diamonds.
England vs Malawi - Starting sevens
| England | Malawi |
| --- | --- |
| GS: Jo Harten | GS: Joyce Mvula |
| GA: Eleanor Cardwell | GA: Mwai Kumwenda |
| WA: Nat Metcalf (c) | WA: Bridget Kumwenda |
| C: Jade Clarke | C: Takondwa Lwazi |
| WD: Stacey Francis-Bayman | WD: Martha Dambo |
| GD: Layla Guscoth | GD: Caroline Mtukule (c) |
| GK: Geva Mentor | GK: Towera Vinkhumbo |
Thirlby opted to make changes to her starting seven for this second pool match, including a new shooting combination.
Helen Housby dropped to the bench with Eleanor Cardwell, who shot 30 from 30 as a replacement on day one, combining with Jo Harten. Jade Clarke shifted out to centre, while Stacey Francis-Bayman was handed the wing defence bib to link up with Layla Guscoth and Geva Mentor.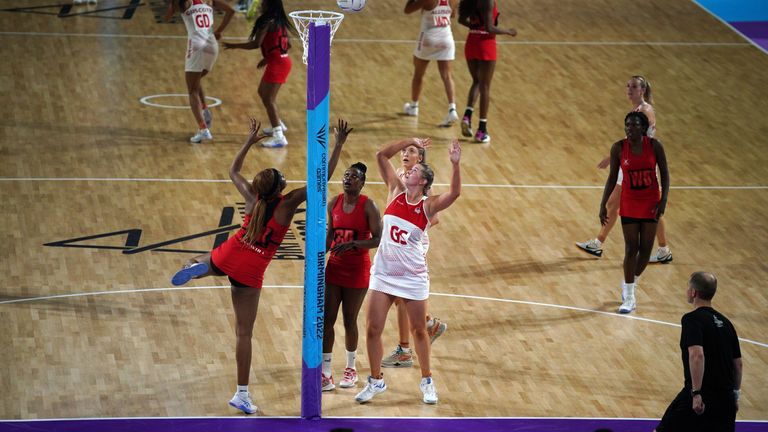 Francis-Bayman and Cardwell both made instant impacts.
The former picked off the first interception of the match and the latter maintained her 100 per cent accuracy throughout the quarter. In fact, Cardwell wouldn't miss a shot until just before half-time.
As the opening 15 minutes progressed, Guscoth and Mentor consistently added to Francis-Bayman's work.
The intensity of the pressure they put on shooters Joyce Mvula and Mwai Kumwenda forced errors, while 17 penalties against the Malawi Queens overall handed England plenty of ball to work with.
England vs Malawi - Quarter-by-quarter scores
| | Q1 | Q2 | Q3 | Q4 | FT |
| --- | --- | --- | --- | --- | --- |
| England | 19 | 16 | 13 | 18 | 66 |
| Malawi | 9 | 11 | 13 | 8 | 41 |
A 19-9 quarter set England on their way and an unchanged line-up ensured the home team continued where they left off during the second quarter.
Malawi amended their personnel and the arrival of a shorter goal attack Jane Chimaliro, helped them to get their own scoreboard moving but turnovers against them still proved to be costly.
Thirlby made changes at the interval, introducing Housby at goal attack and keeping Laura Malcolm at centre after her arrival shortly before half-time.
Clarke returned at wing defence with Francis-Bayman moving back a position to goal defence.
Malawi produced a couple of early errors in the quarter before they really settled and clicked at both ends.
Team England - Commonwealth Games fixtures and results
| | |
| --- | --- |
| Friday | England 74-22 Trinidad & Tobago |
| Saturday | England 66-41 Malawi |
| Monday, August 1 | England vs Northern Ireland |
| Tuesday, August 2 | England vs Uganda |
| Thursday, August 4 | New Zealand vs England |
| Saturday, August 6 | Semi-final |
| Sunday, August 7 | Final |
Towera Vinkhumbo's move out to goal defence was a profitable one. Kumwenda and Mvula, back together on court again, found their groove, while England lost theirs in their attacking goal third.
Malcolm couldn't see options in front of her, a couple of missed shots again came off the arm of Housby and the connection between her and Harten didn't look as telepathic as it has been in previous seasons.
Malawi rattled England, took a 12-8 lead in the quarter and went on to draw it 13-13.
Cardwell arrived back on court for the final quarter, being put in at shooter alongside Housby. Imogen Allison worked well fresh on court at wing defence and the whole team used the first few minutes to really reassert themselves.
England's foot went back on the gas for the remained for the final 15 minutes and that ensured they will take a positive feeling into their rest day and next match against Northern Ireland on Monday.