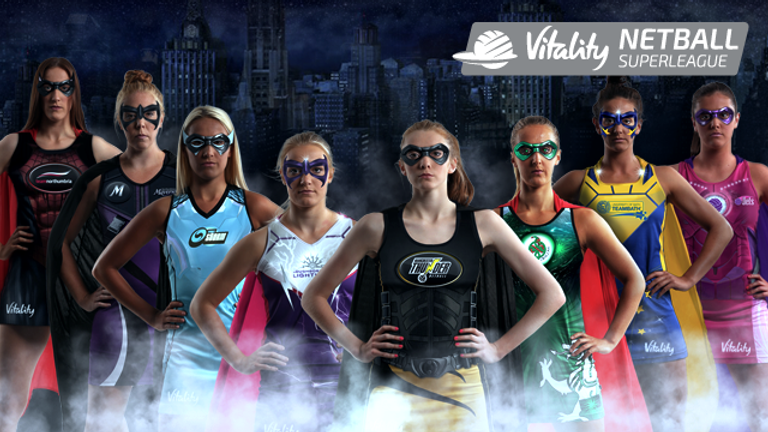 The 2016 Vitality Netball Superleague is set to be the biggest and best yet with a season opening Super Saturday and Monday Night Netball returning, live on Sky Sports.
For the first time ever, the opening round of action will see all eight franchises do battle over four matches at one venue.
Super Saturday will take place on Saturday January 30 at the Genting Arena, Birmingham with tickets to be placed on general sale this Friday, September 25, at 11am via Sky Tickets.
The event will have a Superhero theme and we encourage everybody coming along to dress up in their team colours and join us as we celebrate the heroes of the Vitality Netball Superleague.
The action starts at 2pm with last year's runners-up Hertfordshire Mavericks facing Celtic Dragons. Two hours later Yorkshire Jets tackle Loughborough Lightning with Dan Ryan taking charge of Manchester Thunder for the first time against Team Northumbria from 6pm.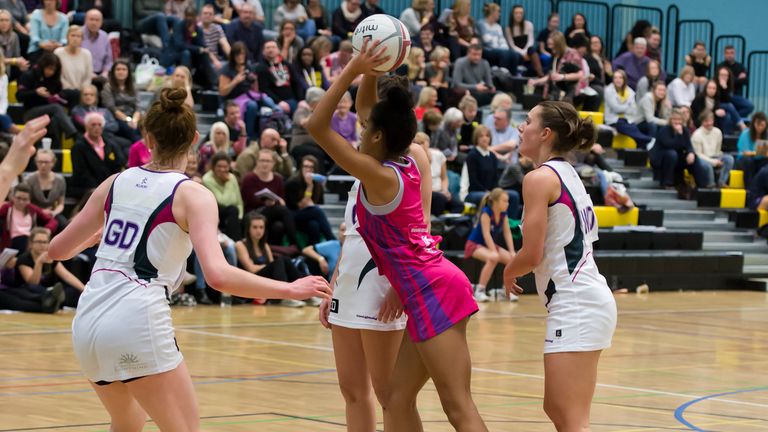 Reigning Champions Surrey Storm finish off the day with a mouth-watering match-up against the returning Anna Stembridge (nee Mayes) and her Team Bath side.
That is the just the start of what is expected to be another hotly contested chase for the title. There will be fourteen rounds of regular season action played out over twelve weeks.
All teams will be aiming to reach the Grand Final on May 7 when the 2016 Vitality Netball Superleague Champions will be crowned.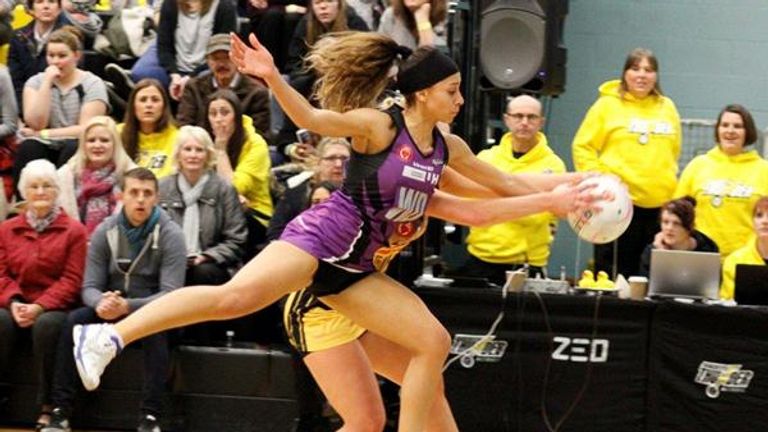 2016 Vitality Netball Superleague fixtures
Round 1 - Super Saturday
Celtic Dragons v Hertfordshire Mavericks - Saturday January 30, 2pm
Yorkshire Jets v Loughborough Lightning - Saturday January 30, 4pm
Manchester Thunder v Team Northumbria - Saturday January 30 , 6pm
Team Bath v Surrey Storm - Saturday January 30, 8pm
Round 2
Yorkshire Jets v Team Bath - Monday February 1, 7:45pm
Surrey Storm v Team Northumbria - Friday February 5, 7:30pm
Manchester Thunder v Celtic Dragons - Saturday February 6, 5pm
Hertfordshire Mavericks v Loughborough Lightning - Saturday February 6, 6:30pm
Round 3
Team Northumbria v Hertfordshire Mavericks - Monday February 8, 7:45pm
Team Bath v Manchester Thunder - Friday February 12, 7:45pm
Loughborough Lightning v Celtic Dragons - Saturday February 13, 6pm
Surrey Storm v Yorkshire Jets - Saturday February 13, 7pm
Round 4
Loughborough Lightning v Manchester Thunder - Monday February 15, 7:45pm
Team Bath v Team Northumbria - Friday February 19, 7:45pm
Yorkshire Jets v Hertfordshire Mavericks - Saturday February 20, 4pm
Surrey Storm v Celtic Dragons - Saturday February 20, 7pm
Round 5
Team Northumbria v Yorkshire Jets - Monday February 22, 7:45pm
Celtic Dragons v Team Bath - Saturday February 27, 4pm
Loughborough Lightning v Surrey Storm - Saturday February 27, 6pm
Hertfordshire Mavericks v Manchester Thunder - Saturday February 27, 6:30pm
Round 6
Manchester Thunder v Surrey Storm - Monday February 29, 7:45pm
Team Bath v Hertfordshire Mavericks - Monday February 29, 7:45pm
Team Northumbria v Loughborough Lightning - Monday February 29, 7:45pm
Yorkshire Jets v Celtic Dragons - Monday February 29, 7:45pm
Round 7
Celtic Dragons v Team Northumbria - Friday March 4, 7pm
Team Bath v Loughborough Lightning - Friday March 4, 7:45pm
Yorkshire Jets v Manchester Thunder - Saturday March 5, 4pm
Surrey Storm v Hertfordshire Mavericks - Saturday March 5, 6pm
Round 8
Hertfordshire Mavericks v Celtic Dragons, Monday March 7, 7:45pm
Loughborough Lightning v Yorkshire Jets, Saturday March 12, 6pm
Team Northumbria v Manchester Thunder, Saturday March 12, 6:30pm
Surrey Storm v Team Bath - Saturday March 12, 7pm
Round 9
Team Northumbria v Surrey Storm - Monday March 14, 7:45pm
Team Bath v Yorkshire Jets - Friday March 18, 7:45pm
Celtic Dragons v Manchester Thunder - Saturday March 19, 7pm
Loughborough Lightning v Hertfordshire Mavericks - Monday March 28, 4pm*
*rearranged fixture
Round 10
Celtic Dragons v Loughborough Lightning - Monday March 21, 7:45pm
Hertfordshire Mavericks v Team Northumbria - Saturday March 26, 4pm
Yorkshire Jets v Surrey Storm - Saturday March 26, 4pm
Manchester Thunder v Team Bath - Saturday March 26, 5pm
Round 11
Team Bath v Celtic Dragons - Monday March 28, 7:45pm
Yorkshire Jets v Team Northumbria - Saturday April 2, 4pm
Manchester Thunder v Hertfordshire Mavericks - Saturday April 2, 5pm
Surrey Storm v Loughborough Lightning - Saturday April 2, 7pm
Round 12
Hertfordshire Mavericks v Yorkshire Jets - Monday April 4, 7:45pm
Celtic Dragons v Surrey Storm - Saturday April 9, 4pm
Manchester Thunder v Loughborough Lightning - Saturday April 9, 5pm
Team Northumbria v Team Bath - Saturday April 9, 6:30pm
Round 13
Loughborough Lightning v Team Northumbria - Monday April 11, 7:45pm
Celtic Dragons v Yorkshire Jets - Saturday April 16, 4pm
Hertfordshire Mavericks v Team Bath - Saturday April 16, 6:30pm
Surrey Storm v Manchester Thunder - Saturday April 16, 7pm
Round 14
Manchester Thunder v Yorkshire Jets - Monday April 18, 7:45pm
Loughborough Lightning v Team Bath - Saturday April 23, 6pm
Hertfordshire Mavericks v Surrey Storm - Saturday April 23, 6:30pm
Team Northumbria v Celtic Dragons - Saturday April 23, 6:30pm
Semi-Finals
To be confirmed once semi-final line-up is completed
2016 Vitality Netball Superleague Grand Final
Winner Semi-Final 1 v Winner Semi-Final 2, Saturday May 7