Manchester Thunder head coach Dan Ryan angered by late oversight by umpires
By Raz Mirza
Last Updated: 08/05/16 5:25pm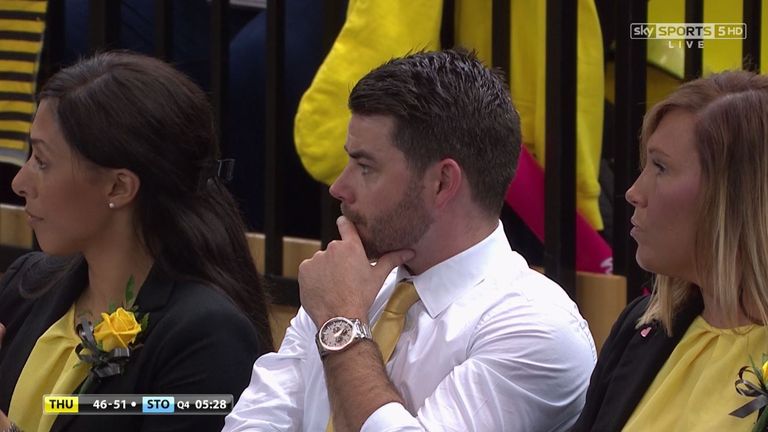 Manchester Thunder head coach Dan Ryan admitted the better team won, but slammed his side's "atrocious" first-half performance and called for the need for a fourth umpire as they went down to a narrow 55-53 defeat against Surrey Storm.
The Black and Yellows trailed by 13 at the break and despite a sensational Thunder fightback it was Surrey who held on and claim back-to-back titles.
"We were atrocious in that first quarter and Storm did a great job in shutting us down but we were so hesitant, we didn't let the ball go, everything that we spoke about doing the girls just didn't execute and that's a Grand Final.
"We addressed a few things at half-time and we took a big deep breath and got on with business. They were sensational in that second half, they really did show their class to fight their way back and we were so close. Perhaps another extra couple of minutes and it could have been a different story.
"Full credit to Storm, they earned that win tonight and deserved to be reigning champions.
"The players are devastated, we're all devastated, we came here with a job to do and that was to win the title and we felt as though we had the players to do it, but it just wasn't our day."
Ryan also spoke about a controversial umpiring decision in the dying seconds, where Storm appeared to incomplete their centre pass through Sophia Candappa.
With Thunder just one goal behind, possession for them would have offered Thunder the opportunity to level-up the scores and force extra time.
And Ryan feels there is now a need for a fourth umpire in Netball due to the changing nature of the game.
"In the context of the big pictures, it's absolutely devastating for us. We had enormous momentum at that stage and a little over 20 seconds to level the match. It's just a little devastating that the game ends on that sour note but it was a big error and big oversight and one we just have to suck up and move on from.
"I just think in such a close game, the things which are getting missed are the things that can really turn a game and that's kind of what happened with us in this instance.
"The game is getting faster and there is so much happening off ball and away from the umpires vision that it's just the way the cookie crumbles at the top level so maybe it's time for extra umpires, but who knows, it is what it is."