England Roses beat South Africa in 2017 Quad Series
Aussie Diamonds win curtain raiser against Silver Ferns
Last Updated: 28/01/17 5:39pm
England Roses got their Quad Series campaign off to a thrilling start with a 60-55 extra-time victory over South Africa in Durban.
A thrilling contest ended level at 48-48 after the first four quarters but a dominant extra-time from Tracey Neville's team, underpinned by a composed display from the returning Helen Housby ensured the Roses started with a victory.
But the hosts made them work for it, fighting back brilliantly from an 11-goal half-time deficit with a brilliant display in front of a delighted home crowd to force the additional 14 minutes.
England kept their cool and with the Proteas tiring, Housby's goal late in the first period of extra-time gave them the three-goal cushion and control as South Africa were forced to chase the game.
Even then it took a miss in the final 20 seconds to ensure the Roses were able to seal a five-goal victory heading into their games against New Zealand on Thursday and Australia next Sunday.
But there will be concerns for Neville who will be alarmed at how England threw away their advantage, much in the way they did in their series defeat to Jamaica before Christmas.
Neville handed Australian-born Chelsea Pitman her first appearance in an England kit, starting at wing attack in a team that also included Housby restored to the goal shooter position with Joanne Harten absent.
England Starting Seven
| | | | | | | |
| --- | --- | --- | --- | --- | --- | --- |
| (GK) | (GD) | (WD) | (C) | (WA) | (GA) | (GS) |
| Geva Mentor | Ama Agbeze | Beth Cobden | Jade Clarke | Chelsea Pitman | Kadeen Corbin | Helen Housby. |
A couple of early mistakes from England handed the initiative to the hosts who raced into a 4-1 lead, but England chipped away at South Africa to draw level and then take the lead for the first time when Housby netted with three minutes remaining.
The Roses finished the quarter on the front foot, back-to-back goals from Kadeen Corbin giving England a three-goal advantage.
England continued on the front foot with a dominant start to the second quarter, stretching out their lead to 16-8 with Jade Clarke instrumental from centre court and South Africa wasteful under the posts.
And that eight-point advantage became ten by half-time as Corbin and Housby cashed in on fine defensive turnovers from Ama Agbeze and Geva Mentor.
A strong start to the second half from the Proteas became a spectacular one as an 8-1 run saw them reduce the deficit to just three goals, a stunned England unable to retain possession as their dominant lead evaporated in the opening five minutes of the third period.
South Africa v England - Scoring Summary
| | | | | | | |
| --- | --- | --- | --- | --- | --- | --- |
| | 1st Quarter | 2nd Quarter | 3rd Quarter | 4th Quarter | Extra Time | Final Score |
| South Africa | 8 | 9 | 17 | 14 | 7 | 55 |
| England | 11 | 16 | 10 | 10 | 12 | 60 |
Housby managed to stop the rot as the teams traded goals and she was joined in the Roses attack by Eleanor Cardwell who was on target with her first touch.
South Africa closed to within one goal before England regained their composure to lead by four heading into the final 15 minutes.
Once again it was the hosts who started the stronger, reeling off three straight points to close within one for the second time, but a composed Housby once again kept England with their noses in front until back-to-back goals from Lenize Potgieter gave South Africa the lead for the first time since the first quarter at 41-40.
Housby and the returning Corbin drew England level before Agbeze struck for a crucial intercept that continued a four-point Roses run and the lead once again.
As the game headed into the final two minutes, South Africa forged a two-goal advantage only to see Housby draw England level and a dramatic final 20 seconds saw both sides frantically try to pinch the victory before the extra time drama.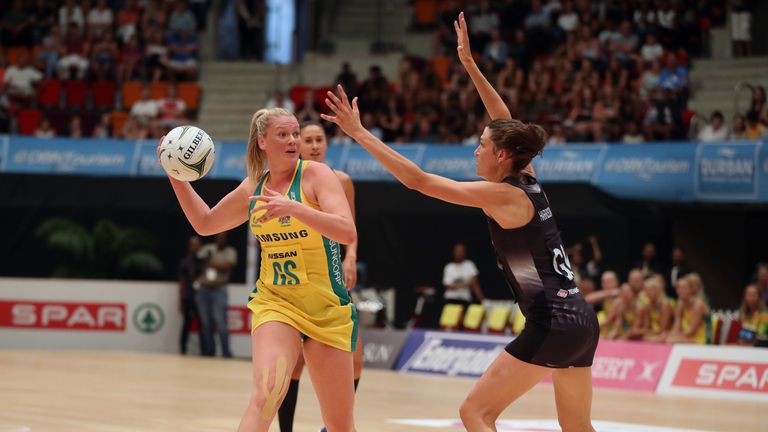 Earlier in the opening match of this year's series, Australia beat fierce rivals New Zealand with a 57-50 victory at the International Convention Centre.
The Diamonds, who have rested some of their star names, proved the next generation are just as impressive with a controlled performance having hit the front early through young shooter Caitlin Thwaites.
With Sharni Layton ever impressive at goalkeeper, Australia forced plenty of early turnovers to forge an early eight-goal advantage and eventually a 16-10 lead by the end of the first quarter.
The Silver Ferns improved but losing each of the next two quarters by a single goal left them with an eight-goal deficit heading into the final quarter.
Having given the Diamonds a fright by closing to within three goals, New Zealand looked like threatening a dramatic finish until Australia pulled clear in the final minutes to get off to the perfect start as they aim to defend the title they won in the inaugural event in September.