England Roses won a third consecutive match against Malawi Queens
By Sky Sports Netball
Last Updated: 01/12/17 12:43pm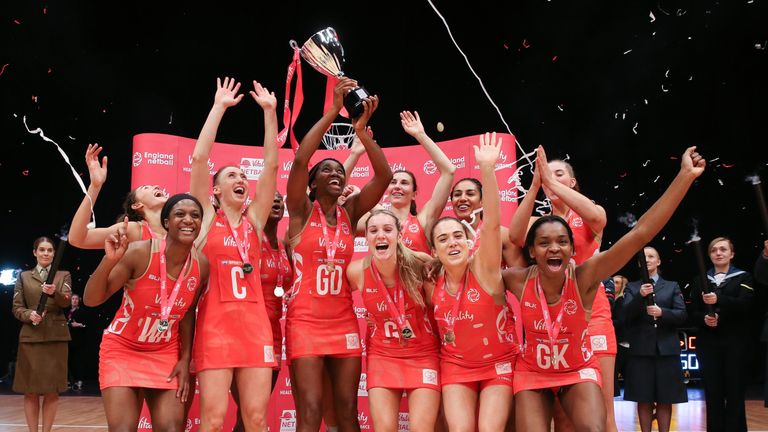 The England Roses conquered the Malawi Queens 62-60 to complete a clean sweep of victories at the Vitality Netball International Series in Birmingham on Wednesday evening.
The Roses had won their first two meetings with Malawi but, with captain Ama Agbeze collecting the Player of the Series award, they completed a third consecutive victory.
For the first time in the three-match Series, the Queens started strongly and threatened a first win over their illustrious hosts but the Roses retained their composure to win a match which, at one stage, had seen them fall nine goals behind.
Having started on the back foot in the previous two games, the Queens came flying out of the blocks and caught England cold. At the end of the opening 15 minutes, the Queens were 18-10 ahead.
A spree of turnovers eventually saw Natalie Haythornthwaite score from range and that sparked England into life. With the gap at five, a fantastic spell saw Cardwell keep her nerve to put the Roses within touching distance, trailing 30-31 at the half-time interval.
A composed double finish from player of the match Haythornthwaite finally saw the Roses take a lead but lost possession in the mid-court saw the momentum swing one final time in the quarter as the Queens netted twice to take a 46-45 lead.
The Roses pressure eventually told and the teams were once more tied at 59-59 with just two minutes left on the clock.
The experience of Jade Clarke in the mid-court took over and patient movement through the court set-up Rachel Dunn to score and finally seal a dramatic victory.
Roses starting 7: GS - Cardwell, GA - Corbin, WA - Haythornthwaite, C - Clarke, WD - Cobden, GD - Gibson, GK - Agbeze
Queens starting 7: GS - Kumwenda, GA - Chimaliro, WA - Galleta, C - Lwazi, WD - Sambo, GD - Kachilika, GK - Ngwira
Follow the 2018 Vitality Superleague season with us on Sky Sports and through our website skysports.com/Netball also our app for mobile devices and iPad, or follow our Twitter account @SkyNetball
The regular season league home and away matches run from February to June, culminating in semi-finals and a Grand Final to determine the league champion.