Opportunity knocks for netball in England, according to Manchester Thunder's Dan Ryan
"I just look at England netball as the land of opportunity - the growth potential is just enormous and it's really exciting."
Last Updated: 09/01/19 7:54pm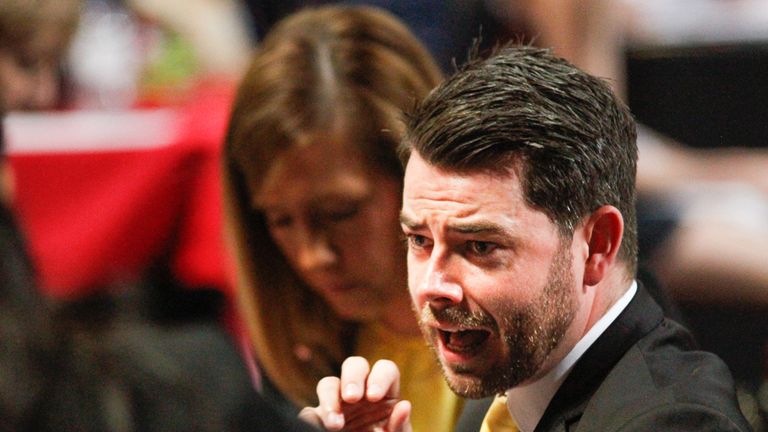 Manchester Thunder's assistant coach Dan Ryan believes netball in England is a "land of opportunity" right now.
The Australian, who has returned to the Vitality Netball Superleague this season, shared his thoughts with Caroline Barker and Tamsin Greenway on the new Sky Sports monthly netball round-up show 'Off the Court'.
He said: "I'm just loving the vibe of English netball at the moment. There's so much energy around it, obviously the catalyst of the Commonwealth Games leading into a World Cup.
"And, just the excitement around the competition [Superleague] having players like Cat Tuivaiti getting involved and new clubs coming into the competition - I'm just really excited.
"I just look at England netball as the land of opportunity - the growth potential is enormous and it's really exciting."
Ryan is back after two seasons as head coach with the Adelaide Thunderbirds in the Suncorp Super Netball league. Previously he was the Manchester Thunder's director of netball for their 2016 campaign where he took them to the Grand Final.
This term, the Black and Yellows started their new season with a 58-51 over Saracens Mavericks and it was a performance, from a settled unit, that sent significant signs to their rivals they mean business this season.
"They know each other very well, they've played together for many years and I think that you could see that," he said on Off the Court.
"I think that in a lot of the games [at Super 10], there was a lot of disconnect in all different teams with new line-ups and that happens. But, the beauty of us, I suppose, is that they know each other well."
Thunder's next outing is against on Strathclyde Sirens on Saturday, January, 26 and, netball in England continues in earnest with other Superleague fixtures and the Netball Quad Series, which starts on Sunday afternoon.
The opening day sees South Africa face Australia before England encounter New Zealand, live on Sky Sports Mix. The Roses then face South Africa on Saturday, January 19, before rounding off against Australia the day after.
Watch every game of the Netball Quad Series which starts on Sunday, coverage is live on Sky Sports Mix and Arena from 3.15pm. Sky Sports will also show every game live of the 2019 Vitality Netball World Cup, July 12-21.