Wasps head coach Mel Mansfield reflects on the champions wobble and how they intend to put it right
"I have got a team that are very, very determined now. Let's see what we can do. We're going to go all out, as a final, and we're not holding anything back"
By Emma Thurston
Last Updated: 22/03/19 10:13pm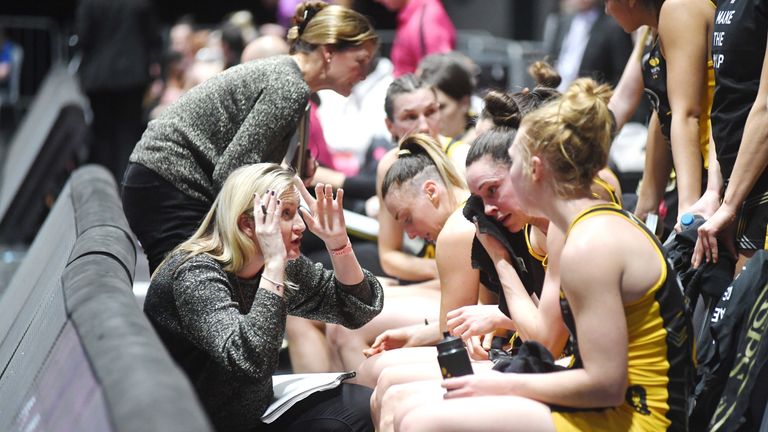 Defeat… It hurts. It's a painful but inevitable part of sport and the emotions that come with it were clear for all to see during Mel Mansfield's post-match interview on Monday night.
In front of the cameras straight after Wasps fell, by a single goal in the last-second, having led by eight goals in the final quarter, to great rivals Loughborough, Mansfield was hurting,
After a day to process a second defeat in three games, Mansfield opened up to Sky Sports on how Wasps are feeling as a squad and why Saturday's meeting with Thunder is the perfect game and one 'they will play like final'.
"It was heart-breaking," she said. "Now having looked at it several times, my gut feeling immediately after the game was that we'd had control until about 52 minutes and then played badly for eight. Actually, that wasn't the case.
"We did have control until 52 minutes and then we had a patch of about four minutes which is where we lost it before we regained it goal-for-goal at the end."
During her sleepless night on Monday, one of the things that Mansfield contemplated was whether she should have changed her line-up at three-quarter time, when they led 46-40.
The head coach shares the responsibility for the defeat, and that as a team they win and lose together.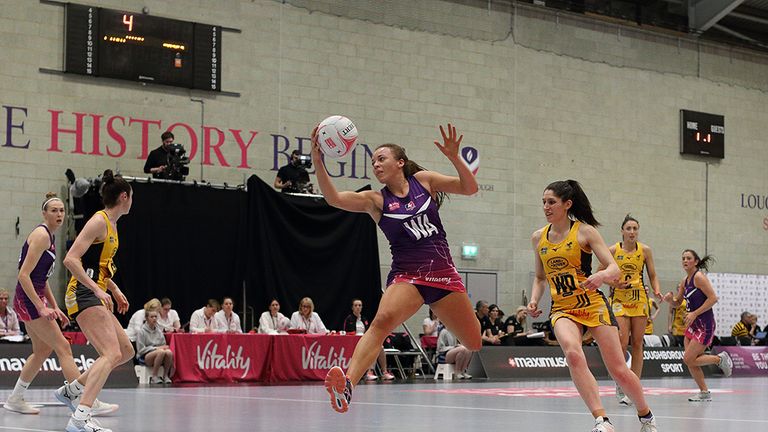 "I can't make them feel better - all I can tell them is that I believe that they could have won it. That won't happen again. I've got senior players saying to me, 'That will never happen again'."
Mel Mansfield
"There was nothing netball related that we needed to work on that would have got us through that," noted Mansfield.
"That is about players that have got a huge amount of experience on the court that should have taken control and they know it. They know it and they feel terrible.
"We have some amazing players in our team. We have champions and we have winners but they've got to learn to see out a game and be a bit arrogant and a bit cocky. I don't have personalities [in the team] that naturally find that easy but, they've got to find it and they've got to find it on court."
Wasps entered this season without Natalie Haythornthwaite and Tamsin Greenway on court, and in Greenway's case off-the-court too, and Mansfield notes that the duo provided that control to see out matches.
It's common knowledge that 'You can learn a line from a win but a book from a defeat' and in sport, it's universally recognised that the most important part of a loss is a team's response to it - now she needs to see leaders within the current group stepping up.
As a group Wasps sat and watched back the last 15 minutes against Lightning together. As painful as that was, the head coach has seen a considerable determination over the past few days.
"I noticed in training a difference again [on Wednesday] which was more of, 'This is not funny any more… This is it now, they're going to get it'," said Mansfield.
"I really noticed a change in that fact that we're going to stop feeling sorry for ourselves and there's no more pretending that it can come, it can come. We haven't got time now, Saturday is the day to be really good."
Saturday sees Wasps face the only other side to have beaten them this season - Manchester Thunder - and Mansfield believes that this match has arrived at exactly the right time.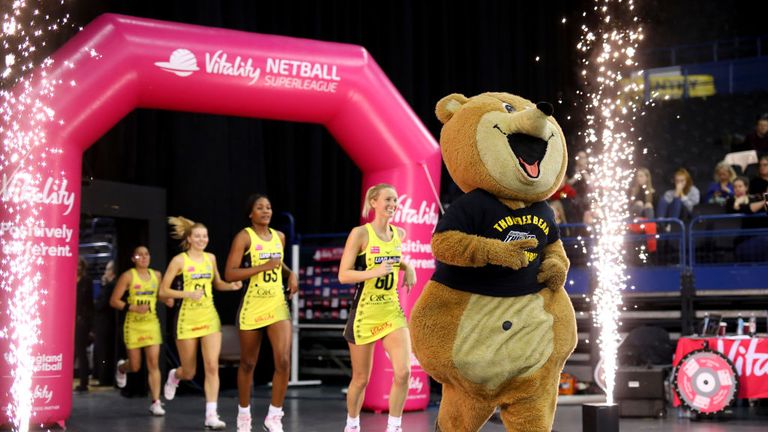 "It massively helps [it being Thunder] because actually what I don't want is a team next that we're expecting beat. I want them to go into Thunder and play it like a final," said Mansfield with determination in her voice.
"They've [Thunder] now put themselves under pressure to stay at the top. I'm not going to say any cliches that it [a result] doesn't matter [to us], it does matter. Saturday matters and it matters for a number of reasons.
"We've got to play well - it matters to put a few rights wrong from the last time that we played Thunder. We lost the first half miserably and then won the second half so they know that they can do it. They also need to show that they can bounce back."
Of course, the context to Wasps' season is that Mansfield has stepped up into the head coach role after being assistant coach to Greenway for the past two years.
With more than 11 years in Superleague, she has seen it all and that wealth of experience translates into the way in which speaks and delivers messages to her squad.
Mansfield has a philosophy of not debriefing about a match on the day. Why? Because she is aware of the potential for herself and her players to speak emotionally after the heat of a battle. Instead, she provides the headlines, a sentence about the game and then says 'We'll talk tomorrow'.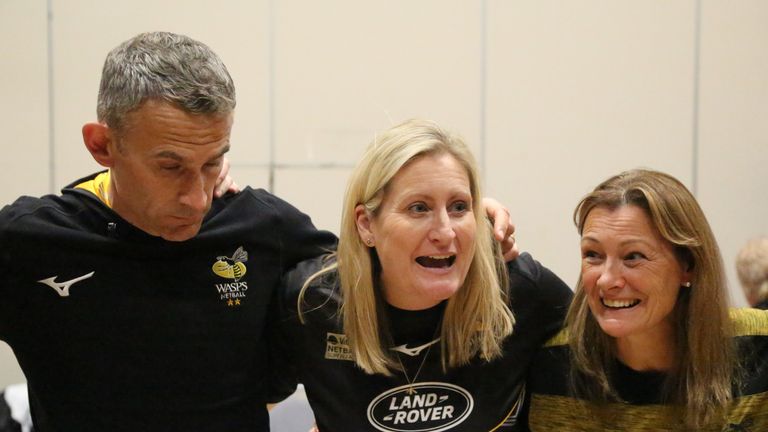 That happened on Monday, it will happen again on Saturday and throughout the rest of the season. She is consistent in her approach and is loving leading the franchise.
"I've absolutely enjoyed it. This team is unbelievable. They're great characters, they care about each other, they care about me almost to the point that on Monday night was that our downfall?
"We didn't have anybody screaming at somebody else next to them to look after the ball… do you know what I mean?
"I can't change them off the court and I wouldn't want to. I picked them for a reason but on the court we want to see something different, I want to see them firing when the going gets tough."
The head coach is acutely aware that as the back-to-back defending champions, every Superleague team has their card marked. She's also very clear about the fact that the rest of this season will not be like the first half… the intensity is building as teams are improving week-on-week.
"People raise their games to play us because they come with no fear. I can't change that psychology because that is the psychology of playing against the winner," said Mansfield.
"So people like to take Wasps down and we've got to step up to that and say, 'We're the champions and you're not having it, you're absolutely not having it'. That's the change of mentality that I saw.
Vitality Netball Superleague - Round 11 Fixtures
| | | | | |
| --- | --- | --- | --- | --- |
| Friday | Team Bath | 51-47 | Strathclyde Sirens | |
| | | | | |
| Saturday | Manchester Thunder | v | Wasps Netball | 5pm |
| | Severn Stars | v | Lougborough Lightning | 6pm |
| | Saracens Mavericks | v | Surrey Storm | 6pm |
| | | | | |
| Monday | Celtic Dragons | v | London Pulse | 7pm - live on Sky Sports Mix |
"We've got lots of difficult games. There's going to be some big results ahead, everyone's got to play each other. Pulse won't be easy, Storm won't be easy, Celtic won't be easy… this is what we want though isn't it?
"If you want to win it then you've got to beat everybody and in a way I'm glad that it's Thunder and Thunder away. We're alright away, the away bit isn't an issue for us.
"I have got a team that is very, very determined now. Let's see what we can do. We're going to go all out, as a final, and we're not holding anything back."
Watch more live Vitality Netball Superleague when Celtic Dragons host London Pulse on Monday, March 25 live on Sky Sports Mix & Action from 6.45pm. Also, Sky Sports will be showing every game of the 2019 Vitality Netball World Cup in July.