Sigi Burger and Shadine Van der Merwe out to return to winning ways
You can watch Loughborough Lightning v Surrey Storm in full on Sky Sports YouTube channel from 6:45pm on Monday night.
By Paul Prenderville
Last Updated: 08/04/19 6:27am
It's hard not to get carried away by the infectious enthusiasm of Sigi Burger and Shadine Van der Merwe - the South African pair hoping to help Surrey Storm upset Loughborough Lightning as Round 13 reaches its conclusion.
Storm's South African pair are unlikely to find themselves in the same area but there is a long term goal in mind.
"We push each other in training, it's such a good vibe, it's literally like a family," shooting star Burger tells Sky Netball over coffee with her teammate, the Proteas defensive ace Van der Merwe.
"It takes time but we will get there and when we do Storm are going flourish."
Things having been going quite to plan for Storm so far this season with a run of one win in their last six games meaning the top four and the end of season drama is beyond them again.
Injuries have limited Mikki Austin's options over the season, however, in Burger and Van der Merwe they have a couple of players making their mark in the competition this year.
It's been quote a journey for both of them, one that started with Storm's Home Counties rivals, Saracens Mavericks, where Burger was last year training under the watchful eye of former Storm coach Kat Ratnapala
"Kat [Ratnapala] said come and train with us for a month at the end of your year and straight after my first training session, I thought this is so incredible, it's such a different atmosphere, I don't want to go home," Burger says.
"Then Kat said Storm are still looking for one more shooter and then Tania [Hoffman, then the Storm head coach] said I need you to get on a train right now, England Netball need the names for all the teams confirmed today.
"My mum and dad were in my brother's graduation ceremony and I couldn't even phone them when I was in the middle of this big adult decision.
"I had to say to myself 'Is this what I want? And I didn't have a doubt so I signed and the rest is history."
With a year in the Superleague under her belt, Burger set about impressing her new director of netball Austin, and South Africa's defensive star Van der Merwe was on her watch list.
The pair's netball journey has crossed paths, from playing Varsity Cup netball opposite each other, to now playing a part for Surrey Storm
"We had trials, she was by far the best goal defence there so I thought if she is coming over here there is no way I want to play against her, I need her in my team and I said to Mikki that Shadine is the name, remember that name," Burger said.
This year has been Van der Merwe's first in the Superleague having first played with Storm at the Fast5 All Stars in October.
"I really wanted to join the Superleague this year and I was speaking to Sigi about it," she said
"She said 'play for Storm' and she gave my number to Mikki and gave a good word and I don't know what she said to her but I'm here."
Vitality Superleague Round 13 - Results & Fixtures
| | | | | |
| --- | --- | --- | --- | --- |
| Saturday | London Pulse | 62-59 | Saracens Mavericks | |
| | Manchester Thunder | 73-46 | Celtic Dragons | |
| | Severn Stars | 49-40 | Strathclyde Sirens | |
| | Wasps | 61-46 | Team Bath | |
| | | | | |
| Monday | Loughborough Lightning | | Surrey Storm | 7pm |
As well as Superleague aspirations, this year has an added edge with the Vitality World Cup, taking place in Liverpool in July, on the horizon and South Africa have been picking up big wins against the more established nations.
Van der Merwe was part of the Proteas team that beat England in the Quad Series at the Copper Box in January, while Burger watched on as the biggest fan in the arena.
South Africa also took New Zealand to extra-time, and ran the Australia Diamonds close as well, now ranked fifth in the world, ambitions are high for the World Cup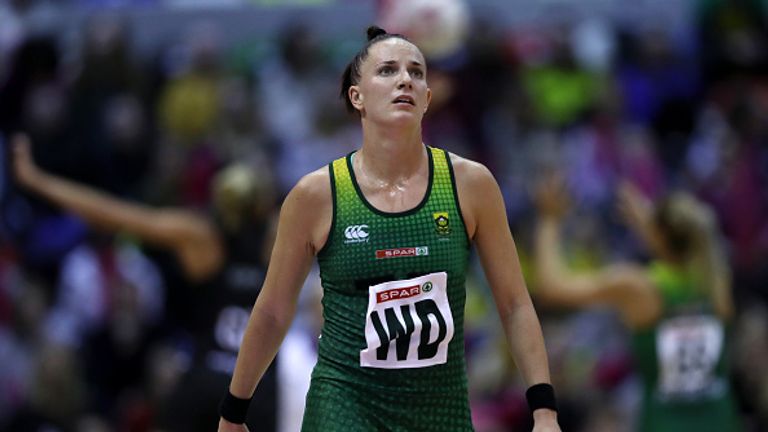 "It was good for SA to get a win, especially going into World Cup year. Knowing that we are capable of competing against the big names like England Australia and New Zealand," said Van der Merwe.
"Our goal for the World Cup is the top four - in 1995 we came second so SA are hungry."
The immediate goal for Burger, Van der Merwe and Storm is stopping the Loughborough juggernaut. Runners-up in each of the last two Grand Finals, Lightning have won their last seven matches, including a win over Storm in Round Seven that started Surrey patchy form.
"We don't underestimate their team but we are looking to pull together because of how hard we have worked this week and how strong the mindset around the team has been," said Burger.
It's a though echoed by her teammate, the pair determined to underline the faith placed in them with a return to winning ways against the competition's in-form outfit.
"We are going there to win, nothing less. If we stick to the gameplan and what Mikki wants us to do we can pull it through," Van der Merwe adds.
Watch Loughborough Lightning's meeting with Surrey Storm live on the Sky Sports YouTube channel and on Sky Sports Mix on Monday from 6:45pm. Also, Sky Sports will be showing every game of the Vitality Netball World Cup 2019 in July.