Karen Greig and Ellie Cardwell hail Manchester Thunder Grand Final heroics
Ellie Cardwell's forced introduction proved crucial and shooter delighted to play her part
Last Updated: 20/05/19 1:10pm
Karen Greig paid tribute to her side's desire and character as Manchester Thunder produced a stirring fightback to deny Wasps a third successive title in a thrilling Grand Final.
Wasps topped the regular season standings by six points, but Thunder won both league meetings between the sides.
The evidence pointed towards a fascinating showpiece and it didn't disappoint, as Thunder recovered a six-goal third quarter deficit to claim their third Superleague title at the expense of the back-to-back champions.
"It's amazing. It's really hard to put it into words," said Greig. "It was a game of ups and downs, but it was an unbelievable final that I think was worthy of any final across the years.
"How the game swung from quarter to quarter and the intensity that both teams put out on the court was unbelievable.
"We've got game plans and structures we wanted to play for and ultimately I said to them at the start of the fourth quarter: 'How much do you want this? How much do you want to win this?'
"We've worked all year for this moment and we needed to go out and play hard and take it with both hands. They were up for it, they had fire in their eyes and they went out and did a good job."
There was no shortage of drama throughout the contest, as Thunder's clinical shooter Joyce Mvula was forced off with a knee injury in the final quarter, but her replacement Eleanor Cardwell produced an inspired cameo to help Thunder to their first Superleague crown since 2014.
Thunder fired in 18 goals in an astonishing final quarter and Cardwell was the decisive figure in their comeback, under the posts, and the 24-year-old knew there would be a role to play.
"This is what we've practised all season, so I didn't actually feel the pressure," said Cardwell.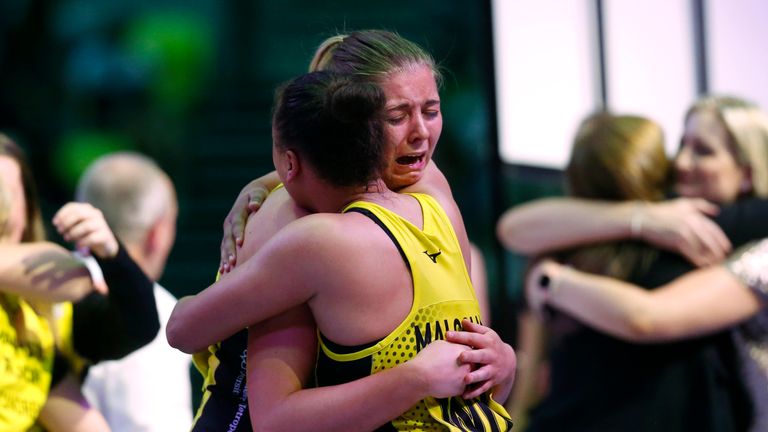 "I just thought do you know what, I've got eight minutes; why can't I just go up there and do my job - what I've been training to do all season.
"I've not been starting seven so that is the opportunity for me to take and I've also done it in 2012, so that also helps, because it's like history repeating itself.
"I'm so proud of every single one of them. They've put in so much effort this year and it really did show, the heart they showed in that game. Karen asked us at the start of that quarter: 'Do we want it?' I'm just lost for words."
Cardwell was also full of praise for the retiring Kerry Almond, who produced a fearless defensive performance to bring down the curtain on her 11-year top-flight career.
"I'm just so happy. Kerry Almond is retiring and this is what we wanted to do for her this year," she added.
"It's her last year. She's been so loyal to Thunder over the years so we really wanted to do this for her and we did it."
Greig confirmed Mvula will undergo a scan to determine the extent of her injury but the bigger picture played out with the strength of the squad proving decisive.
"Ellie [Cardwell] came on and people have questioned us at certain times in the season about us playing around with our shooting circle," Greig said.
"Ultimately that's why we had to play around with our shooting circle, so that we knew we had three shooters that were capable of taking to the court in the final and putting in a performance and all three of them did that.
"Our bench has been amazing all season. When you've got the likes of Amy Carter sat on the bench and not coming on in a final, that's huge.
"She's a great youngster coming through and is going to be huge for us in the future, so for her to sit and experience that and know that at any point we could have thrown her out there, it's testament to those who turn up to training week-in week-out," added Greig.
The former England shooter has been with Thunder since 2002, where she started as a player, although she was named head coach in 2016.
Thunder were runners-up in 2017 before Greig led the franchise to semi-final defeat in 2017 and 2018, although having ended their Superleague drought, she insists the work doesn't end there.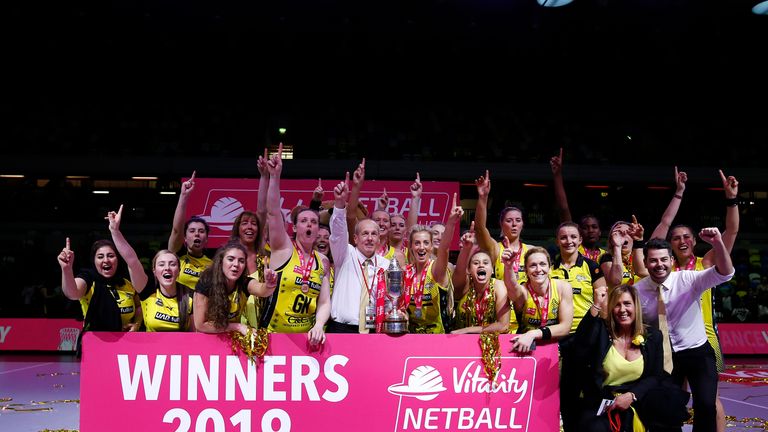 "We have to build, every coach that goes into a new job always has a plan in terms of where they want to be," she added.
"We knew that year one was going to be a building year, year two we had to go one better and I said at the end of last season things had to be different this season and they certainly were.
"We've not made that many changes in terms of our squad and all the girls that have come in have really took to our structures, took to our game plan and executed it well.
"Ultimately we've made a few tweaks in the last few weeks and they've persevered well with it and we've now got a squad of 12 players that know how to play the Thunder way."
Watch live coverage of the Vitality Roses squad announcement on Thursday live on Sky Sports News while every match of the 2019 Vitality Netball World Cup is live on Sky Sports from Friday, July 12