England have suffered defeat to reigning Netball World Cup champions Australia in the qualifying pool stages of this year's tournament.
Tracey Neville's side were unbeaten in their three opening games but struggled against the Diamonds in front of packed Allphones Arena in Sydney, eventually losing 51-41.
Australia came out strong from the start with shooter Caitlin Bassett slotting home quick early goals to give the Diamonds a three goal advantage.
England struggled to find an accurate feed to their shooters in the first half of the game and Australia's Renae Hallinan at Wing Defence and Julie Corletto at Goal Defence were dominant against the England attack.
Laura Geitz's defensive work for the hosts enabled them to creep into a 12-9 lead after 15 minutes. Despite Jade Clarke's increasing influence for England, Australia's advantage was stretched to five goals at the break with Corletto's role in the defensive third making the difference.
Neville made changes at half-time, bringing on Sonia Mkoloma and switching Helen Housby for Pam Cookey at Goal Attack.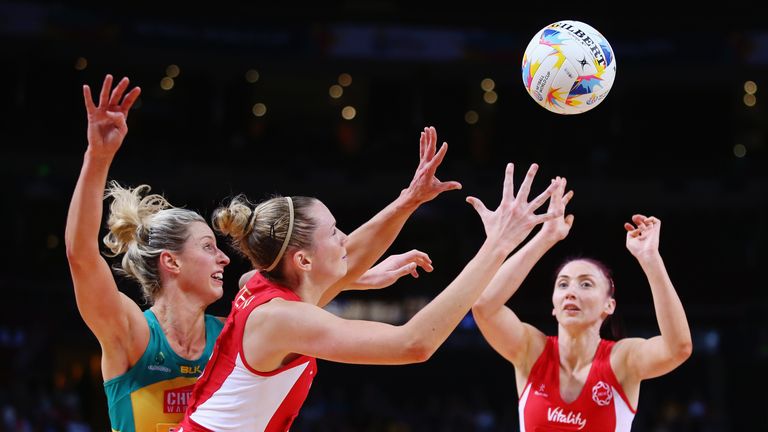 But Australia went eight ahead after England's Eboni Beckford-Chambers' interception only led to a turnover for the hosts. The gap increased to nine but the Roses rallied with Housby scoring to reduce the deficit to six.
Clarke epitomised the Roses' battling efforts as she suffered a mid-air collision but returned to her feet as the clock ticked closer to an Australia win.
Despite some excellent defensive interceptions the Roses couldn't find the catalyst to stage a comeback and the Australians were rewarded for their hard work with victory.
The defeat doesn't spell the end for England though. With two qualification round games yet to play - against Wales and South Africa - the Roses can set up a semi-final berth against New Zealand on Saturday with two wins.