Russell Wilson led the Seattle Seahawks to a resounding 40-7 win over the Carolina Panthers on Sunday night. After a surprise loss to the Tampa Bay Buccaneers in week 12, the Seahawks were back to their best, taking care of a lacklustre Carolina Panthers side.
Seahawks dominate Panthers team bereft of confidence and leadership. Rawls and Lockett impress, as Seattle rack up 534 yards on Carolina.
MVP
The whole Seahawks offence came together, dismantling a Panthers defence that looked lost without captain Luke Keuchly. Four receivers had over 60 yards, and Thomas Rawls and Tyler Lockett added almost 200 yards rushing between them. Quarterback Russell Wilson looked back to his best after a blip against Tampa Bay.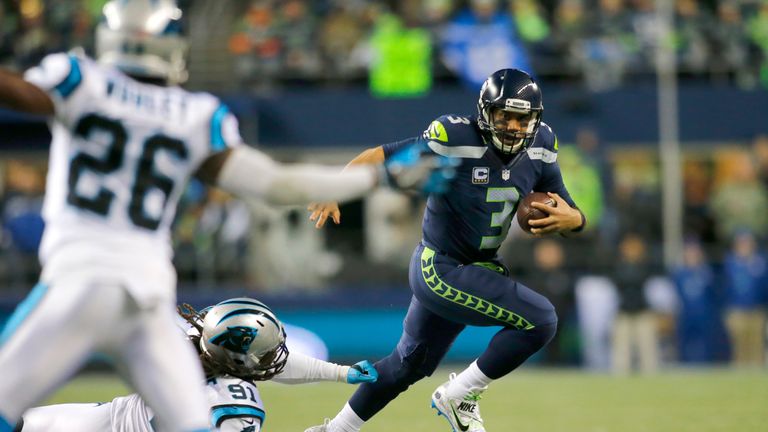 Game-changer
On the first play, Panthers quarterback Cam Newton was benched for a 'dress code violation', prior to the game. Back up Derek Anderson threw a pick and, although Mike Talbot should have caught it, the decision to punish Newton backfired horribly. Carolina never recovered, looking out of sorts all night.  
Stat of the night
6,449 - Seattle Seahawks safety Earl Thomas has played the second most defensive snaps since 2010. The five time pro bowler fractured his tibia, and tweeted afterwards that he was considering retirement. 
Scoring Summary
| | | |
| --- | --- | --- |
| 1st Quarter | | |
| CAR 0-3 SEA | FG - S. Hauschka 23 yd | |
| CAR 0-10 SEA | TD - T. Rawls 8 yd rush | Extra Point - S. Hauschka |
| 2nd Quarter | | |
| CAR 7-10 SEA | TD - T. Ginn Jr 55 yd pass - C. Newton | Extra Point - G. Gano |
| CAR 7-17 SEA | TD - T. Rawls 45 yd rush | Extra Point - S. Hauschka |
| CAR 7-20 SEA | FG - S. Hauschka 37 yd | |
| CAR 7-23 SEA | FG - S. Hauschka 31 yd | |
| 3rd Quarter | | |
| CAR 7-30 SEA | TD - T. Lockett 75 yd rush | Extra Point - S. Hauschka |
| 4th Quarter | | |
| CAR 7-37 SEA | TD - J. Graham 1 yd pass - R. Wilson | Extra Point - S. Hauschka |
| CAR 7-40 SEA | FG - S. Hauschka 28 yd | |
The game
Despite naming Newton as starting quarterback, it was back up Derek Anderson who lined up under centre for the first drive. However, on the very first play, Anderson's pass was intercepted by Mike Morgan who ran the ball back to Carolina's eight yard line. Wilson couldn't find the end zone, but the Seahawks settled for a 23-yard field goal.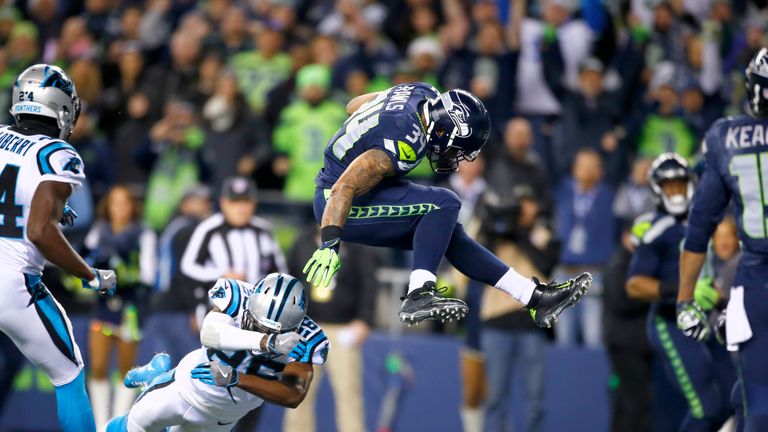 Thomas Rawls scored his first touchdown of the season, an eight yard rush to complete a nine play, 92-yard drive. The second year running back missed seven games due to a fractured fibula.
Both offences struggled to keep the ball in the second quarter, with interceptions on both sides. Carolina took advantage of Wilson's misplaced pass as Tre Boston intercepted inside Seattle territory. Newton took over, throwing a 55-yard deep ball down the centre to Ted Ginn who slid into the end zone.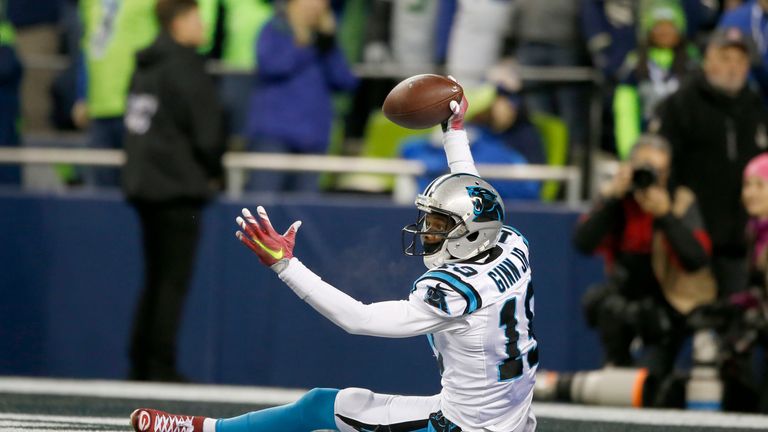 However, the Seahawks hit straight back as Tyler Lockett returned the kick off 45 yards before Rawls ran the remaining 45 for his second touchdown of the night. Seattle added two more field goals before the half, controlling possession to keep the Panthers offence off the field. 
The Seahawks extended their lead with the first play of the second half as Wilson handed the ball off to Lockett, who ran it back to the house for a 75-yard touchdown.
Jimmy Graham added a fourth touchdown in the final quarter, catching the one yard pass in the left hand corner of the end zone, and Hauschka made it 40-7 with a 28-yard field goal three minutes from time.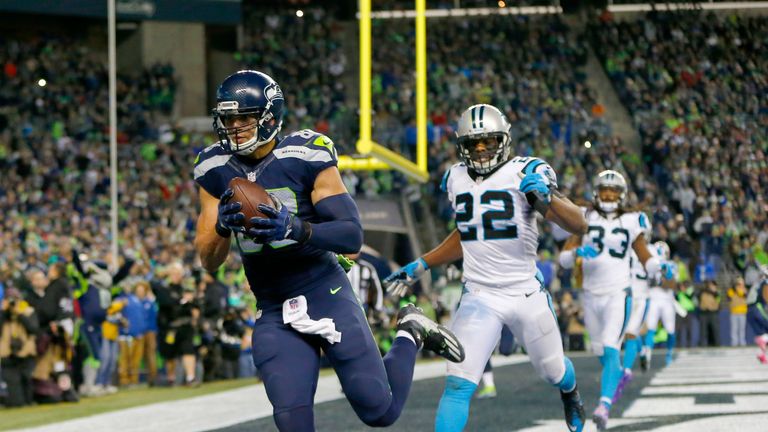 Newton's 55-yard throw aside, this was a one sided affair in which the Panthers never looked like competing. At 4-8, last year's NFC champions sit bottom of their division after a dismal campaign. 
Meanwhile the Seahawks lead the NFC West with an 8-3-1 record, and are still in the hunt for the number one seed and home field advantage. They now face a tough tip to Lambeau Field to take on a resurgent Green Bay Packers side, who have it all to play for in their own division.
Losing Thomas, likely for the season, will be a blow to Seahawks head coach Pete Carroll, but it is a promising sign that his offence is starting to show just how good it can be come January.